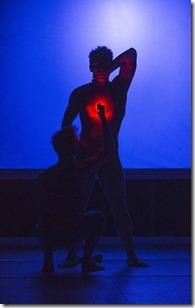 Dorian
Written by Ben Lobpries and Tommy Rapley
Directed, Choreographed by Tommy Rapley
at Chopin Theatre, 1543 W. Division (map)
thru May 18  |  tickets: $20-$39   |  more info
  
Check for half-price tickets 
  
  
   Read review
  
---
Though lively and colorful, more paint-by-number than masterpiece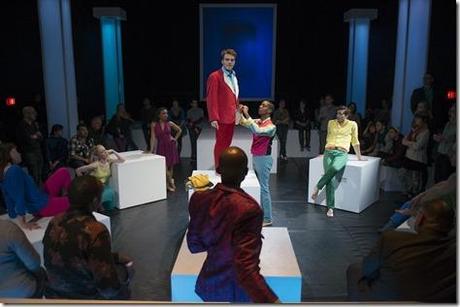 The House Theatre presents
Dorian
Review by Catey Sullivan 
Walk in to the opening scene of The House Theatre's Dorian, and the vibe is pure Rave. While laser lights flash, the cast blisses out to the electro-thump of techno beats and the audience mills about in a blinking, glow-in-the-dark swirl of 24-hour party people. In adapting Oscar Wilde's 1890 supernatural thriller, playwright Ben Lobpries goes for maximum decadence, pulling the audience into a clubland straight out of the early 1990s.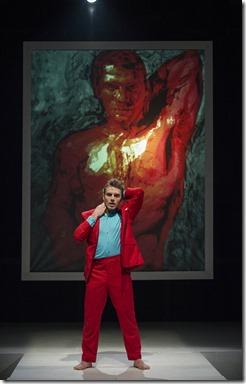 This throbbing universe of heightened debauchery is at once the highlight and the downfall of
Dorian
. In Wilde's novella, the incandescently beautiful Dorian Gray remains forever young. But for every sin he commits (and they are legion, ranging from petty cruelty to murder), his portrait ages a bit more. Eventually, the tell-tale artwork is a nightmare on canvas, a grotesque representation of an ugly soul.
It's here that Lobpries' modern-day take on "The Portrait of Dorian Gray" stumbles: In the book, the titular character's corruption stands in stark contrast to the world around him. Juxtaposed against the mannerly, buttoned-up culture of late 19th century England, Dorian's extravagant profligacy is all the more shockingly perverse, his rotting portrait a gasp-inducing depiction of the buried evil that would send civilization down in flames were it ever to rise to the surface.
For House's Dorian, director Tommy Rapley creates a uniformly debauched world from the get-go. There is no contrasting worlds of morality and immorality – everyone is immersed in sex, drugs and deadly sins from start to finish. The play begins and ends in the seedy underbelly of society; that homogeneous atmosphere doesn't allow for much of a dramatic arc.
Rapley's extensive use of modern dance and stylized movement also softens the dramatic impact of Dorian. For the first hour and a half or so, Rapley's choreography is a gorgeously compelling depiction of lust and overindulgence. But somewhere around the two hour mark, it becomes repetitive and pretentious, slowing down the narrative rather than furthering it.
Finally, Dorian is marred by problematic sightlines. The House Theatre's staging is promenade style, which requires the audience to follow the actors as they move through the Chopin Theatre. The stand-and-shuffle staging adds nothing to Dorian and, in fact, often deters from it. We weren't alone opening night in feeling like we were missing crucial moments because we couldn't see through the knots of people craning their necks for a better view. Promenade staging is a tricky beast; here it's more of a gimmick than a means of organically furthering the story.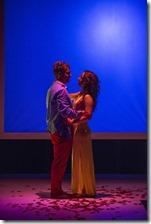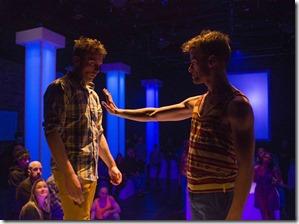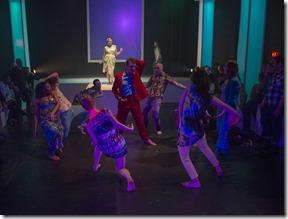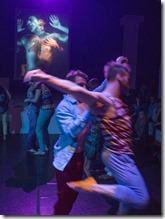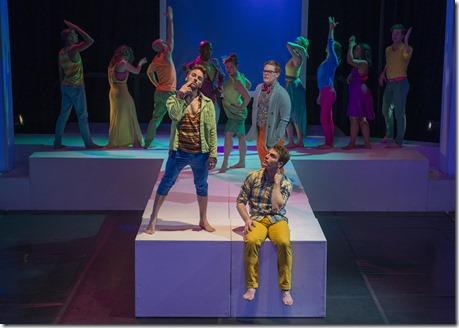 Despite those problems, Dorian provides a showcase for several of the ensemble's supporting players, as well as for the ingenuity of lighting designers Lee Keenan and Rebecca Barrett, and portrait artist Jeff Klapperich.
As Basil, the artist smitten with Dorian who creates the eerily aging painting, Patrick Andrews is preternaturally graceful, an expressive sylph whose every movement is hypnotic. As the jaded, self-involved art critic Harry, Manny Buckley embodies the blase narcissism of an uber-hipster, crafting a character that is instantly recognizable and hilariously clueless about his own affectations. And as Basil's sometime-lover, Alex Weisman completely captures the wounded vulnerability of a kicked puppy.
As the epicenter of the story, Kapperich's magnificent portrait of Dorian Gray shows the devolution of a soul from radiant and pure to hideously corrupt. Unfortunately, the portrait's flesh-and-blood counterpart has all the intrigue of a Ken doll. In the title role, Cole Simon is generically handsome, but lacks the mesmerizing charisma the role demands. Moreover, he doesn't evolve so much as he abruptly switches from shy, young new kid in town to callous predator. There's no gradual, truthful change in Dorian's character, merely a superficial costume change of emotions.
Wilde's book is a masterful exploration of fatal vanity and unchecked Id. While lively and colorful, the House's version is, in the end, about as impactful as a paint-by-number kit.
Rating: ★★
Dorian continues through May 18th at Chopin Theatre, 1543 W. Division (map), with performances Thursdays-Saturdays at 8pm, Sundays 7pm.  Tickets are $20-$39, and are available by phone (773-769-3832) or online through PrintTixUSA.com (check for half-price tickets at Goldstar.com). More information at TheHouseTheatre.com.  (Running time: 2 hours, includes an intermission)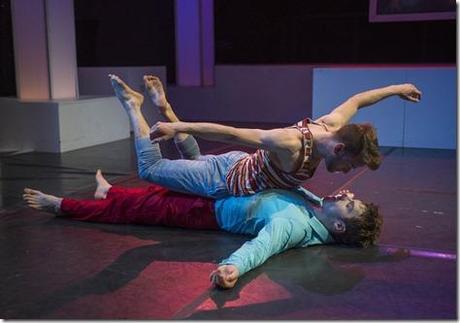 Photos by Michael Brosilow 
---
artists
cast
Patrick Andrews, Cole Simon, Manny Buckely, Alex Weisman, Lauren Pizzi, Kelley Abell, Ben Burke, Ally Carey, Bryan Conner, Blake McKay, Monica Thomas, Donnell Williams.
behind the scenes
Tommy Rapley (director, choreographer, co-adaptor), Ben Lobpries (co-adaptor), Collette Pollard (scenic design), Lee Keenan, Rebecca Barrett (co-lighting design), Kevin O'Donnell (composer, sound design), Mieka van der Ploeg (costume design), Jamie Karas (prop designer), Keely Haddad-Null (stage manager), Jeff Klapperich (portrait designer).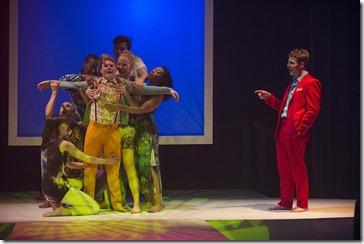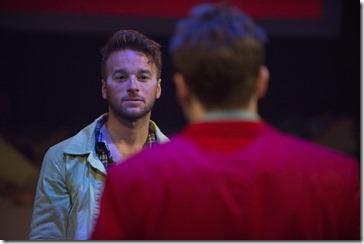 14-0426