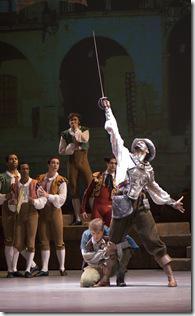 Don Quixote
Choreographed by Yuri Possokhov
Music by Ludwig Minkus
Music direction by Scott Speck
Auditorium Theatre, 50 E. Congress (map)
thru Oct 23  |  tickets: $25-$149   |  more info
Check for half-price tickets 
  
     
---
Joffrey creates enthralling, magical world premiere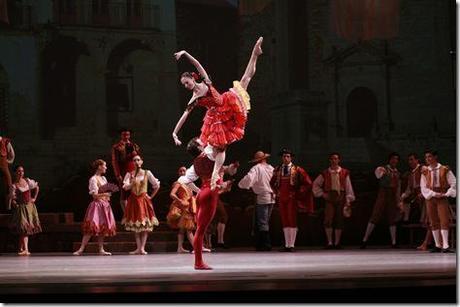 The Joffrey Ballet presents
Don Quixote
Review by Catey Sullivan 
Those looking for a strict interpretation of Don Miguel de Cervantes' densely plotted, two-volume classic might be disappointed with the Joffrey Ballet's take on the 16th-century saga of Don Quixote. In choreographer Yuri Possakhov's world premiere, the darker elements of the story have been largely excised – there is no Spanish inquisition, Aldonza is not a whore, and the title character doesn't declare chivalry dead with his final breaths. .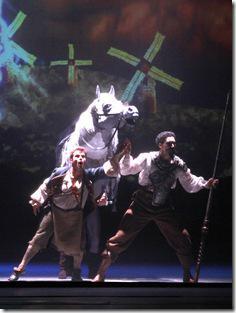 And if, by some slim chance, you're expecting a pas de deux to the strains of "The Impossible Dream," this isn't that show.
Ludwig Minkus
' elaborate score may not be as well known as Broadway's
Man of La Mancha
, but it should be. Under the baton of music director
Scott Speck
, the Joffrey's orchestra creates a soundscape that is rich and stirring, a vibrant musical mood-ring that keeps the emotional tone of the tale ever-changing in a hundred fresh and subtle ways.
Then there are the dancers. Long story made bearable: The Joffrey's mastery of Possokhov's stunningly athletic choreography is simply a joy to behold. The one-time Bolshoi dancer fills the stage with dazzling lifts, pointe work that calls for feet as delicate as gossamer fairy wings, and leaps that seem to call for the dancers to hover in midair. Technically, it's tough to fault the ensemble's delivery of the steps. But Don Quixote transcends technique; it's also a flight of fancy, a noble fight for valor, a joyous romance and a comedic romp. The ensemble captures all of this, technique merging with emotive powers to create a production that is wholly satisfying.
Most of the dancing requires little footwork from either Don Quixote (Dylan Gutierrez at Friday evening's performance; Fabrice Calmels at others – check schedule for casting) or his pot-bellied sidekick Sancho Panza (Graham Maverick Friday, Derick Agnoletti at other performances). The Knight of the Woeful Countenance and the Squire of the Jiggly Tummy sit out much of the action, observers at a balletic feast. In a manner reminiscent of Clara in the second half of The Nutcracker, Don Quixote and Sancho are an audience to a world of fantasy, color and adventure. And what a world it is.
After claiming the barber Basilio's (Ogulcan Borova, Carlos Quenedit) shaving bowl as his magic helmet and commandeering a bed post for a jousting lance, Don Quixote and Sancho set off on their imaginary quest. While the choreography reflects the story's playful sense of wonder, that wonder is also visualized by some marvelous videography. In Wendall Harrington's projections, windmills morph into dragons with monstrously yawping mouths and illustrations from Don Quixote's tome of chivalric lore become stained-glass mirages. In one giddy moment of hallucinatory vision, Don Quixote flies into the air, tilting at a massive windmill while swept up in its churning arms. It's a brief, near ideal merger of high-tech and low-tech artistry, electronics, rigging and dance combining to create a literally soaring illusion.
It's a tough balancing act that the Joffrey pulls off. Too much emphasis on special effects and you've got spectacle without soul. Too little, and Don Quixote's high-flying antics become pedestrian. Here, the balance between videographic and human elements is just right, delivering a Don Quixote that's both visually fantastical yet rooted in human emotion.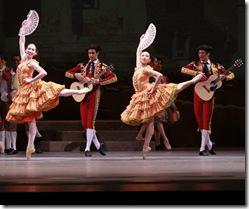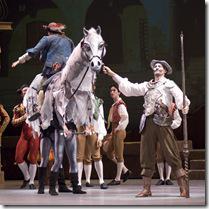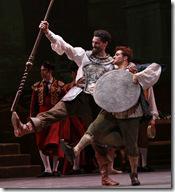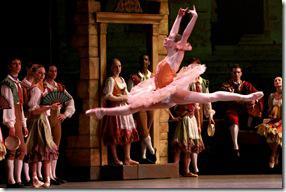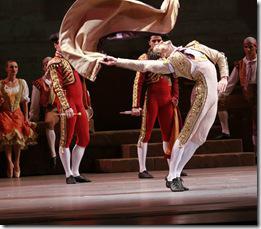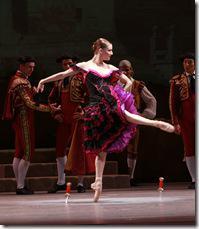 Much of the ebullient elements of that emotion comes from Kitri (Yumelia Garcia, Victoria Jaiani), the tavern keeper's daughter, who Don Quixote believes to be the Lady Dulcinea. Garcia moves with quicksilver sparkle, creating a Kitri who manages to be at once innocent and flirtatious, strong-willed yet still vulnerable. She's contrasted nicely by the street dancer Mercedes (Valerie Robin, Alexis Polito), a sultry, sinewy siren who evokes the spirit of the tango with every seductive step. As Kitri's beloved Basilio, Ogulcan Borova displays a vivid athleticism, each graceful leap seeming to burst with the ebullience of a newlywed. Also memorable is Yumelia Garcia as Amore, a spritely, Cupid-like figure who mischievously shoots Don Quixote with a twinkling bow and arrow and then flitters off into the ether.
Unlike the sobering finale of Cervantes' novel, the titular Knight of the Woeful Countenance doesn't renounce his ideals on his deathbed. In this shinier, happier version of the story there is no deathbed. When fever arrives, it's primary symptom is a beautiful dream of a winter kingdom inhabited by dancing tree nymphs. As their queen, Christine Rocas delivers a lovely, ethereal vision of ice and snow far more palatable than the reality Chicagoans will be slogging through a few months hence.
The valiance and the whimsy that are the cornerstones of the production are crystallized in Cynthia Von Orthal and Tiffany Lange's adorable, raggedy horse puppet, a four-legged (two-person) creature that embodies the playful spirit of the story as it gambols from one quest to the next. And those quests, in this revised ending, don't come to a bitter end as a disillusioned Don Quixote declares chivalry dead, Instead, Don Quixote with the Knight Errant raptly engrossed in massive tome of chivalric sagas that launched his adventures. It may not be what Cervantes had in mind, but the Joffrey's telling of the ancient legend is enthralling nonetheless.
Rating: ★★★★
Joffrey Ballet's Don Quixote continues through October 23rd at the Auditorium Theatre, 50 E. Congress Parkway (map), with performances Thursdays-Fridays at  7:30pm, Saturdays at 2pm and 7:30pm, and Sundays at 2pm.  Tickets are $25-$149, and are available by phone (800-982-2787) or online at Ticketmaster.com. More information at Joffrey.org.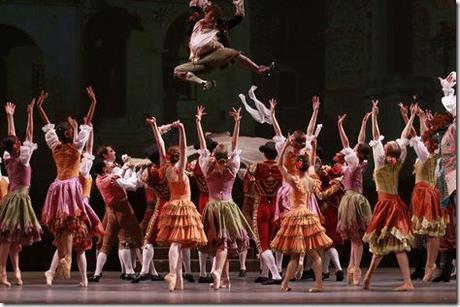 All photos by Bob Nick
---
artists
cast
Fabrice Calmels, Dylan Gutierrez, Jack Thorpe-Baker (Don Quixote); Derrick Agnoletti, Graham Maverick (Sancho Panza, squire to Don Quixote); Willy Shives, Ashley Wheater (Lorenzo, an Innkeeper); Victoria Jaiani, Yumelia Garcia, April Daly, Christine Rocas (Kitri, his daughter); Carlos Quenedit*, Ogulcan Borova, Temur Suluashvili, Dylan Gutierrez (Basilio, a barber in love with Kitri); Alexis Polito, Jeraldine Mendoza, Anastacia Holden, Amber Neumann, Elizabeth Hansen, Caitlin Meighan (Kitri's Friends); Lucas Segovia, Rory Hohenstein (Gamache, betrothed to marry Kitri); Joanna Wozniak, April Daly, Valerie Robin (Mercedes, a street dancer); Matthew Adamczyk, Dylan Gutierrez, Fabrice Calmels (Espada, a famous toreador); Erica Lynette Edwards, Mahallia Ward (Housekeeper); Shane Urton and Alberto Velazquez, Fernando Duarte and Gal Mahzari, John Mark Giragosian and Fabio Lo Guidice (Rocinante, Don Quixote's faithful horse); Brian Campbell (Vegetable Cart Vendor); April Daly, Kara Zimmerman (Queen of the Dryads); Abigail Simon, Katherine Minor, Anastacia Holden (Amore); Shane Urton, Michael Smith (Tavern Keeper); Anastacia Holden, Katherine Minor, Amber Neumann, Lauren Pshirrer, Elizabeth Hansen, Caitlin Meighan, Jacqueline Moscicke, Abigail Simon, Katherine Bruno (Bridesmaids); Ogulcan Borova, Raul Casasola, Rory Hohenstein, Aaron Rogers, Temur Suluashvili, Mauro Villanueva, Mathew Adamczyk, John Mark Giragosian, Ricardo Santos, Shane Urton, Alberto Velazquez (Torreadors); Katherine Bruno, Fernando Duarte, John Mark Giragosian, Elizabeth Hansen, Jaime Hickey, Dara Holmes, Fabio Lo Giudice, Graham Maverick, Caitlin Meighan, Jacqueline Moscicke, Ricardo Santos, Michael Smith, Jack Thorp-Baker, Derrick Agnoletti, Erica Lynette Edwards, Gal Mahzari, Katherine Minor, Alexis Polito, Aaron Rogers, Jose Soares da Silva, Lucas Segovia, Abigail Simon, Jia Sun, Michael Sayre, Mauro Villaneuva, Shane Urton, Alberto Velazquez, Mahallia Ward, Jenny Winton, Joanna Wozniak, Kara Zimmerman (Seguidillas); Katherine Bruno, Elizabeth Hansen, Maredith Harrill, Jaime Hickey, Anastacia Holden, Dara Holmes, Tuesday Mayhew, Caitlin Meighan, Katherine Minor, Jacqueline Moscicke, Amber Neumann, Christine Rocas, Mahallia Ward, Jenny Winton, Kara Zimmerman, Nardia Boodoo, Jeraldine Mendoza, Amber Neumann, Alexis Polito, Lauren Pshirrer, Jia Sun, Joanna Wozniak (Dryads)
behind the scenes
Yuri Possokhov (choreographer); Ludwig Minkus (composer); Scott Speck (conductor); Jack Mehler (set, lighting); Wendall K. Harrington (projections); Cynthia Von Orthal, Tiffany Lange (puppet design); Travis Halsey (costumes); Bob Nick (photos);