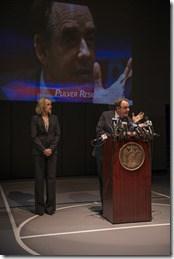 Domesticated
Written & Directed by Bruce Norris
Steppenwolf Theatre, 1650 N. Halsted (map)
thru Feb 7  |  tix: $20-$89  |  more info
  
Check for half-price tickets  
  
---
Brilliant satire of gender, sexual politics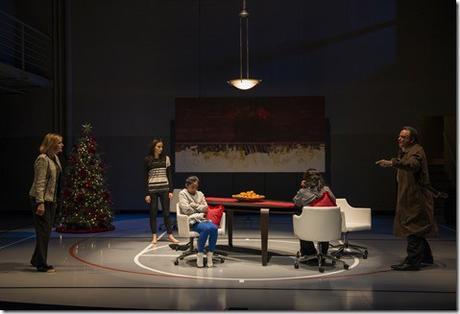 Steppenwolf Theatre Company presents
Domesticated
Review by Lauren Whalen 
Bruce Norris has made a career of grabbing controversial issues and diving deep. Yet for all his agit-prop instincts, Norris writes characters that are intelligent, hilarious and deeply, profoundly human. Where Norris' Clybourne Park delved into race and The Qualms into non-monogamy, Domesticated takes on sexism, sexual politics and basically any concept beginning with the word "sex" that inspires lust, fear and all emotions in liberals and conservatives alike. Norris' witty and profane script is only very slightly undermined by his directing the piece as well, but the stunning cadre of actors makes the whole exercise worthwhile.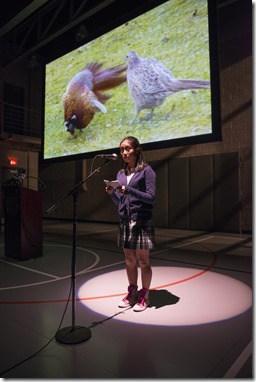 Domesticated begins with young Cassidy Pulver (Emily Chang) giving a middle-school presentation on sexual politics in the animal kingdom, a theme that runs through the entire play. In the next scene, politician, OB-GYN and women's health advocate Bill Pulver (Tom Irwin) repeats a scene that we've now witnessed many times. With hesitation in every syllable, he recounts a single night of infidelity that ended in tragedy. His wife Judy (Mary Beth Fisher) stands by his side, expressionless but for a single eye roll. We all know the real story happens behind the scenes, but the "truth" turns out to be a flexible concept depending on point of view.
After Domesticated's press opening performance, I overheard some call the script "over the top" and "too satirical." Excellent satire it may be, but sadly I've heard many of Bill's misogynistic viewpoints come out of the mouths of men I once respected, sometimes nearly word for word. Today's society is brutal on cis- and transgendered women alike: politicians threaten to eliminate access to birth control, and fearing for one's safety is a necessary evil, even in the smallest and "safest" of spaces. Bill himself is supposedly a feminist ally, a doctor who pushes for women's public health as a whole, yet his behavior toward actual women (his wife and daughters, his patients, and the sex worker who plays a part in the controversy) is largely abhorrent. When Bill is solicitous, romantic or kind, it's for his own purposes. When it comes to internalized misogyny, Norris hits the nail so firmly on the head, it's scary. It's understandably true, then, that many won't want to believe that these attitudes are present everywhere, every minute of every day.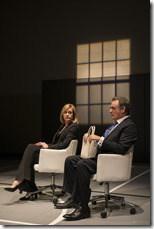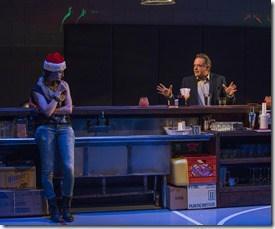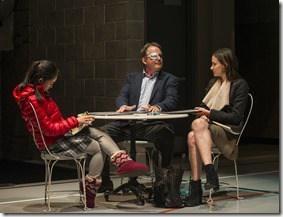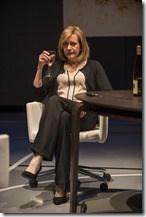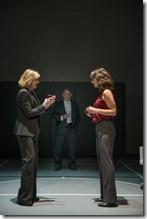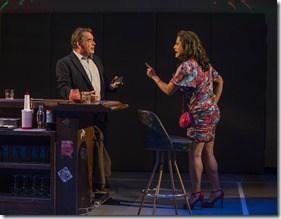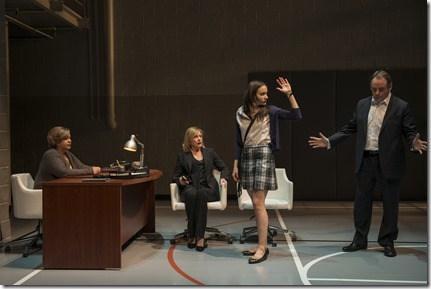 Domesticated was commissioned in 2013 by Lincoln Center, and was directed by Steppenwolf company member Anna D. Shapiro. Norris took over the direction for the Chicago premiere, and while his staging is a little awkward at times, it never undermines the power of his dialog. Todd Rosenthal's genius scenic design perfectly replicates a middle school gym, with various pieces moving in and out like magic thanks to Laura Glenn's expert stage management. The cast is extremely gifted, from Irwin's philandering politician, equally silent and silver-tongued, to Mildred Marie Langford's stellar turn as an Oprah-like television host and guru. Beth Lacke is sassy and sympathetic as the Pulvers' attorney and family friend, and Melanie Neilan (last seen at Steppenwolf in the arresting Russian Transport) is complex perfection as angry teenage daughter Casey Pulver. Rae Gray shines in multiple roles, including a jaded bartender and prostitute Becky, and Esteban Andres Cruz gives a hilarious but poignant turn in a single scene. But at its dark little heart, Domesticated belongs to Fisher. Her spot-on interpretation of Judy, the wronged wife turned woman warrior, is nothing short of a tour de force.
When it comes to sharp and biting social commentary, no one gets to the gut like Bruce Norris. Domesticated is a strong, horrifically funny script executed deliberately and beautifully by the best of the best. It's not pretty. It's not pleasant. It is absolutely something you should see.
Rating: ★★★½
Domesticated continues through February 7th at Steppenwolf Theatre, 1650 N. Halsted (map), with performances Tuesday thru Sunday.  Tickets are $20-$89, and are available by phone (312-335-1650) or online through their website (check for half-price tickets at Goldstar.com). More information at Steppenwolf.org.  (Running time: 2 hours 15 minutes, includes an intermission)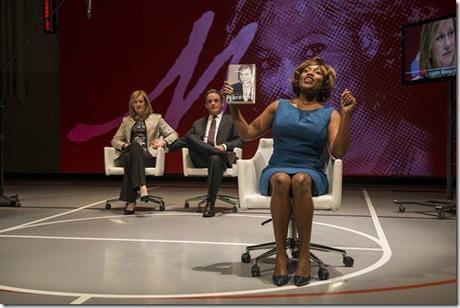 Photos by Michael Brosilow 
---
artists
cast
Tom Irwin (Bill Pulver), Mary Beth Fisher (Judy Pulver), Emily Chang (Cassidy), Esteban Andres Cruz (Woman in Bar), Meighan Gerachis (Pilar, Judge, Ensemble), Rae Gray (Bartender, Becky, Ensemble), Beth Lacke (Bobbie), Mildred Marie Langford (Talk Show Host, Ensemble), Melanie Neilan (Casey), Meg Thalken (Shrink, Ed, Pat, Ensemble), Karen James Woditsch (Jackie, Patient, Ensemble), Laura D. Glenn (voice of Erica), Jeannie Affelder, Kona N. Burks, Rosa SanMarchi (ensemble), Linnea "Gracie" Bowser, Hayley Burgess, Armand Fields, Guy Massey, Stephanie Monday (understudies)
behind the scenes
Bruce Norris (writer, director), Todd Rosenthal (scenic design), Jenny Mannis (costume design), Ann G. Wrightson (lighting design), Rick Sims (sound design), Jeff Sugg (projection design), Jessamyn Fuller (casting), Laura D. Glenn (stage manager), Christine D. Freeburg (assistant stage manager), Lauren Shouse (asst. director), Brian Balcom (research associate), Michelle E. Benda (asst. lighting design), Joseph A. Burke (programmer), Zoe Shiffrin (asst. charge artist), Andrew Lex (additional properties), AJ Burkart, Ryan Luwe, Mark Vinson (additional carpentry), Ivy Reid, Vanessa Rundle (running crew), Cambra Overend (consultant), Katie Creeggan (stage management apprentice), Alka Nayyar (Urdu translator and coach), Michael Brosilow (photos)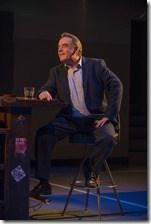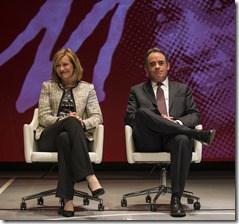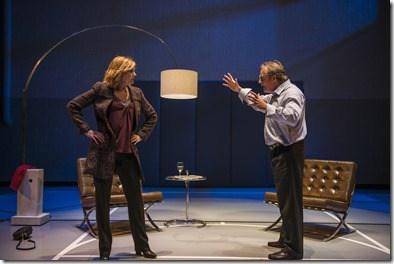 15-1231