Music/Lyrics: Benj Pasek, Justin Paul
Book by Peter Duchan
Theater Wit, 1229 W, Belmont (map)
thru Oct 18  | tix: $27-$30  | more info
  
Check for half-price tickets  
  
---
A feast for those who like their musicals meaty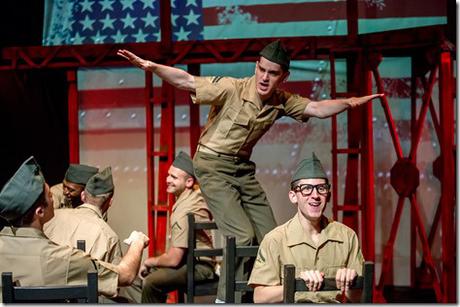 BoHo Theatre presents
Dogfight
Review by John Olson
So many musicals of the golden age treated men in one of two ways – either as a knight in shining armor rescuing the damsel, or as a troubled soul made whole by the love of a good woman. Either way, sort of an idealized version of masculinity viewed from a female perspective. A commercially solid approach given that women are the primary buyers of theater tickets – especially musicals. Dogfight – based on the 1991 movie about a group of young Marines on the way to the Vietnam War sort of falls into the latter category, but in no way does it give an idealized view of men. Its story follows Pvt. Eddie Birdlace and his buddies – a group of Jarheads who spend their last night stateside in San Francisco before shipping out to Okinawa and eventually "Nam – by organizing a "dogfight" party. The guy who brings the homeliest date wins a cash prize. That's unsympathetic enough, but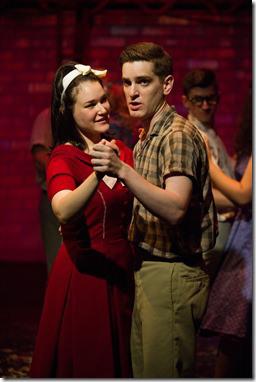 Eddie and his fellow corpsmen are shown to have all the false bravado, immaturity and chauvinism one associates with males of 18 to 21 years or so. From the start, there's a suggestion that Eddie has more sensitivity than the rest of them, but he keeps it to himself – struggling to keep appearance with the other guys and be just as macho as them. He goes along with the scheme to bring a date to the dogfight, but his choice, Rose, is not homely so much as plain and maybe a little overweight. He quickly begins to feel guilty about the scheme, but too late – and Rose, who he's come to rather like, catches on and is understandably furious. When he invites her to dinner to make amends, Rose agrees, but only to show him who she really is and what a fool she's been. Before the long night is over, Rose gets Eddie to feel more secure in his softer side – thus making him whole.
The movie was written by a man and directed by a woman. This 2012 musical was written by three men – the book by Peter Duchan and the score by the current "it" kids of the NYC musical theater world, Benj Pasek and Justin Paul. They understand the mindset of the young male – which if anything was even more chauvinistic in the story's time period of 1963, when men were the only soldiers assigned to combat duty. This unlikely subject matter actually works well as musical – with rousing songs and athletically choreographed (by Stephen Schellhardt) dances for the soldiers together with quieter ballads for the thoughtful aspiring folk singer Rose. Pasek and Paul write accessible songs in the pop/show tune vein and they know how to use songs to bring insight into characters and situation. They don't try to suggest music of the early sixties era, as they might have – and the score sounds kinda more "now" or "anytime" than it might. Dogfight's score could also be more of a whole than a collection of songs with no musical thematic relation to each other. Still, it's an honest piece of writing with insight into the struggles young American boys can have in learning what it means to be men – especially those who are trained to be unfeeling fighting men. It's empathetic without being sympathetic or excusing boorish behavior.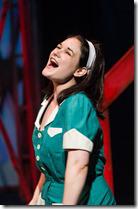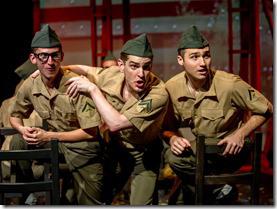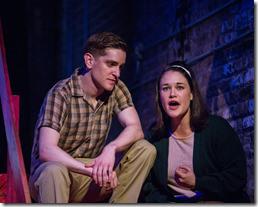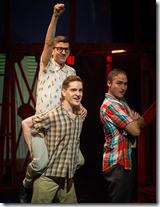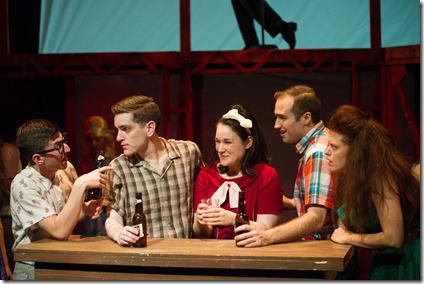 BoHo Theatre has brought this new musical to Chicago for the first time in fine style. Their Rose, Emily Goldberg brings a lot of nuance to her role as the plain and quiet Rose. Though justifiably upset at her treatment by the men (even though she doesn't win the dogfight), she gets that Eddie may still be the first man to see what's inside her. Goldberg has the range to communicate all this plus the vocal chops to deliver the score. As Eddie, Garrett Lutz is almost as strong. Lutz shows more of Eddie's hard side than the character's underlying vulnerability, but the writers could have provided a bit more for him to work with. Then maybe I'm unfairly comparing him to the movie's River Phoenix, whose physicality just oozed sensitivity and vulnerability. The supporting roles are ably performed as well, with Matt Frye all macho and duplicitous as Eddie's buddy Boland. No conflict reconciling a softer side with that guy. Nick Graffagna does a great comic turn as the skinny and insecure Bernstein – more determined to lose his virginity than win the dogfight prize on this San Francisco night. And Mary Kate Young is a knockout as Marcy, the hooker who Boland, in violation of the rules, hires to be his date and who turns on him in grand fashion.
Director Peter Marston Sullivan has a sure hand with the piece, giving it an energetic and masculine tone that becomes sensitive in the quieter moments. The action is staged on Patrick Ham's set of a simple catwalk and pillars, with Tony Churchill's projections providing San Francisco context. Ellen Morris's five-piece band and the cast of 11 do right by the score, though the balance between band and vocals favored the band too much in the early scenes.
Dogfight, well received in its off-Broadway run, did not transfer to Broadway. It's probably too much a chamber musical for that, but it perfectly fits its space at Theater Wit. It seems a shame that it got only a five-week run in New York, but regional companies around the country are clamoring to pick it up. Kudos to BoHo for being the first to grab it in Chicago, where musical theater production seems to favor the tried and true over the work of new writers. Heck, Laurence O'Keefe's Bat Boy will have taken 15 years to get a Chicago production by the time Griffin produces it next spring. BoHo's Dogfight gives us a look at the work of the up and coming Pasek and Paul who, with this piece, have effectively applied some traditional Broadway musical structures while stretching the genre at the same time through their choice of gritty subject matter.
Rating: ★★★½
Dogfight continues through October 18th at Theater Wit, 1229 W. Belmont (map), with performances Thursdays-Saturdays 8pm, Sundays 2pm.  Tickets are $27-$30, and are available by phone (773-975-8150) or online through TheaterWit.org (check for half-price tickets at Goldstar.com). More information at BoHoTheatre.com.  (Running time: 2 hours, includes an intermission)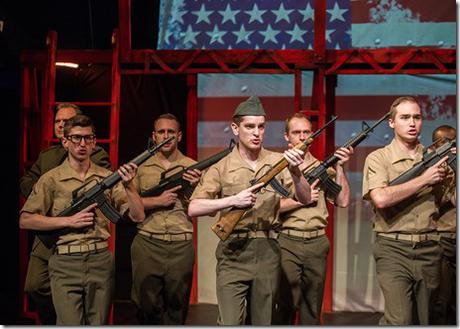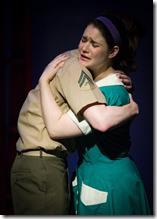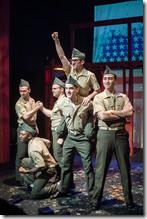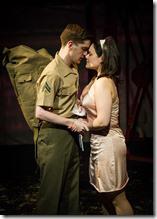 Photos by Amy Boyle 
---
artists
cast
Matt Frye (Boland), Emily Goldberg (Rose Fenny), Carisa Gonzalez (Ruth Two Bears, Librarian, Chippy), Nick Graffagna (Bernstein), Garrett Lutz (Eddie Birdlace), Matt Provencal (Fector), Peter Robel (Lounge Singer, Pete, Sergeant, Drag Queen, Waiter, Big Tony), Neil Stratman (Gibbs, Stevens' party date), Jillian Weingart (Mama, Suzette), Travis Austin Wright (Stevens), Mary Kate Young (Marcy, Peggy)
orchestra
Ellen K. Morris (music director, conductor, keyboard), Robert Fletcher (drums), Sean Francois (bass), Renee Henley (violin, viola), Michael Lockler (guitar)
behind the scenes
Peter Marston Sullivan (director), Ellen K. Morris (music director), Stephen Schellhardt (choreography), Patrick Ham (scenic design & technical director), Theresa Ham (costume design), Nicole Malmquist (lighting design), Amanda Hosking (sound design), Tony Churchill (projection design), Cassy Schillo (properties design), Dalton Long (stage manager), Miguel Perez (hair and makeup design), Molly Layton (assistant director), Zachary L. Gray (assistant choreographer), Michael Van Howe (charge artist), Jarred Evanovich (carpenter), Brian Elston (assistant lighting design), Matt Carl (assistant costume design), Ryan McCain (assistant properties design), Paul Di Ciccio, Netta Walker (rehearsal assistant stage managers), Meg Love (producer), Amy Boyle (photos)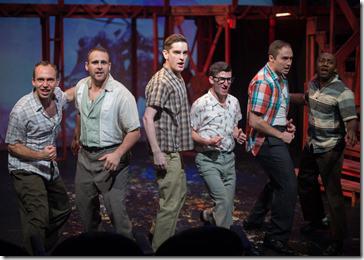 15-0919