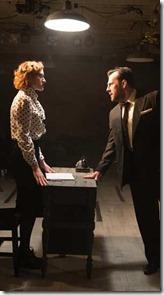 Fans of film noir murder mysteries will love this play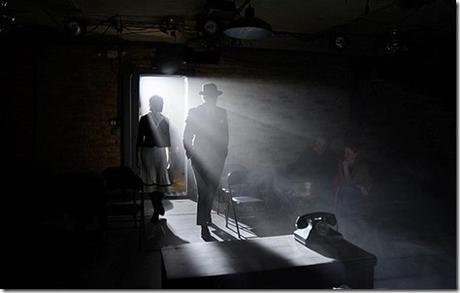 Fans of the film noir of the '40's and early '50's will love this play. It's filled with all the things that made gangster and murder films so popular: tough guys, cigar-smoking detectives, sexy women and most of all, intrigue. After a clever entrance of the cast, spotlighted one by one then disappearing into the shadows at either side of the stage, our hero, Bigelow, staggers into a police station to report a murder. "Whose?" asks the captain. "Mine." utters Bigelow. From that point on, the story goes back in time as we meet Bigelow in his office and moves quickly, introducing each of the characters as we observe a boozy party, a "morning after" when Bigelow (Mickey O'Sullivan who does a fine job of moving the story forward and is on stage through all the action) discovers he's been mysteriously poisoned and has to find out why - and in a hurry - because the poisoning is fatal. There's a suicide involved, conniving women, a larcenous deal involving numerous people and a hit man that brought the nasty Richard Widmarkto mind.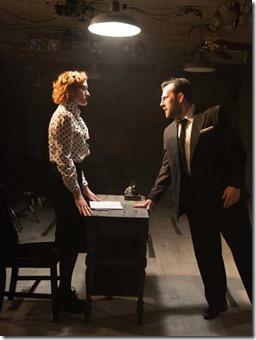 John Kelly's lighting design brings the necessary hardness to the set and offers a sense of a smoke-filled room, which lends even more authenticity to the mood of the play. Also intriguing is the ability for all members of the cast to be involved: between scenes - in the movement of pieces on stage, plants, a settee, a desk, chairs, and a telephone - in a disciplined manner, in a very small place with nary a collision. This speaks to the tight direction of Elizabeth Lovelady, who adapted the play from Russell Rouse and Clarence Greene's 1950 Rudolph Maté film. Ms. Lovelady keeps things active throughout, giving the audience no time to be bored or restless.
The world premiere's supporting cast also does a fine job of taking on the many divergent roles required to keep the action and dialogue crisp.The music is on target, the mellow saxophone and tinkling piano so reminiscent of those days when tough guys ruled and dames provided the scenery. But the high moment occurs almost at the end as our hero, Bigelow, lays dying, bodies strewn about, and his betrothed Paula (aptly played by Megan Skord) - still wanting to talk about possible nuptials - asks, "Is this a bad time?" No Paula, perfect timing.
continues through April 5th at Strawdog's Hugen Hall, 3829 N. Broadway (map), with performances Saturdays 4pm, Sundays 12pm, Mondays-Tuesdays 8pm. Tickets are $15 (50% off 1 hour before show), and are available by phone (866-811-4111) or at OvationTix.com (check for half-price tickets at Goldstar.com ). More information at Strawdog.org. (Running time: 60 minutes, no intermission)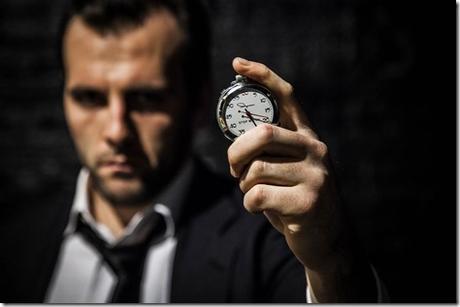 behind the scenes
Elizabeth Lovelady (director, adaptor), (set design), (lighting design), Raquel Adorno (costume design), Jamie Karas (props design), (sound design), R&D Choreography (violence design), Becca Levy (stage manager), Liam Fitzgerald (production manager), , Tom McGrath (photos)
Tags: 16-0318, Becca Levy, Carol Ludwick, Chicago Theater, Clarence Greene, Duane Barnes, Elizabeth Lovelady, Heath Hays, Jamie Karas, Joe Mack, John Kelly, Jon Cole, Jon Cole Media, Kelsey Shipley, Liam Fitzgerald, Mallory Nees, Megan Skord, Mickey O'Sullivan (Bigelow), Mike Mroch, post, R&D Choreography, Raquel Adorno, Richard Widmark, Rudolph Maté, Russell Rouse, Scott Cupper, Sean McGill, Strawdog Hugen Hall, Strawdog Theatre, Tom McGrath, Wm. Bullion
Category: 2016 Reviews, Adaptation, Duane Barnes, Hugen Hall, New Work, Strawdog Theatre, World Premier