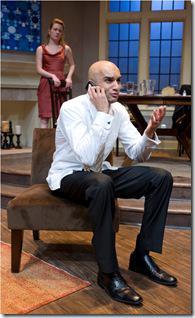 Disgraced
Written by Ayad Akhtar 
Directed by Kimberly Senior 
American Theater Co, 1909 W. Byron (map)
thru Feb 26  |  tickets: $35-$40   |  more info
  
Check for half-price tickets 
  
  
   Read entire review
  
---
'Disgraced' is a provocative, educational must-see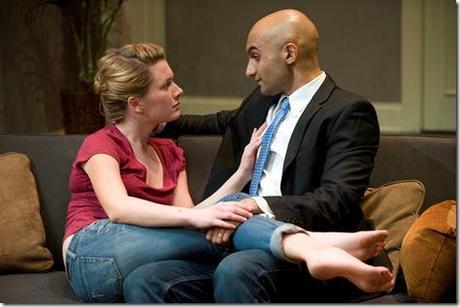 American Theater Company presents
Disgraced
Review by Katy Walsh 
When I was in Morocco, I was sensitive to the Muslim culture.  I stayed covered up.  I didn't wear a burka but I did wear long sleeves, pants and a scarf around my neck.  One day on a crowded street, I got separated from my group.  A young local confronted me hissing and shrilling inches from my face.  My scarf had loosened to reveal my neckline.  And in his eyes, I was a disgrace.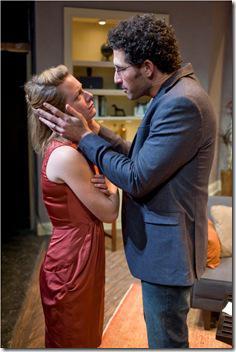 American Theater Company presents the world premiere of
Disgraced
.  Amir is a recovering Muslim.  He has renounced his religious roots.  He's working for partnership in his law firm.  Emily is his white wife.  She is an artist working on a Muslim-influenced series.  Isaac is a gallery owner.  He wants to exhibit Emily's collection.  He is Jewish.  His wife, Jory, is black and also a lawyer at Amir's firm.   Their common interests bring them together for dinner.  Their differences ensure it's their last supper. 
Disgraced
is an unforgettable dinner party.  
Playwright Ayad Akhtar creates this contemporary, liberal American outing: Loving bi-racial marriages, tight male-female colleagues.  On the surface, it looks like a politically-correct television sitcom.  The dialog is sophisticated.  As the show progresses, the jocularity disappears as tensions mount.  It's one implosion after another.  Akhtar's fleshed-out characters left me exhausted and holding back a sob.  From lights up, Director Kimberly Senior puts me in the room.  The acting is so authentic that I feel like a fifth wheel.  I bite my tongue not to blurt out a retort.  At first, I want to join in the playful banter, and then I want to intervene in the conflict.  Dialogue overlaps and lingers.  It's one of those dinner parties that you leave uncomfortably full and replay the conversations over and over again. 
This show is full of personality.  The cast provides ongoing thought-provoking viewpoints on religion, race, gender.  Stereotypes are explored and weirdly justified.  In the lead, Usman Ally (Amir) plays raging paranoid perfectly.  He balances heavy doses of humor with anger issues.  His flawed character garners empathy for his weaknesses, as well as, his strength.  An understated Alana Arenas (Jory) makes hilarious side cracks.  Arenas is sooooooo natural.  She's really eating cheese and just hanging out. Her responses seem completely organic in the moment.  And then when pushed, she shoves…hard!  The entire ensemble provides a sublime look and feel to Akhtar's multi-dimensional story.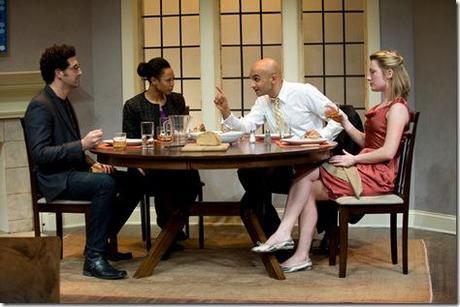 My Moroccan incident shocked me.  Not because I wasn't ready for it.  Before I went on vacation, I had learned the standards for female dress.  I was well-prepared.  But then I arrived and met such a welcoming culture of gentle people dedicated to daily multiple prayer times.  My neckline exposure enraged a young man.  It was deemed disrespectful.  My showing a little skin seemed to rip this guy's scab off and his wound ran deep.  He had hundreds of years of emasculation simmering below the surface.   Disgraced masterfully illustrates the cultural differences that start wars.  This show not only entertains, it educates.  Its significance makes it a must see!  
Rating: ★★★★
Disgraced continues through February 26th at American Theater Company, 1909 W. Byron (map), with performances Thursdays-Fridays at 8pm, Saturdays at 3pm and 8pm, and Sundays at 3pm.  Tickets are $35-$40, and are available by phone (773-409-4125) or online at PrintTixUSA.com (check for half-price tickets at Goldstar.com). More information at atcweb.org.  (Running time: 75 minutes with no intermission)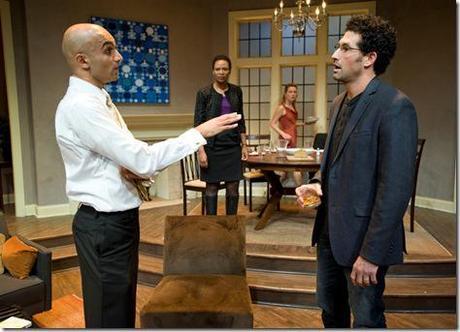 All photos by Michael Brosilow 
---