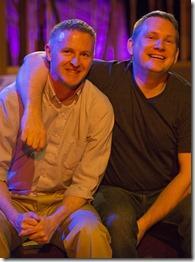 Directions for Restoring
   the Apparently Dead
Written by Martin Casella
Directed by David Zak 
at Stage 773, 1225 W. Belmont (map)
thru Nov 10  |  tickets: $20-$30   |  more info
  
Check for half-price tickets 
  
  
   Read review
  
---
World premiere feels more lifeless than dead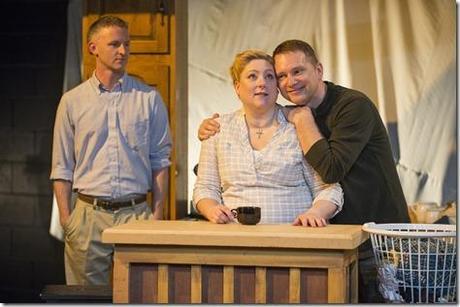 Pride Films and Plays presents
Directions for Restoring the Apparently Dead
Review by Katy Walsh 
Playwright Martin Casella won the Pride Films and Plays 2013 Great Gay Play Contest, and now his winning play is holding its world premiere at Stage 773.  Directions is about two childhood chums that reunite as adults for a vacation.  Griff (played by Patrick Rybarczyk) is married with two children.  Jinx (played by Patrick Gannon) is a recent widower – Richard, his partner of 15 years, unexpectedly died.  Now Jinx is revisiting his strong feelings for his boyhood crush.  The wrinkle is Griff is heterosexual and a Mormon.
Casella uses flashbacks to give background on each of the guys.  It's in these glimpses of their pasts that we are introduced to the forceful Bea (Alanda Coon) and colorful Richard (Nicholas Stockwell).  Through Coon's and Stockwell's noteworthy performances, we get a sense of who Griff and Jinx are.  Coon challenges Griff to go beyond her expectations.  Stockwell goads Jinx to reveal his intimate secrets.  These interactions help us determine who's who and what the stakes are. Coon and Stockwell help us emotionally connect to the past but, unfortunately, they are not there to link us to  the present.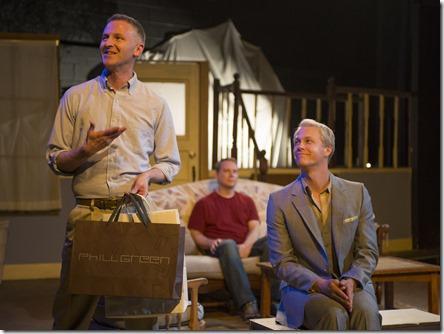 Under the direction of David Zak, Rybarczyk and Gannon's interactions are stilted.  From the start, the audience passively watches their exchanges.  We never invest in their relationship because they themselves don't.  It feels like the actors have memorized lines from a script – which of course, they have.  It's just that the audience views it as two actors in a scene; not two buddies hanging out. And that's a problem. Rybarczyk and Gannon lack a natural chemistry and an authentic relationship.  In particular, Gannon never seems like he's smoldering from a timeless, undying love.  His only true emotion  is delivered at the moment of his partner's death.  In the past and separately, Rybarczyk and Gannon are delightful as the sidekicks to their stronger counterparts.
Throughout the show, Directions for Restoring the Apparently Dead gives helpful tips for reviving someone that is lifeless.  It's clever schtick.  I just would recommend the play embrace its own suggestions to exploit the humanity within. 
Rating: ★★
Directions… continues through November 10th at Stage 773, 1225 W. Belmont (map), with performances Thursdays-Saturdays at 7:30pm, Sundays 3pm.  Tickets are $20-$30, and are available by phone (773-327-5252) or online through Stage773.com (check for half-price tickets at Goldstar.com). More information at PrideFilmsandPlays.com.  (Running time: 90 minutes, NO intermission)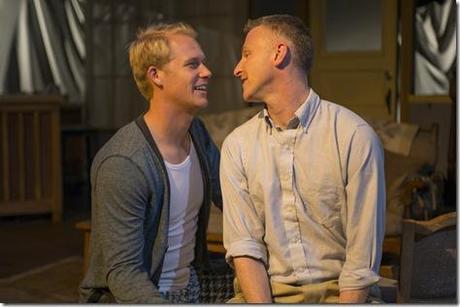 Photos by Michael Brosilow 
---
artists
cast
Patrick Rybarczyk (Griff), Nicholas Stockwell (Richard), Alanda Coon (Bea), Patrick Gannon (Jinx). 
behind the scenes
David Zak (director), Ashley Ann Woods (scenic design), John Nasca (costume design), Raphael Schwartzman (lighting design), Michael Brosilow (photos)
13-1017