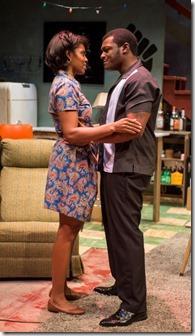 Detroit '67
Written by Dominique Morisseau
Directed by Ron OJ Parson 
North Shore Center, Skokie (map)
thru Dec 15  |  tickets: $25-$75   |  more info
  
Check for half-price tickets 
  
  
   Read review
  
---
A Motown drama with solid-gold performances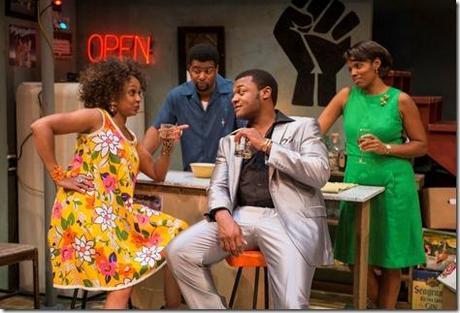 Northlight Theatre presents
Detroit '67
Review by John Olson
With a title like Detroit '67, you might expect a large, sweeping story with multiple characters and arcs encompassing all the aspects of the historic disturbance that rocked the Motor City's inner city African-American neighborhoods in the summer of 1967. What we find instead in Dominique Morisseau's drama is a very specific story in a specifically stated place (12th and Clairmount, on Detroit's West Side) about a small group of characters affected by that violence. By telling her story in such specific human terms, the author gives much insight into the larger history.
The play's action all takes place in a residential basement (realistically designed by Jack Magaw), where, as was common at the time, people would throw public after-hours parties called "blind pigs." The hosts would charge an admission, but provide free alcoholic drinks to the guests to avoid violating liquor licensing laws. The owners of this particular home and hosts of some blind pig parties are Chelle and Lank – an adult sister and brother pair living in the childhood home they inherited (along with a nest egg) from their deceased parents. As they prepare for the blind pig they're hosting on a night in July of 1967, we learn of Lank's plans to partner with his friend Sly and take their skills as nightlife entrepreneurs legit by using the inheritance to buy a neighborhood bar. These plans have not yet been revealed to sister Chelle, who has far more conservative intentions for the cash. A few nights later, Lank and Sly rescue a beaten and dazed white woman wandering aimlessly in the neighborhood late at night. They bring the unconscious woman into the basement and after she awakens the next morning – lacking anything but the clothes on her back – Chelle and Lank agree to let her live in the basement for a while and work at their blind pig parties as a waitress. The mysterious young woman won't reveal anything about her past, but she does have a knack for cocktail waitressing and she and Lank develop an attraction for each other.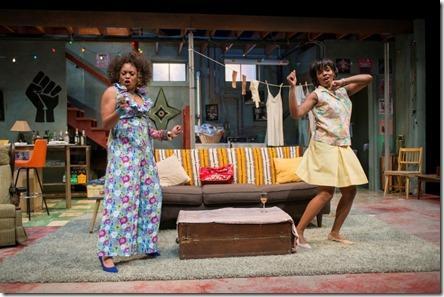 Since we know more than the characters know about the future of the neighborhood, Lank's plan to use the inheritance to buy a bar down the street seems a bad idea – and the fear that Lank will squander the inheritance feels reminiscent of A Raisin in the Sun. To be sure, Detroit '67, is like Raisin, about the hopes and dreams of its characters. This new play covers much different ground, though. At first there's a light and funny tone, with Chelle, Lank, Sly and their friend Bunny living a relatively peaceful life in their neighborhood in spite of continual harassment by white policemen. Tension is momentarily introduced when the white woman Caroline enters the home, but even that dissipates as Caroline is shown to be a vulnerable and sympathetic figure. The real-life events of the riots, initially sparked by overzealous policemen reacting to the blind pigs but coming after years of frustration toward the officers who were called pigs by the play's characters, eventually steer the tone to suspense and tragedy before the drama ends on a hopeful note.
Morissseau's play, punctuated by recordings of Motown R&B classics, is not plot-heavy. Instead, she gives us long and leisurely scenes that allow her to develop the characters. In the hands of this superb cast led by director Ron OJ Parson, they fully come to life. Morisseau never stoops to easy stereotypes (dramatic or racial) and never attempts to make her characters any more than very average, believable people. Kamal Angelo Bolden is the brother Lank, who hasn't done anything too remarkable in life but seems to have a talent for throwing these parties. Initially appearing to be a somewhat irresponsible party boy, he turns out to be the rock of these five people – and is greatly transformed by the historic events around him. Bolden captures all these aspects of Lank, especially managing his transition into a more socially aware and steadfast man by the end. Cassandra Bissell as Caroline pulls us in to life of this stranger – and it's clear Ms. Bissell knows exactly what her character's backstory is long before it's revealed to us. Caroline is frightened yet street-smart; kind and selfless, able to take responsibility for herself but not too proud to ask for and accept help that she badly needs. Caroline develops complex relationships with Chelle and Lank that Bissell communicates expertly and touchingly. Sly and Bunny initially seem like cheery relics of the '70s sitcom, but as the story progresses they're both shown to be much deeper people through the subtle performances by Kelvin Roston Jr. and Coco Elysses.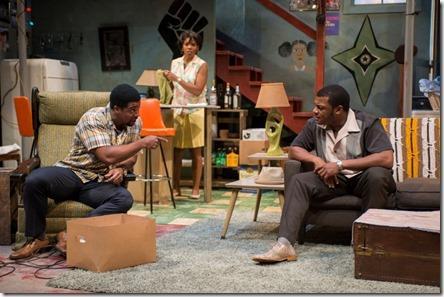 It's taking nothing away from these four actors to say the highlight of the show is the performance by Tyla Abercrumbie as Chelle. Her character initially appears to be rather bland and super-responsible, but playwright Morisseau and actress Abercrumbie take her continually into deeper emotional territory in the second act. Then, Chelle's fears of the violence outside the house and of the white stranger within her home grow greater. Her last scenes – after tragedy has struck and Chelle breaks down, yet then tries to put on a brave face and eventually recover – are a stunning display of versatile, intense and nuanced acting. And that's not to call it just technical show of skill – there's a very real emotional connection made between audience and character in these last scenes. Add Ms. Abercrumbie's knockout looks and stage presence to the mix and one can reasonably predict there's great star potential in this actress.
The script could probably use some editing – some of the scenes and moments go on a little longer than they need to. And there's no denying that Morisseau wears her heart on her sleeve in some speeches, though we don't mind because the sentiments and emotions she expresses have been well earned. Detroit '67 is a history lesson – an overdue one at that – brought to life quite touchingly by Parson and cast.
Rating: ★★★½
Detroit '67 continues through December 15th at the North Shore Center for the Performing Arts, 9501 Skokie Blvd. (map), with performances Tuesdays at 7:30pm, Wednesdays 1pm and 7:30pm, Thursdays 7:30pm, Fridays 8pm, Saturdays 2:30pm and 8pm, Sundays 2:30pm and 7pm.  Tickets are $25-$75, and are available by phone (847-673-6300) or online through their website (check for half-price tickets at Goldstar.com). More information at Northlight.org.  (Running time: 2 hours 20 minutes, includes an intermission)
Photos by Michael Brosilow 
---
artists
cast
Tyla Abercrumbie (Chelle), Coco Elysses (Bunny), Kamal Angelo Bolden (Lank), Kelvin Roston, Jr. (Sly), Cassandra Bissell (Caroline)
behind the scenes
Ron OJ Parson (director), Jack Magaw (scenic design), JR Lederle (lighting design), Nick Keenan (sound design), Malcolm Ewan (production stage manager), Nan Cibula-Jenkins (costume design), Michael Brosilow (photos)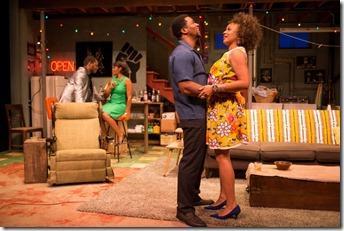 13-1127