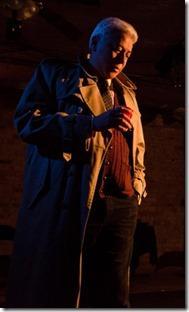 Detective Partner
   Hero Villain
Written by Brett Neveu
Directed by Gus Menary
at Strawdog Theatre, 3829 N. Broadway (map)
thru Dec 17  |  tickets : $15   |  more info
  
Check for half-price tickets 
  
  
   Read review
  
---
Slow-paced superhero discourse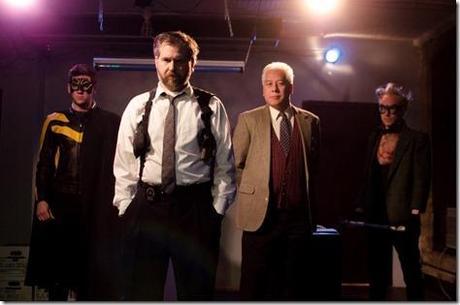 Strawdog Theatre's Hugen Hall presents
Detective Partner Hero Villain
Review by Keith Glab
Billed as a "psychological superhero-noir," Detective Partner Hero Villain certainly waxes philosophical for its 70-minute duration. This is no fast-paced action piece. The surprisingly slow-moving narrative features more talking heads than crime-fighting and more plod than plot.
Detective Bradley Manners (John Wilson) and his partner Warren Baker (Marc Rita) are investigating a series of homicides, the victims of which all died wearing t-shirts depicting a local superhero, The Fantastic Phenomenon (Sam Guinan-Nyhart). Detective Manners happens to be the only police officer The Fantastic Phenomenon talks to, and the duo have combined to solve dozens of crimes and put away countless bad guys over the years. But their struggle to do so in this case, plus the nature of the murders, causes the Detective to lose faith in the Hero.
All of the characters, including the villainous Supernova (Tim Parker), mostly speak in philosophical abstractions. We learn at the play's climax why this is the case and it is certainly justified, however this presents numerous problems for generating narrative interest. The little action present stagnates while the characters drone on.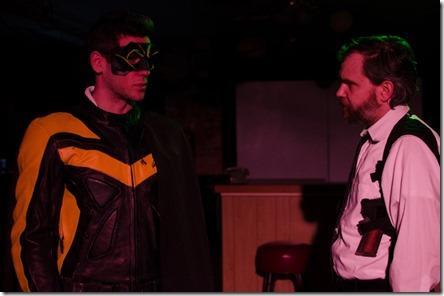 Wilson's understated Detective turns the character into an Everyman cop, yet his lack of distinctive attributes makes it difficult for the audience to get too emotionally invested in his character. Rita really struggled as the Partner opening night, flubbing lines and sometimes even reacting to Wilson a second too early, all with an odd omnipresent grin on his face. Parker provides an interesting duality to the Villain; we see him both as a seemingly ordinary guy and as the crazed serial killer. Guinan-Nyhart's performance highlights the show, with his singsong deadpan hitting just the right notes of humor throughout.
Strawdog's Hugen Hall presents several staging challenges which director Gus Menary cannot overcome. Too much action takes place at the far ends of the long, profile stage. This happens simultaneously during a phone call between Detective and Villain, and this scene is full of pregnant pauses, possibly in an effort to allow the audience time to turn their heads and see the characters react to each other. Sightlines are poor if you are seated in one of the back rows.
These staging issues, however, aren't as big of a problem as they could be, since Brett Neveu's script consists primarily of two characters either standing or sitting around talking. That dynamic can work in theatre with terrific material and a superlative cast, but can otherwise fall flat, particularly when an audience expects a comic book-style thriller. Although Detective Partner Hero Villain contains moments of psychological intrigue, it often fails to engage the audience, much less thrill.
Rating: ★★
Detective Partner Hero Villain continues through December 17th at Hugen Hall, 3829 N. Broadway (map), with performances Sundays-Tuesdays at 8pm.  Tickets are $15, and are available through OvationTix.com (check for half-price tickets at Goldstar.com). More info at Strawdog.org.  (Running time: 70 minutes, no intermission)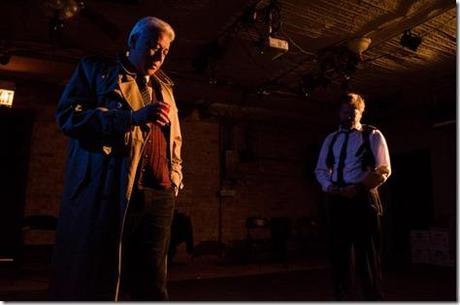 Photos by Tom McGrath 
---
artists
cast
John Wilson (Detective), Marc Rita (Partner), Sam Guinan-Nyhart (Hero), Tim Parker (Villain)
behind the scenes
Gus Menary (director), Michael Driscoll (asst. director), Aly Renee Amidei (costumes), Kyle Land (lights), Stephen Ptacek (sound), Ryan Borque (fight design), Kelsey Rhainn Shipley (stage manager), Morgan Gire (production manager), Tom McGrath (photos)
13-1151