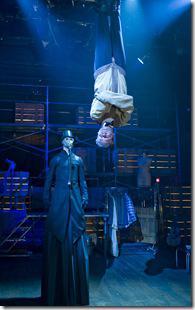 Death and Harry Houdini 
Written and Directed by Nathan Allen
at Chopin Theatre, 1543 W. Division (map)
thru March 11  |  tickets: $10-$25   |  more info
  
Check for half-price tickets 
  
  
   Read entire review
  
---
Awaken your childish wonder with this thrilling, gasp-inducing production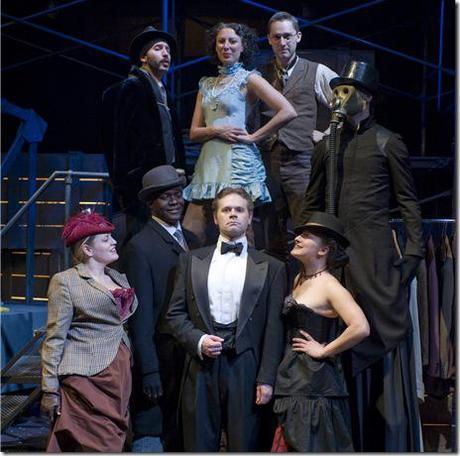 House Theatre of Chicago presents
Death and Harry Houdini
Review by J.H. Palmer
Nathan Allen, Artistic Director at the House Theatre of Chicago, continues the 10th year anniversary season with a remount of its inaugural production, Death and Harry Houdini. This is no slapdash production; every aspect of the show has been well thought out and prepared, from the visually striking set that make ingenious use of the limited space available, to the musically and theatrically talented marching band, to the magic tricks that leave the audience gasping. More than once I witnessed fully grown men and women covering their mouths with both hands, shaking their heads in amazement, and even averting their eyes when the anticipation became too great to watch as Harry Houdini (Dennis Watkins) escapes from the bonds of a straightjacket, walks across broken glass barefoot, and – in a truly heart-stopping scene – escapes from a water-filled chamber, upside down, and bound in a straight jacket.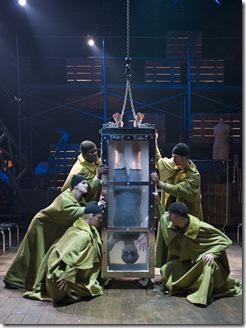 Death and Harry Houdini is by turns a biography, magic act, musical, and straight theater. It chronicles the life of the most well known magician of all time, with real-life magician Dennis Watkins in the starring role. More than once I wondered, as Watkins delivered lines while hanging upside down and straight jacketed, what had led Harry Houdini to pursue a career that would put him in such precarious situations, and by proxy, what had led Watkins to do the same. Watkins creates illusions effortlessly, and just as effortlessly embodies the character of Harry Houdini. Marika Mashburn is Houdini's mother, Cecilia Weiss, and portrays the aging matriarch with concise movements and facial expressions, speaking only German throughout the piece. Carolyn Defrin plays Bess, Houdini's wife, with energy, conviction, and good humor. (During a pivotal scene in Act II when a prop gun that was meant to be fired from her hands didn't go off she ad-libbed: "its opening night, I said, the gun will go off, I said," to a round of applause and laughter.)
Supporting the principals are The Ringmaster (Johnny Arena) who sets the tone with a carnival barker's presence and easily projects authority as the narrator of the piece. Shawn Pfautch does triple-duty as Houdini's brother Theo, the magician Dr. Lynn, and Dingwall, playing each character distinctly and skillfully. Trista Smith's portrayal of Margery the Medium is humorous and energetic, and Abu Ansari plays the roles of Houdini's father Mayer Weiss, Doyle, and Boy 1 with talent and ease. Kevin Stangler plays Hilmar, Boy 2, and embodies the eerie and fantastical representation of Death while walking on stilts and wearing a gas mask. The character of Death in this piece is central, both to its title and to its message – death's bonds are the one thing that Houdini can't escape, that indeed none of us can escape.
Good design is everywhere in this piece, from the tickets (made to look like playing cards with Harry Houdini's likeness) to the way-too-cool-to-throw-in-the-recycling-bin playbill that features how-to instructions for card tricks in the margins, to the oversized circus poster that hangs on a wall above audience seating. I was worried for a moment that all this design might be getting put to use to compensate for deficiencies in other areas, but was quickly proved wrong. This play will thrill you in ways that as an adult you probably thought were no longer possible, awakening the childish wonder of magic that still exists in us, and if done right, can amaze us.
Rating: ★★★★
Death and Harry Houdini continues through March 11th at the Chopin Theatre, 1543 W. Division (map), with performances Thursdays-Saturdays at 8pm, Sundays at 7pm.  Tickets are $25 ($10 for students/industry), and are available by phone (773-769-3832) or online at printtixusa.com (check for half-price tickets at Goldstar.com). More information at TheHouseTheatre.com.  (Running time: 2 hours 15 minutes, with one 15-minute intermission)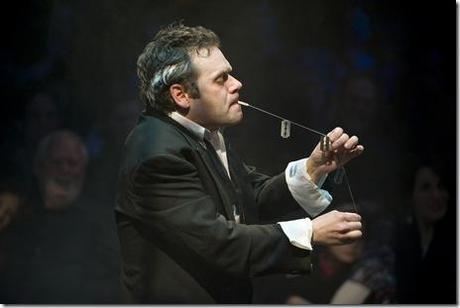 All photos by Michael Brosilow 
---