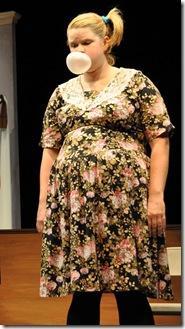 Dearly Departed 
Written by David Bottrell and Jessie Jones
Directed by Kevin Wiczer
at Circle Theatre, Oak Park (map)
thru Oct 28  |  tickets: $24-$28   |  more info
  
Check for half-price tickets 
  
  
   Read entire review
  
---
Hilarious Southern look at death plays well to Yankees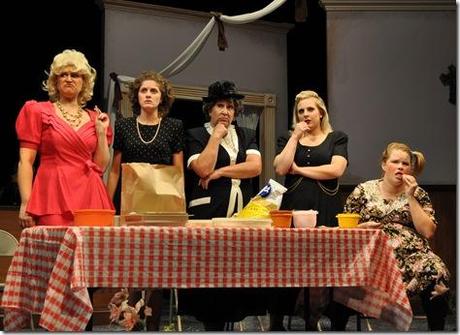 Circle Theatre presents
Dearly Departed
Review by Leah Zeldes 
"Mean and surly." That's what Raynelle Turpin wants on her husband's tombstone. When the pastor, preparing the eulogy, becomes effusive about the dead man's virtues, she comments wryly, "That's because you didn't know him till he was old and sick."
The death and funeral of a family patriarch would seem to be a dark subject for comedy, but Dearly Departed manages to be both lighthearted and moving, as well as extremely funny.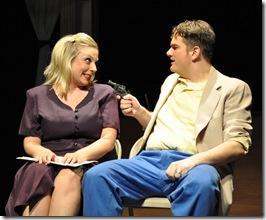 Southerners are intrinsically humorous to Northerners, a fact playwright
David Bottrell
  and
Jessie Jones
use to the hilt in their sidesplitting 1991 comedy set somewhere South of the Mason-Dixon Line, yet they manage to keep their characters from being caricatures. There's just something about a Southern accent that makes Yankees laugh, and the cast does its part well. Kudos to Dialect Coach
Sammi Grant
.
The late, mostly unlamented Bud Turpin's funeral arrangements provide the playing field for an exhibition of semi-functional family dynamics. Raynelle's late-born daughter, Delightful, is barely articulate and bent on stuffing her face with whatever comestibles she can get her hands on.
Son Ray Bud is stressed out by funerals in general and particularly by the financial burdens of this one, for which he'll bear the brunt, his unfortunate brother, Junior, having lost his all in a business failure. Aghast at the nickel-and-diming charges of the mortuary, he tells his wife, "When I die, don't tell nobody. Just bury me in the back yard, and tell everybody I left you."
Junior's failures include his relationship with his embittered wife, Suzanne, while Ray Bud's spouse, Lucille, is trying to bear up after a series of miscarriages. Meanwhile, Bud's very religious sister, Marguerite, pesters everyone to be more God-fearing, particularly her shiftless, unemployed son Royce.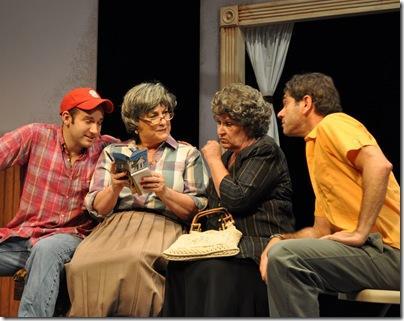 In Circle Theatre's excellent production, Anita Hoffman plays Raynelle with a sardonic sensibility and exquisite timing. In her largely wordless role as Delightful, Erin Daly uses her expressive face to hilarious effect. Michelle Annette manages to show the sympathetic character behind the frenetic, shrewish Suzanne. Jeff Segall (the harried Ray Bud), Audrey Flegel (Lucille), Ron Popp (Junior); K. Curtis Becht (Royce) and Will Nifong (Rev. Hooker) also put in fine comic performances, ably backed by supporting cast members Meredith Wood and Nancy Greco, who remains on stage behind the organ for most of the play. But the show-stealing performance is Patti Roeder as the feisty, nagging holy roller Marguerite.
Despite the Southern setting and the accents, the comedy sticks mainly to universal situations and therefore universal truths, which the somewhat philosophical Act II highlights, along with a judicious amount of slapstick. The playwrights adapted the script for the 2001 Whoopi Goldberg film "Kingdom Come," which reportedly didn't work as well as the play.
What a Southern audience might think of it, I can't tell, but up here Dearly Departed is laugh-out-loud fun.
Rating: ★★★½
Dearly Departed continues through October 28th at Circle Theatre, 1010 W. Madison, Oak Park (map), with performances Fridays and Saturdays at 8pm, Sundays 3pm.  Tickets are $24-$28, and are available by phone (708-660-9540) or online through BrownPaperTickets.com (check for half-price tickets at Goldstar.com). More info at Circle-Theatre.com.  (Running time: 2 hours 10 minutes, includes an intermission)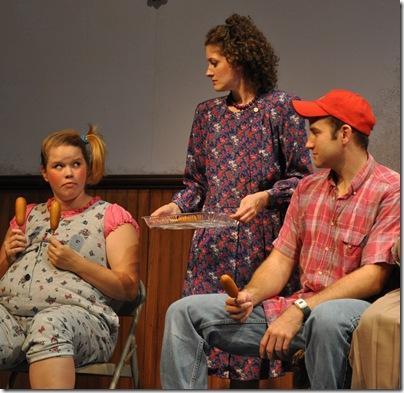 Photos by Jen Bludgen
---
artists
cast
Anita Hoffman, Jeff Segall, Patti Roeder, Audrey Flegel, Ron Popp, Michelle Annette, K. Curtis Becht, Erin Daly, Will Nifong, Meredith Wood, Nancy Greco, Melody Latham
behind the scenes
Kevin Wiczer (director); Tommy Bullington (asst. director); Chad Bianchi (set); kClare Kemock (costumes); Gary Echelmeyer (lighting); Kevin Bellie (sound design); Nyk Sutter (props); Sammi Grant (dialect coach); Catherine Gray (production coordinator); Lauren Filip (stage manager); Jen Bludgen (photos)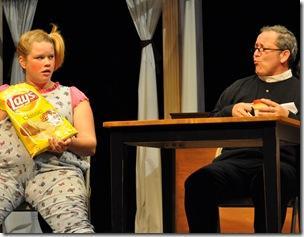 12-0943