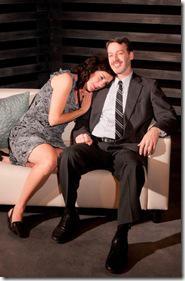 Dating Walter Dante 
Written by Jon Steinhagen  
Directed by Cody Estle  
at Raven Theatre, 6157 N. Clark (map)
thru March 24  |  tickets: $30   |  more info
  
Check for half-price tickets 
  
  
   Read entire review
  
---
Kiss me, kill me!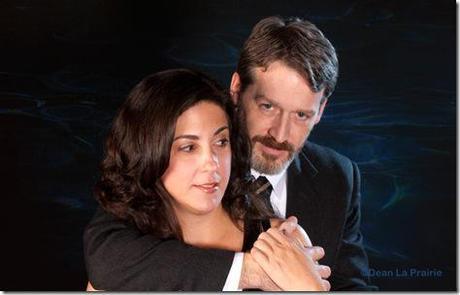 Raven Theatre presents
Dating Walter Dante
Review by Lawrence Bommer
With the just-closed Blizzard '67 at Chicago Dramatists (our review), playwright/performer Jon Steinhagen found the perfect mix of comedy and crisis to create a truly Chicago story that grabbed us with its bedrock realism.
Steinhagen gives himself a very different challenge with his 90-minute Dating Walter Dante. Based on another Chicago horror story (the unfinished saga of purported cop/wife-killer Drew Peterson), this presumably scandalous tale depicts a nice girl's infatuation with an accused killer. Oddly, "Dating" is meant to be a love story, its murderer adored, not just by his living (and possibly endangered) girlfriend but also by the ghost of his first wife, now exhumed and revealed as a murder victim!
It's a heavy exercise in reversing audience expectations and transforming shock into sentiment—and, despite Cody Estle's earnest staging, it doesn't quite come off. Too many questions go unanswered as the author pursues a sexual chemistry that never ignites.
Is Kristin Collin's Laura Bakersfield a lady with a death wish, a desire to date "bad boys," or a trusting soul trying to give a misunderstood "celebrity" a second chance? What does she see in this structural engineer, played by Jason Huysman with a stoicism that verges on blandness? (An enigmatic loner whose first wife was killed and second wife has disappeared, Walter is constantly besieged by T.V. crews wanting him to slip up and reveal his dark deeds.) Why is he drawn to her, enough to sacrifice himself at the end in order to keep her life from being complicated by her love?
We don't know: "Dating" spends too much time detailing the obvious reactions of panic, protection and pursuit from Laura's ex-husband, best friend and the detective who's stalking Dante. In what's supposed to be a comic scene, Laura's disguised supporters track the couple to a Michigan resort where they discover–to their lack of horror–that she's still alive!
"Dating" might have turned interesting if the friends' fears were to metastasize into self-fulfilling prophecies, but nothing really gets going. Or, if like the Showcase series "Homeland," the audience is constantly vacillating between assumptions of Walter's guilt or innocence? But this killer tells us a lot less than Drew Peterson ever blabbed out at a talk show.
It doesn't help that Steinhagen brings Ellen (Stacie Barra), Walter's drowned first wife, back from the grave to coo over her happy memories with a man who may or may not have strangled her to death (since the killer did it from behind so she couldn't see Walter). At least Antoine Pierre Whitfield anchors the story's unromantic reality in a hard-boiled Chicago cop. But good girl Collin's attempt to portray Laura as a "dirty whore" looking for love in all the wrong places just doesn't work.
Danting Walter Dante isn't scary, sexy or strange enough to carry off its mission. But then Rob Lowe couldn't make sense of the creature either. Let's hope a courtroom can.
Rating: ★★
Dating Walter Dante continues through March 24  at Raven Theatre, 6157 N. Clark, (map), with performances Fridays through Saturdays at 8:30 p.m. and Sundays at 3:30 p.m.  Tickets are $30, and are available by phone (773-338-2177) or online at ticketturtle.com (check for half-price tickets at Goldstar.com). More information at RavenTheatre.com. (Running time: 90 minutes with no intermission)
All photos by Dean La Prairie 
---