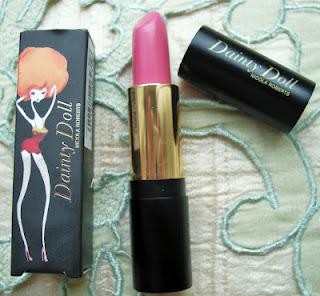 I was lucky enough to win one of Dainty Doll's giveaways last week on Twitter and was delighted to receive a lipstick in the Shade 004 Material World which is described as lilac.  Now this isn't a shade I would normal choose as I would have considered it a little pale for me but I'm pleasantly surprised.  The overall tone of the lipstick reminds me of my favourite MAC Syrup only a couple of shades lighter, it's definitely a cool pink, that suits my NW20 Skin tone, but I would've expected a lilac to have more blue, I'm glad I was wrong!
I love the cute packaging and the lipstick casing is excellent quality and with a matte black casing and gold writing.  The lipstick formula is moisturising and includes natural plant waxes, Vitamin E and Meadowseed Foam Oil.  I like how the creamy texture feels on my lips and I can't detect any fragrance. It states the formula is long-lasting and it seems to cut a fine enough line between overly drying super long lasting and those that need to be reapplied every 5 mins.  I did find it ever so slightly drying but this was easily solved by a quick application of balm, which I like to do on a regular basis in any event. 
Would I buy it again? Not too sure about this shade but I would definitely spend my money on trying another colour and I'm keen to explore more of the range.

Apparently  this lipstick will:
"Capture the ladylike magnetism of your favourite 40s screen sirens.....classic vintage beauty has never been so easy"
As us over 40s have little option but to do 'vintage beauty' these days I've included a photo of me rocking the look...oh and of course I'm wearing the Dainty Doll lipstick.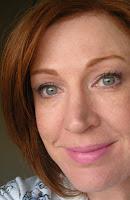 What? No Photoshop! Eek!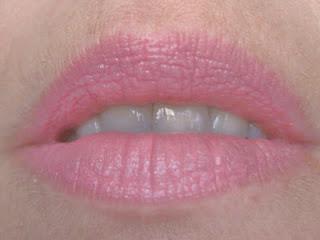 What do you guys think - can I wear this shade?
The lipstick is available in 5 shades.  I really fancy trying It's my Party and Saucy Sailor!


In His Kiss

Material World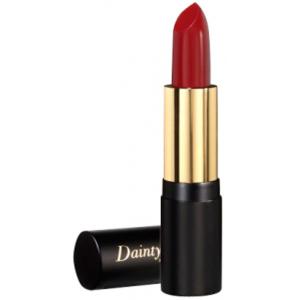 Dainty Doll Couture

It's my Party

Saucy Sailor
You can get your mitts on your own Dainty Doll lipstick either in store at Harrods, Beales or Boots or online at:


Harrods - £12.50 (£5.95 P&P!!!!! but lovely packaging to impress the postman I'm sure....)




Boots - £12.50 (£2.95 P&P plus 48 Advantage Card Points or free delivery pick up in store)




Look Fantastic £12.25 (Free Delivery) - no brainer really!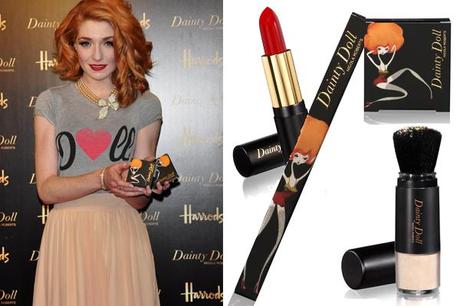 For those of you who aren't aware Dainty Doll is a range of make-up created by 
fellow ginge and Girls Aloud band member Nicola Roberts, who originally designed the make up range for the documentary 'The Passions of Girls Aloud'.  After years of trying to 'fit in' by slathering her porcelain skin with fake tan she decided to embrace her individuality but she could never find a foundation pale enough to suit her.  Whist the foundations and concealers in the Dainty Doll range are aimed at pale skin the rest of the collection can be used by all.  Nicola isn't just a token 'celeb' whose name has been used for marketing purposes she was the person behind the idea and is involved at all stages of development and testing.  Go Team Ginge!
Have you tried Dainty Doll?  What are your thoughts and recommendations?
Laters Peeps!
Love Lainey