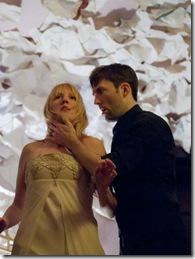 Crowded House 
Sparked by Taylor Bibat 
at Blue Line Lounge & Wicker Park Arts Center
thru Feb 18  |  tickets: $15   |  more info
  
Check for half-price tickets 
  
  
   Read entire review
  
---
'Crowded House' offers rooms of interpretation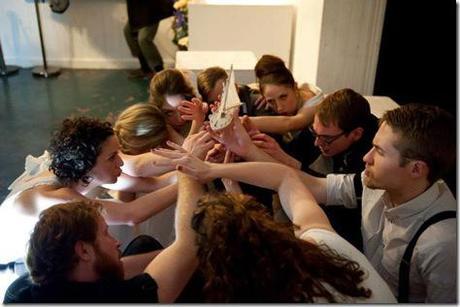 The State Theatre presents
Crowded House: An Explosion
   of Shakespeare's The Winter's Tale
Review by Melody Udell
Those who attend The State Theatre's production of Crowded House: An Explosion of Shakespeare's The Winter's Tale hoping for a somber evening filled with the Bard's affecting prose are in for a disappointment. Crowded House isn't for everyone, but that's okay. It's an interactive, disjointed, eccentric, visceral piece of theater — and a worthwhile experience.
Every aspect of Crowded House is unexpected. Audience members, in groups of about 20, mill around at The Blue Line Lounge in Wicker Park before a tour guide leads a shuffling group around the block to the Wicker Park Art Center. Once inside, the guide leads the audience through the building. Each room is its own stage and set with a different group of actors performing or representing scenes from The Winter's Tale. The actors perform without regard to the group that gathers in around them, filling in the nooks and crannies of each room to watch what happens next.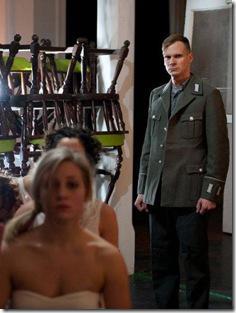 The show is more concerned with personifying the resonant themes within the play — jealously, betrayal, repentance — than it is with clearly outlining the story. In the first room, we witness King Leontes' maddening jealously over his pregnant wife, Hermione, and supposed lover Polixenes. Our guide takes us room by room to explore the topics that follow, loosely connected to the framework of the play. Each room has its own way of translating a scene and the themes that accompany it. Some scenes are bizarre and abstract without dialogue, and others are more interactive. One scene in particular involves a musical number, and audience members are given Dixie cups of wine to celebrate the engagement of Leontes' daughter, Perdita, with Polixenes' son, Florizel. But to recount what happens in each room is a disservice; the thrill of
Crowded House
lies in the anticipation of what will happen next.
Each performance — which includes a cast of more than 30 actors — is real and evocative, at times a little too close for audience comfort. No detail is left without exposition; the show incorporates everything from tightrope walking to playing cards, miming and even Beyonce. Some rooms are certainly more effective than others at delving into Shakespeare's gloomy tale, but all of them open up room for a little creative interpretation, a reimagining of the story as we know it.
Experiencing Crowded House is like walking through a Stanley Kubrick film — not everyone, or even many, will love it. Most will leave bewildered and — with any luck — intrigued. But it's the risk-takers who keep things fresh and open creative dialog for the rest of us in the theater community. And that's certainly something to appreciate.
Rating: ★★★
Crowded House: An Explosion of Shakespeare's The Winter Tale continues through February 18th at The Blue Line Lounge (1548 N. Damen) and Wicker Park Arts Center (2215 W. North Ave.), with performances February 17 and 18; multiple "seatings" between 6:30-9:30pm.  Tickets are $15, and are available at BrownPaperTickets.com More information at StateTheatreChicago.com.  (Running time: 2 hours with no intermission)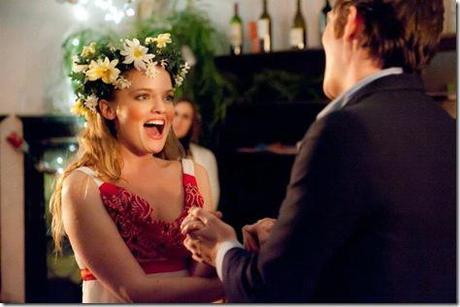 ---