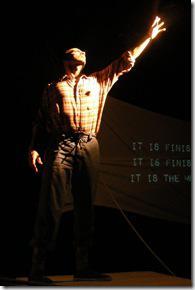 Crow
Written and Performed by Jeremy Sher
Directed by Scott Bradley
at Victory Gardens, 2433 N. Lincoln (map)
thru June 17  |  tickets: $28   |  more info
  
Check for half-price tickets 
  
  
   Read entire review
  
---
Mildly interesting story fails to gains momentum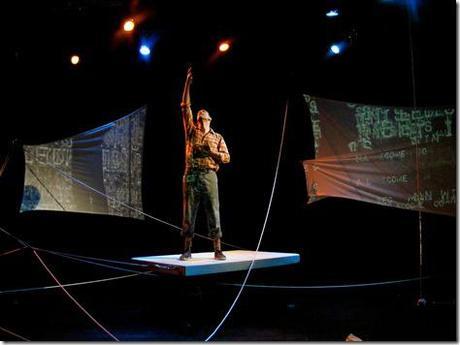 Walkabout Theater presents
Crow
Review by K.D. Hopkins
Crow is described as a story of the transformative power of ambition. It is also a story of one man's attempt to conquer by eluding time while becoming one with it. Sher's character is based on the true story of an amateur yachtsman named Donald Crowhurst who disappeared in 1969 during a race around the globe.
Jeremy Sher as Donald Crowhurst gives an energetic performance on a very spare stage with a platform, sails, mooring ties, and a lot of rope. Sher bounds around the stage tying knots, running lines, and hanging sails. He builds and climbs a cat's cradle that he attempts to use like a hammock.
Sher is really great at stage movement, but the actual drama is missing the same energy.  There are a lot of metaphysical references in Crow that land rather hard and come off as self-indulgent and manic rather than spiritual. Yes, the power is within everyone to set a new paradigm, but Crowhurst sees it from the level of competition rather than some meaning for his life. The sea is an oft-used metaphor from Hemingway to Melville to Grimm.  In every instance a human tries to put the sea at their mercy without really attempting to become as a drop of water in the sea, it doesn't bode well.
Sher attempts to pull some empathy for Crowhurst in flashbacks and projections where he cradles his baby son (represented by rope) and pleads with his wife Clare (also represented by a knotted rope) to go along with his ambition. Sher's portrayal gives the impression that Crowhurst was consumed with attempting to sail around the world – consequences be damned.
Crowhurst, through Sher, refers to Einstein's theory of relativity and invariable as his guiding principle. For me the question is "What is the worth of ambition?". Wanting to be the speed of light and therefore stopping time is one of Crowhurst's ravings. I have a bit of difficulty drumming up a lot of compassion for a guy in a yacht race that comes off as a pissing contest with Apollo 8. As Lovell, Borman, and Anders read from the book of Genesis, flashes of Merry Christmas appear on the screen behind Sher. Crowhurst is not getting the same recognition but feels that he is on the same kind of mission.
The storyline never builds much momentum after the storm that knocks out the radio. Crowhurst is obviously descending into madness, even naming a seagull Albert in honor of Einstein. The exchange is funny at first and then descends into a Tom Hanks yelling at Wilson homage – intentional or not.
The true story that serves as the basis for Crow is mildly interesting at best. Crowhurst's boat was found empty with only journals and strange log entries. It is a good story for Unsolved Mysteries but – other than the physical display by Sher – not very interesting as a play.
Rating: ★★
Crow continues through June 17th at the Richard Christiansen Theater, 2433 N. Lincoln (map), with performances Thursdays-Saturdays at 8pm, Sundays 3pm.  Tickets are $28 ($10 for students), and are available by phone (773.871.0682) or online here. More information at WalkaboutTheater.org.  (Running time: 80 minutes without intermission)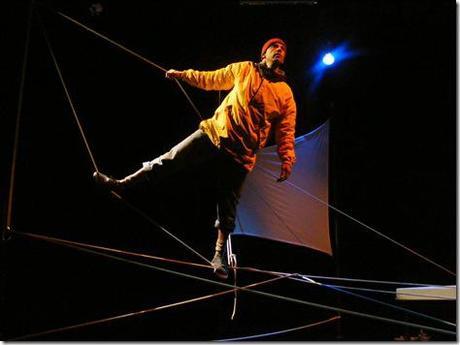 Photos by Emma Stanton
---