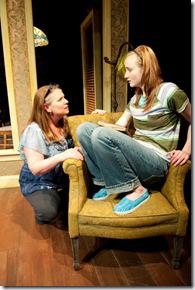 Crooked
Written by Catherine Trieschmann  
Directed by Sandy Shinner 
at Rivendell Theatre, 5775 N. Ridge (map)
thru June 23  |  tickets: $28.50   |  more info
  
Check for half-price tickets 
  
  
   Read entire review
  
---
Strong ensemble brings equally strong script to wondrous life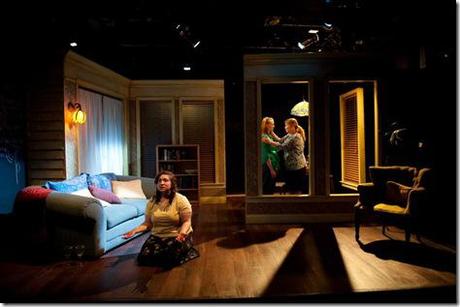 Rivendell Theatre Ensemble presents
Crooked
Review by Clint May
Author Catherine Trieschmann certainly hasn't forgotten what it's like to be a teenager. The central metaphor of her Midwest-premiere Crooked is apt. The 14-year-old girl at the center is afflicted by a muscle disorder called dystonia, which causes her posture to angle to one side as her back muscles fight with themselves even while at rest. Is that not what being a teenager is? A great knot of conflict just beneath the skin. Unlike so many teens in movies and series these days, Trieschmann's are not precocious, treacly or hyper ironic. They're deeply confused misfits groping for an identity like most teens trying to come of age. It's a refreshing production that is brought to life by a stunningly good three-woman ensemble.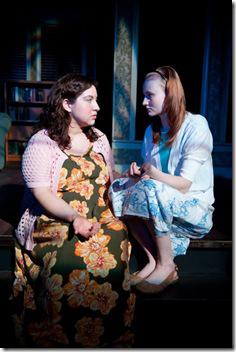 Returning to the South from Wisconsin, list-loving mother Elise (
Tara Mallen
) brings her daughter Laney (
Rae Gray
) to live in the house that belonged to her father. The once-popular Laney fell out of favor with her classmates after a mysterious incident with her now institutionalized father caused the onset of dystonia. She's actually grateful for this, because it proved just how shallow people can be. And there's an added benefit: suffering is good for writers and Laney is a budding short story author. All her stories are rather macabre, and her ever-practical mother admonishes her constantly to be "more realistic." At her new school, Laney encounters another outcast in the form of 16-year-old Maribel (
Hannah Gomez
), a formerly home-schooled preacher's daughter who is immature and earnest about wanting to save everyone around her with the power of Jesus' love. The two form a bond in their mutual unpopularity, but it's apparent Laney is using Maribel to gain more strange experiences to feed into her writings. She's also rebelling against her atheist mother by adopting a new spiritual and sexual identity. Her apparent deceits are less intentional and more driven by the confusion of the secrets and the revelations that most disappoint children—the fallibility of parents and the ineffability of fate. Don't let this synopsis fool you into thinking it's all somberness however—this show finds some great wit and  humor in the midst of the chiaroscuro of budding adulthood.
Director Sandy Shinner creates a disarmingly realistic world from Trieschmann's script. All three of these performances and the sum total of their effect is a marvel. Mallen is utterly convincing as a practical, loving mother trying to cope with a gifted daughter and the "threat" of Maribel's influence while simultaneously dealing with her own marital crisis. Rivendell's youngest and newest ensemble member Rae Gray makes an impressive debut, never drifting into a caricature of teenagers that could have been so easy. But for my money, it's Hannah Gomez who does the impossible. She's so completely right as a 16-year-old that I almost didn't believe a biography that told me otherwise. She taps into a deep well of vulnerability and ignorance to become a shy, overweight girl who's using Jesus to fill up the void left by strict parents and cruel peers. Her pain is so palpable I felt the first tears I've felt this season well-up.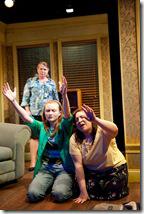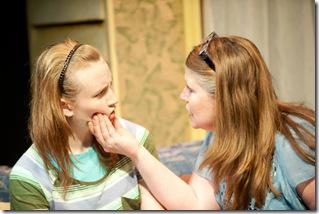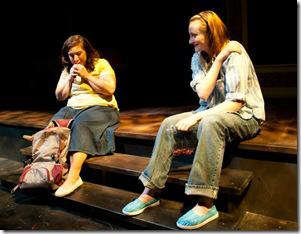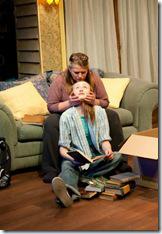 This is a short work at only 80 minutes. It's rare that I wish a show could go on longer (I did), but this is a short story not unlike the protagonist's own. It's powerful in its brevity—a snippet of insight into the complex world of relationships between mothers and daughters, girls and peers, with no easy answers or convenient wrap-up. As a meditation on anguish in the search of identity, Crooked is empathetic, never making fun of any one viewpoint or casting aspersions. It could be recommended on the strength of the nuanced performances alone. Anyone who has been a teen and anyone who's the parent of one will relate to this on some level. It's daringly dark realism and quite simply a must-see.
Rating: ★★★★
Crooked continues through June 23rd at Rivendell Theatre, 5775 N. Ridge (map), with performances Thursdays and Fridays at 8pm, Saturdays 3pm and 8pm.  Tickets are $20-$28, and are available by phone (773-334-7728) or online here (check for half-price tickets at Goldstar.com). More information at RivendellTheatre.org.  (Running time: 80 minutes with no intermission)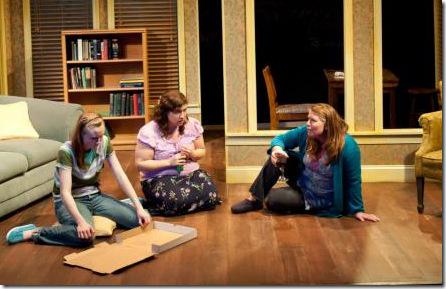 All photos by Mark Campbell Creative
---
artists