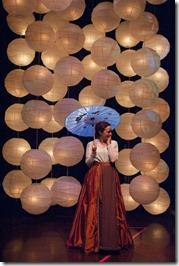 Concerning Strange Devices
   from the Distant West 
Written by Naomi Iizuka
Directed by Lisa Portes
at TimeLine Theatre, 650 W. Wellington (map)
thru April 14  |  tickets: $32-$42   |  more info
  
Check for half-price tickets 
  
  
   Read entire review
  
---
A taste for curiosity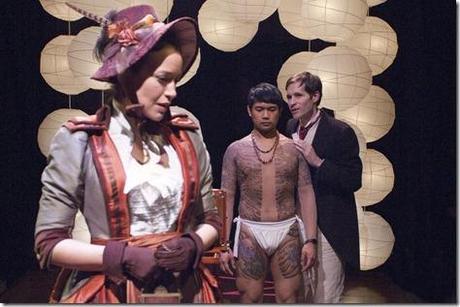 TimeLine Theatre Company presents
Concerning Strange Devices
   from the Distant West
  
Review by Lawrence Bommer
In only 90 minutes playwright Naomi Iizuka and her longtime collaborator, director Lisa Portes, transform TimeLine Theatre's Baird Hall, festooned with Japanese lanterns and an origami doorway (that doubles as a two-screen video backdrop), into a magical playground for a meditation on memory.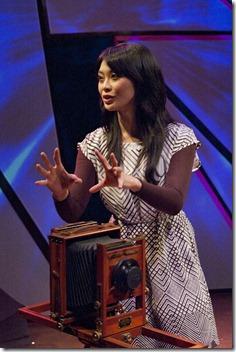 Intentionally as fragmentary as photos themselves,
Concerning Strange Devices from the Distant West
is a three-part fantasia,
first produced
by
Berkeley Repertory Theatre
in 2010, that combines the mysterious interplay of cultures that Sondheim captured in
Pacific Overtures
with the delight in discovery that Eric Overmyer demonstrated in
On the Verge
.
With mercurial delicacy and a wizard's wand, Iizuka combines and contrasts complex, seemingly interlocked characters, Japanese and Western, who visit or live in Tokyo and Yokohama in 1884 and the present. What connects them is a fascination with the photograph and the camera—how film can capture "a memory you can hold in your hand" and how everything absorbed in that moment is preserved by light acting on chemicals, how these reproductions can distort or crystallize the truth, how cameras can shrink and become tiny spies, and how they reflect, literally and psychologically, both the subject and the "taker" of pictures.
In the 1884 section Rebecca Spence and Craig Spidle play very different spouses in a marriage that dissolves in its differences. He's a gun manufacturer who reviles the Japanese as primitive and unclean but is eager to offer them new ways to die early. Fascinated by a picture of a tattooed man, she visits Yokohama photographer Adolfo Farsari (Michael McKeogh) on her own spiritual quest. There she discovers the wonders of this "strange device" for turning the present into the past, each snapshot acquiring old meaning as the world it records fades into a venerable antiquity. Farsari, less taken with his trade as he panders to the public's curiosity, is more akin to mountebanks who sold snake-oil to credulous hypochondriacs.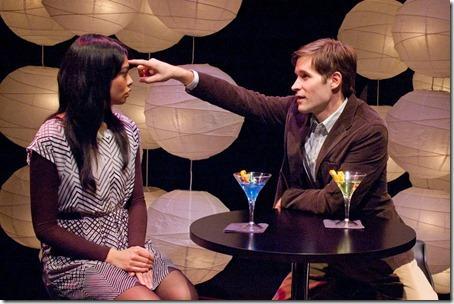 In the present section we meet a gay hustler/con artist (Kroydell Galima) who sells fraudulent vintage pictures to an art history teacher (McKeogh) bent on snatching up tokens of Meiji-era Japan. He encounters a translator (Tiffany Villarin) whose inscrutability rivals slyly smiling geisha girl who befuddled European tourists into a projected fantasy. (Iizuka is very effective at blurring the line between erotic and exotic, their essences separated by one letter…)
Not every stage moment complements a corollary elsewhere in this puzzle play. Some seem simply strange for strangeness' sake. But then photographs conceal as much as they reveal. It's up to the viewer to tease them into meaning. Likewise, TimeLine Theatre Company's engrossing drama and five supple players deliver impressionistic variations on the myriad facets of recollections and recovery. But take a picture—it'll last longer.
Rating: ★★★½
Concerning Strange Devices from the Distant West continues through April 14th at TimeLine Theatre, 650 W. Wellington (map), with performances Wednesdays and Thursdays at 7:30pm, Fridays at 8pm, Saturdays 4pm and 8pm, Sundays 2pm.  Tickets are $32-$42, and are available by phone (773.281.8463 x6) or online through OvationTix.com (check for half-price tickets at Goldstar.com). More information at TimeLineTheatre.com.  (Running time: 90 minutes, no intermission – view/download the production's study guide here)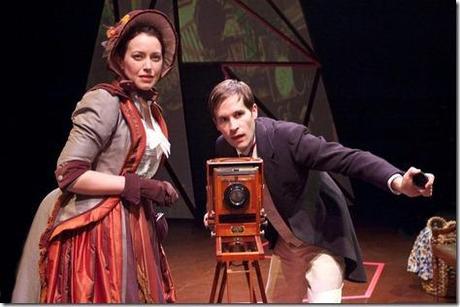 Photos by Lara Goetsch
---
artists
cast
Rebecca Spence (Isabel Hewlett); Craig Spidle (Edmund Hewlett); Kroydell Galima (Hiro, others); Michael McKeogh (Adolfo Farsari, Dmitri Mendelssohn); Tiffany Villarin (Kiku, others)
behind the scenes
Lisa Portes (director); Brian Sidney Bembridge* (set, lighting); Janice Pytel (costumes); Mikhail Fiksel (original music, sound design); Mike Tutaj* (projections); Julie Eberhardt* (props); Dina Spoerl (lobby design); Alexis Jade Links (dramaturg); Eva Breneman* (dialect coach); Reshmi Hazra (asst. director); John Kearns (production manager); Jaclyn Holsey (stage manager); Ashley Kirven (production assistant); Caleb Charles McAndrew (tech director); Ricky Lurie (asst. costumes); Austin Pettinger (asst. costumes, tattoo makeup artist); Nan Zabriskie (tattoo consultant); Joshua Jaeger (asst. dramaturg); Janet Howe (wardrobe, tattoo makeup artist); Mac Vaughey (master electrician); Lara Goetsch* (photos)
* TimeLine company member or associate artist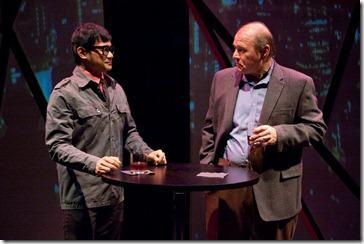 13-0139