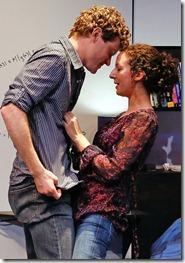 Completeness
Written by Itamar Moses
Directed by Jeremy Wechsler
at Theater Wit, 1229 W. Belmont (map)
thru March 24  |  tickets: $18-$36   |  more info
  
Check for half-price tickets 
  
  
   Read entire review
  
---
A fresh, funny new look at very old problem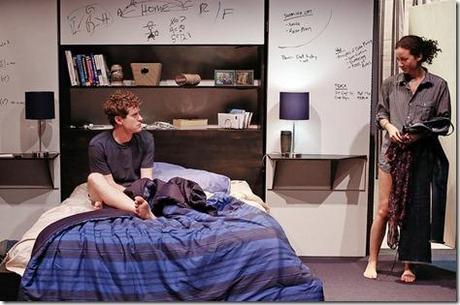 Theater Wit presents
Completeness
Review by Clint May 
If you, like myself, found Hero over at the Marriott to be a cloyingly false attempt at cashing in on the nerd genre, rejoice. Theater Wit's Midwest debut of Itamar Moses' Completeness (same playwright of another Theatre Wit darling, The Four of Us, also directed by Wechsler and proving the two make a formidable team) is a a true thinking nerd's romantic comedy. Put a bunch of TED Talks in a room with a sophisticated look at love in the 21st century, and you might get an idea of how this production came to be. Fearless in both its willingness to be unapologetically high-minded and an unblinking look into the harsh truths of romance, Completeness has many pointed, frequently funny things to say about how Gen Xers and Millennials are coping with the fallout of the failures of 20th century ideals while wading into their own uncharted terrain.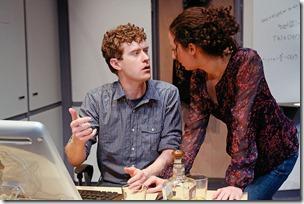 At what must be a prestigious university, grad student Elliot (
Matt Holzfeind
) devotes his career to the study of the most difficult problems in computational science. Namely, the complex problem of
NP-Completeness
, which is often summed up with the problem of
The Traveling Salesman
(and how great would a sequel be, Death of a Traveling Salesman?). Although Elliot is comfortable in his relationship with his current girl (
Rae Gray
), he's willing to go out of his way to win the heart of molecular biologist Molly (
Kristina Valada-Viars
). Under the guise of helping her analyze her protein data with a nifty algorithm, he successfully charms himself into her pants and eventually her heart. The course of true love never does run smooth of course, and both are struggling with their own issues bred from past relationships, bad patterns, and the depressing observations they've made watching their Baby Boomer parents come undone.
Having attended a university that focused heavily on computer science, I can vouch for the authenticity of Elliot's nerdiness that is easily mistaken for charm as well as Holzfeind's interpretation of him. Valada-Viars channels a little Helen Hunt via "As Good as it Gets," though not nearly as virtuous. She's just as broken as Elliot in the realm of human relations, using men in the moment to get what she wants only to move on to the next potential boon. Both actors deserve extra credit on their exam for being able to riff on the complex dialogue without missing a beat. Thanks to the brisk pacing of director Jeremy Wechsler, the action never drags—the two hour fifteen run time virtually zips by as you become absorbed in the lives of these relatable, flawed characters hiding behind the esoteric to prevent potential pain.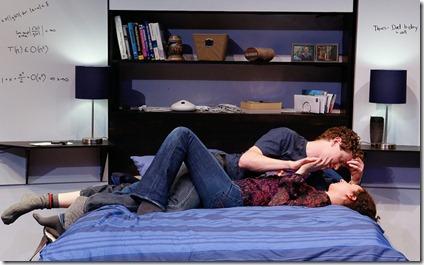 And what dialogue it is. Not just showy for its own sake, the metaphor at the core of Completeness is utterly compelling: that as we increase the complexity of our lives and become the first generation to be raised not seeking but filtering information, we also become trapped in the 'analysis paralysis' that too many solutions offer. Like a trebuchet of truth, Completeness lobs insights that land with audible heaviness into the audience. It's not for the faint of mind or heart. Exploring the perils of overthinking in matters of the heart (emotions most likely evolved to help us see through logic, not be slaves to it), Moses has composed an often brilliant synthesis of a show that breaks with many traditional romantic comedy tropes. Only one second-act show stopper feels strange and unnecessary, awkwardly symbolic (the symbolism takes a second to figure out—a second too long at this speed) and will hopefully be excluded from future revivals.
Not content to just refresh the discourse on that most vaunted of human quests (i.e., to not be alone) for a new generation, set designer Joe Schermoly and projection designer Michael Stanfill team up to create a set that is another living character in itself. Stark and modular as a supercomputer mashed into a sterile office environment, hi-res projections add another layer of symbolism and even a few laughs on its own.
Actual grad students could write an entire thesis on how love and mathematics align as metaphors. Probably the most penetrating is the idea that in both the complex world of algorithms and the always complex life of love, the best we can hope for in our limited ("polynomial") lifetimes is to make a best guess. That's a pretty pragmatic moral if that's what you choose to take away in a romantic world of "fated" love, but there's still some romance to be found in a bittersweet end—a truth of human nature so cutting it reduces all the complexity to an elegant question that is also the answer.
Rating: ★★★½
Completeness continues through March 24th at Theater Wit, 1229 W. Belmont (map), with performances Thursdays-Saturdays at 8pm, Sundays 2pm.  Tickets are $18-$36, and are available by phone (773-975-8150) or online through their website (check for half-price tickets at Goldstar.com). More information at TheaterWit.org.  (Running time: 2 hours 15 minutes, includes an intermission)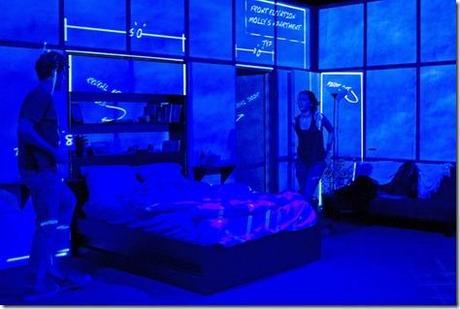 Photos by Charles Osgood
---
artists
cast
Matt Holzfeind (Elliot), Kristina Valada-Viars (Molly), Rae Gray (Lauren/Katie/Nell), Andrew Jessop (Don, Clark, Franklin)
behind the scenes
Jeremy Wechsler (director), Joe Schermoly (set), Michael Rourke (lighting), Janice Pytel (costumes), Joseph Fosco (sound, original music), Michael Stanfill (projections), Karen LaCoursiere (props), Sarah J. Luse (stage manager), Charles Osgood (photos)
13-0239