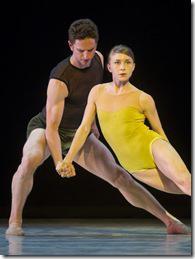 Come Alive 
Choreographed by Alejandro Cerrudo,
   Sharon Eyal and Alonzo King 
at Harris Theater, 250 E. Randolph (map)
thru March 18  |  tickets: $25-$94   |  more info
  
Check for half-price tickets 
  
  
   Read entire review
  
---
Hubbard Street 'alive' and well with electrifying performance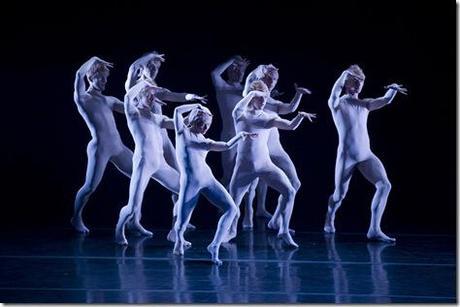 Hubbard Street Dance Chicago presents
Come Alive
Review by Lauren Whalen 
Dance is a living, breathing art form, and thanks to the work of Hubbard Street Dance Chicago, it thrives. The acclaimed modern dance company has built a stunning repertoire received with open arms worldwide, yet continues to innovate with exciting new work that isn't afraid to incorporate pathos, humor and darkness into jaw-dropping leaps, turns and contortions. Come Alive, Hubbard Street's spring showcase, features two previously performed pieces plus one world premiere and the results are positively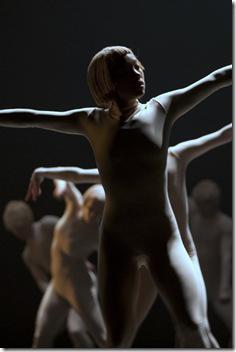 dazzling.
"Following the Subtle Current Upstream" opens the program: a joyous large number with a naturalistic feel. Alonzo King's choreography has various permutations of dancers bend, twist and undulate like well-muscled trees finding their way out of the fertile soil. Axel Morgenthaler keeps the lighting simple but rich and effective, letting the dancers shine without overwhelming with superfluous spectacle. Robert Roseanwasser clothes the dancers in acid yellow, winter green and sheer black, further transforming the Harris Theater stage into a dark and intriguing forest. The Indian and South African score of Miguel Frasconi, Zakir Hussain and singer Miriam Makeba is positively haunting and fits the choreography so well one wonders if the two elements of music and dance have actually become one. Though the group segments are wonderful, the absorbing pas de deux of Penny Saunders and Alejandro Cerrudo is pure magic.
In sharp contrast to "Following the Subtle Current Upstream"'s sweeping organic drama is "Little mortal jump," the world premiere of resident choreographer Cerrudo's 10th piece for the company. Though also large and theatrical, "Little mortal jump" celebrates a man-made element: the silver screen. Cerrudo's flawlessly innovative dance has the giddy style of a silent film of old, combining the gravity of human relationships with the slaphappy fun of connection. The dancers exuberantly burst onto the scene clad in suspenders and breeches of black and gray that still manage to sparkle, thanks to Branimira Ivanova's subtly magnificent costume design. What is most prevalent in "Little mortal jump" is Cerrudo's fearlessness. Cerrudo isn't afraid to choreograph with stylish wit and silly humor. He isn't afraid to experiment with dimension, with convention, with audience expectations of what modern dance was, is and should be. He isn't afraid, period, and hopefully Hubbard Street will never let him go.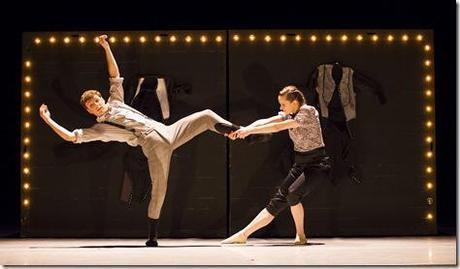 Come Alive goes from naturalistic to cinematic to offbeat and otherworldly in the final piece of the evening, "Too Beaucoup". Israeli choreographer Sharon Eyal and her co-creator Gaï Behar play with patterns and angles, harsh and sharp with just a hint of softness around the edges. Eyal and Behar's costume design puts the dancers' gorgeous bodies on full display, transforming them into mobile statues with immobile faces. Ori Lichtik's eclectic score includes music by Cole Porter, Gang of Four and Depeche Mode takes "Too Beaucoup" (meaning "too too much") to bizarre places, but gives it a surprisingly sweet finish. The work is free and diverse without being schizophrenic, just unsettling enough to keep the audience leaning forward in anticipation and smiling, rewarded, when it ends.
Far from stodgy poses in tutus, the art of dance is a continual, heart-stopping movement. Hubbard Street Dance Chicago seamlessly infuses complex physicality with emotion, running the gamut from silly comedy to the depths of despair. Come Alive's three pieces are varied in theme, choreography, music and costume, but are united in their wonderful quest to relate to the audience in a unique, challenging manner. Here is a company that does nothing halfway, and Chicago's thriving dance scene is better for it.
Rating: ★★★½
Come Alive continues through March 18th at Harris Theater, (map, directions/parking), with performances Friday and Saturday at 8pm and Sunday at 3pm.  Tickets are $25-$94, and are available by phone (312-850-9744) or online here (check for half-price tickets at Goldstar.com). More information at HubbardStreetDance.com.  (Running time: 2 hours 10 minutes, which includes two 15-minute intermission)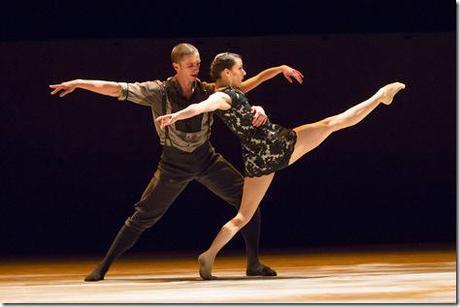 All photos by Todd Rosenberg and Rose Eichenbaum
---
artists
cast
Garrett Anderson, Jesse Bechard, Jacqueline Burnett, Alejandro Cerrudo, Meredith Dincolo, Kellie Epperheimer, Jonathan Frederickson, Jason Hortin, Alice Klock, Ana Lopez, Pablo Piantino, Penny Saunders, David Schultz, Kevin Shannon, Jessica Tong, Robyn Mineko Williams
Note: Casts for each piece vary according to performance.
behind the scenes
Glenn Edgerton (Artistic Director), Terence Marling (Rehearsal Director), Kristen Brogdon (General Manager), Alejandro Cerrudo (Resident Choreographer), Andy Brown (Production Manager), Ishanee DeVas (Company Manager), Matt Miller (Lighting Director), Kilroy G. Kundalini (Audio Engineer), Aprill C. Clements (Stage Manager/Properties Master), Stephan Panek (Head Carpenter), Emily Predny (Lighting Supervisor), Rebecca Shouse (Wardrobe Supervisor), Claire Bataille (Director, Lou Conte Dance Studio)
For "Following the Subtle Current Upstream":