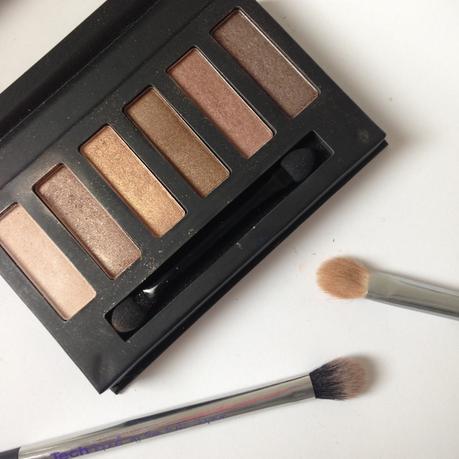 I just had to dedicate a blog post to the Collection Eyes Uncovered Nude Bronze Palette as I haven't stopped wearing it this last week.
For all you neutral eyeshadow lovers out there this is a palette you need in your collection. What is even more great about it is it won't break the bank.
The Nude Bronze Palette contains 6 eyeshadows, varying from an ivory shade, gold browns and then more deep brown shades. Some of the colours have a more satin finish where others have a slight glitter to them.
All 6 eyeshadows are well pigmented and have very little fall out. They blend beautifully together and you can get a real variation of looks from the palette.
The packaging feels a little cheap as it is only cardboard but it means its light and is a decent size for traveling. It is something I am happy to look over as the actual product is fantastic.
The Collection Eyes Uncovered Nude Bronze Palette is only £3.99 which I think is amazing value especially as I would compare the shadows to be as good as a lot of high end ones.
If warm browns isn't your thing there is two other similar palettes in slight variations of shades which both look just as good too. I would urge you all to run down to Boots and Superdrug to check this palette out if you haven't done so already.
Will you be picking up this up?