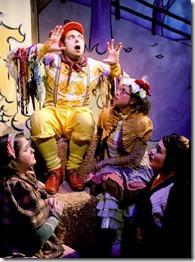 Click, Clack, BOO!
   A Tricky Treat 
Adapted by James E. Grote  
Music by George Howe
Directed by Shole Milos
at Lifeline Theatre, 6912 N. Glenwood (map)
thru Nov 24  |  tickets: $15   |  more info
  
Check for half-price tickets  
  
   Read review
  
---
Happy hijinks and high energy make for sweet treat of a show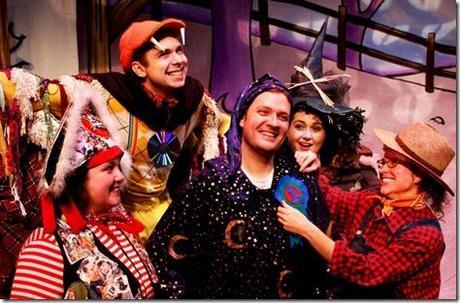 Lifeline Theatre KidSeries presents
Click, Clack, BOO! A Tricky Treat
Review by Joy Campbell
Farmer Brown has a problem: Halloween is approaching, and he hates Halloween! It's all just too scary, what with all the creepy vampires and ghosts coming to his house. So he's banned any pro-Halloween activity; the problem is, Farmer Brown's farm animals – Duck, Pig, Chicken, and Cow – LOVE Halloween. The costumes! The Jack o' lanterns! The candy! They decide to secretly plan a Halloween party to show Farmer Brown that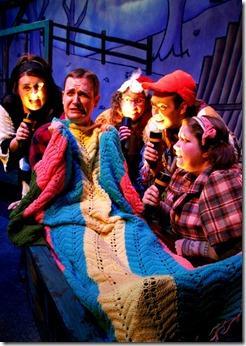 Halloween is fun, not scary.
In this world-premiere adaptation of the latest in the Click, Clack, Moo series by Doreen Cronin, playwright James E. Grote brings his signature wit, insight, and creativity to once again animate Pig, Duck, Chicken, Cow, and Farmer Brown in a story that entertains kids and adults alike. George Howe's dance-in-your-seat tunes such as "Bump In the Night" and "I'm Not Afraid" explore what happens when your imagination gets the best of you, and how to conquer your fear.
While the other animals revel in thoughts of ghouls and goblins, Hen is again the apologist for moderation; She loves Halloween, but not scary things, and she clearly speaks for the kids who might like being a princess, but that Zombie thing? No way. Pig, ever the boss, makes it clear that making fun of frightened people (or chickens) isn't nice, and everyone should be able to enjoy Halloween as they wish. The scheming begins, and the animals use guile, stealth — and of course Pig's craft box – to come up with decorations, costumes, and Jack o' lanterns for the big night.
The original book, with its simple text and Betsy Lewin's adorable illustrations, focuses on Farmer Brown and his fear. Grote said he wanted to explore the difficulty of being afraid of spooky things, and to let kids know that it's OK to be afraid, and through the machinations of the animals focus on their plotting, this concept is brought wonderfully to life while remaining true to the message of the book. The cast's high-energy performances and outstanding vocals, Jana Anderson's whimsical and inventive costuming, and of course Howe's delightful music, all combine in a (friendly!) witches' brew of fun and entertainment. And what child doesn't love a reason to put on their Halloween costume one more time?
Oh — who wins the prize for best costume in the end? You'll just have to go and find out!
Rating: ★★★★
Click, Clack, BOO! continues through November 24th at Lifeline Theatre, 6912 N. Glenwood   (map), with performances Saturdays and Sundays at 11am and 1pm.  Tickets are $15 (group discounts available), and can be purchased by phone (773-761-4477) or through PrintTixUSA.com (check for half-price tickets at Goldstar.com). More info at LifelineTheatre.com.  (Running time: 75 minutes, NO intermission)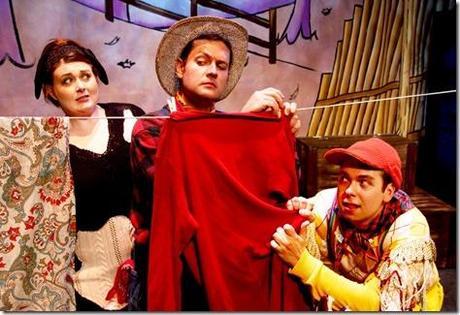 Photos by Kelsey Jorissen 
---
artists
cast
Liz Bollar (Cow), Heather Currie (Pig), Derek Czaplewski (Farmer Brown), Amanda Link (Hen), Nathaniel Niemi (Duck), Alexandra Gonzalez, Lauren Guglielmello, Timothy Maples, Jeremy Myers (understudies)
behind the scenes
Shole Milos (director), Jana Anderson (costume design), Jesse Gaffney (properties design), Anthony Ingram (sound design), Jordan Kardasz (lighting design), Michelle Lilly (scenic design), Joe Schermoly (technical director), Benjamin W. Dawson (production manager), Kelsey Jorissen (photos)
13-1063