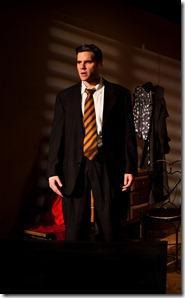 City of Dreadful Night 
Written by Don Nigro
Directed by Ron Wells
The Den Theatre, 1333 N. Milwaukee (map)
thru March 16  |  tickets: $25   |  more info
  
Check for half-price tickets 
  
  
   Read entire review
  
---
A gleaming cynical gem wrapped in haunting noir design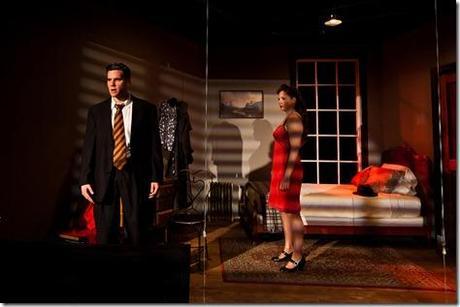 The Den Theatre presents
City of Dreadful Night
Review by Catey Sullivan
They've nailed the noir aesthetic at The Den Theatre, where a duo of tough guys and a dame with a secret navigate boulevards of broken dreams in director Ron Wells' Hoppers-esque telling of Don DiNigro's City of Dreadful Night. The piece doesn't have the most crackling narrative in the world.  But with a four-person cast impeccably versed in the rhythms of hardboiled mystery playing out a twisting tale on set designer Henry Behel's painting-like set, City of Dreadful Night unveils a darkly atmospheric drama set against a backdrop of midnight diners, isolated park benches and stark apartments where restless vixens struggle through long dark nights of the soul.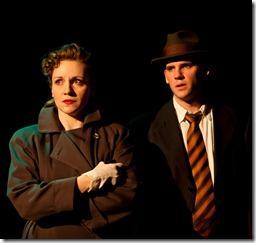 In evoking the underbelly beauty within a city that never sleeps, the Den production gleams with hard luster of a the burnished industrial coffee urns that shine like dark stars in an all-night coffee shop.
City of Dreadful Night opens in silhouette, as Gus and Tony, two men with snappy fedoras and glowing cigarettes, have a taciturn exchange about Anna, a dame who may or may not be fooling around on Gus. Gus wants Tony to follow the girl, the sort of femme fatale who could make a bishop kick in a stained glass window. And so begins an adventure through murder and memory and cryptic, fading photographs as Gus, Tony and the troubled, tempting Anna become entangled in a pulp fiction web of double crosses, desperation and deceit.
This is one of those plays where to say virtually anything about the plot is to indulge in major spoilers, so we'll just note that the relationships between Gus, Tony and Anna – and Philly, the gawky, geeky waiter at the coffee shop where their lives collide – aren't what they initially seem. Everybody's harboring secrets here, revelations that eventually emerge from behind the tough-talking demeanor of Gus and Tony, the aw-shucks (seemingly) guilelessness of Philly and especially from the at once vulnerable and hard-as-nails Anna.
As Philly, Ben Hertel is a scene stealer portraying a Norman Rockwell-like innocence caught up in a Sam Spade world. Justine C. Turner's Anna is just the right mix of shady lady with a dangerous past and innocent ingénue with an All-American love for cherry pie. Sam Guinan Nyhart's troubled Gus is a man of few words whose dark references to life "before the war" steep the character in a patina of weary, resigned melancholy. And as Gus, Matthew Isler is a wiseguy in the subtly menacing, machismo Damon Runyon-mold.
The story plays out on Behel's pitch-perfect set, a construct of hard angles, bright colors and deep shadows which, at one point, replicates Edward Hopper's masterpiece Nighthawks. Like that gorgeous painting, everyone in City of Dreadful Night seems haunted by a failure to connect. And like the painting, the piece is a cynical gem.
Rating: ★★★½
City of Dreadful Night continues through March 16th at The Den Theatre, 1333 N. Milwaukee (map), with performances Thursdays-Saturdays at 7:30pm, Sundays 3pm.  Tickets are $25, and are available by phone (773-398-7028) or online through BrownPaperTickets.com (check for half-price tickets at Goldstar.com). More information at TheDenTheatre.com.  (Running time: 90 minutes, no intermission)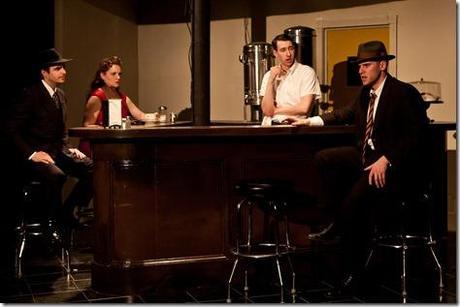 Photos by Joe Mazza 
---
artists
cast
Sam Guinan-Nyhart (Tony), Ben Hertel (Philly), Matthew Isler (Gus), Justine C. Turner (Anna)
behind the scenes
Ron Wells (director), Henry Behel (scenic designer), Rachel Parent (costume designer), Cat Wilson (lighting designer), Mikey Moran (sound designer), Kris Kontour (technical director), Shelley J. Crosby (stage manager), Joe Mazza (photos)
13-0226