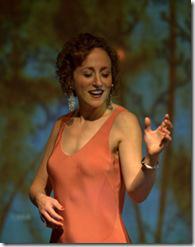 Cities of Light 
Written by Rebecca Joy Fletcher  
Directed by Marti Lyons 
at Noyes Cultural Center, Evanston (map)
thru Dec 11  |  tickets: $25-$30   |  more info
Check for half-price tickets  
  
   Read entire review
  
---
Dimming down the shtick could brighten 'Light'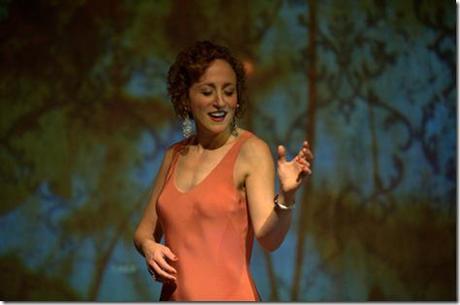 Piven Theatre Workshop presents
Cities of Light
Review by Katy Walsh
I have a healthy sense of humor.  I find much to laugh about in life.  The funny angle of any moment is always bubbling into my giggle zone…even at funerals or other sober events. In those moments, I've taught myself to suppress my natural urge to make a joke.  The selective censorship has come after years of self discovery.  I've finally realized sometimes the only one I'm cracking up is me.
Piven Theatre Workshop presents the world premiere of Cities of Light.  A lecture on Jewish musical history is interrupted.  The intrusion is made by a diva from another time.  Through theatrical fantasy, the singer transports the lecture hall back to the 1920's and 30's.  It's a city to city cabaret exploration in Berlin, Warsaw, Paris and Tel Aviv.  The multi-lingual retrospective is a celebration of the Jewish culture.  The premise has evening-of-enchantment potential.  Unfortunately, Cities of Light is more vaudevillian than cabaret. 
Playwright Rebecca Joy Fletcher has gone comedy instead of drama. Also starring as the diva, Fletcher not only interrupts the history lecture, she also disrupts the natural lyrical flow with buffoonery. To the song 'Life's a Swindle', she goes into the audience and takes purses…including mine. It's clunky and not funny. In another scene, Fletcher and Allison Hendrix (Pianist/lecturer) strip to slips. The burlesque number establishes the costumes for the rest of the show. It's unnecessary and over-the-top odd. Plus, Fletcher had been wearing a gorgeous purple gown. Why would you take it off? I get that the 20s and 30s were a gaudy, playful time. But then Fletcher chooses to sing some of the song choices with a more operatic range than a frolicsome tune. Cabaret? Vaudeville? Opera? Burlesque? It's almost like Cities of Light can't decide to get lit or not.
There are twinkly parts that add some sparkle.  An earnest Hendrix is an accomplished pianist and a confident sidekick.  I actually wanted to hear her lecture.   The song selection provides a robust overview of the time period.  The gentleman behind me is singing softly to his favorite tunes.  He is delighted when the audience is invited to sing a song. I don't know whether its German or Hebrew, but I do know the moment itself unifies the past with present as the audience sings a sweet rendition. In another charming instance, an older guy is invited on stage to dance with Fletcher. Fletcher's interaction with him and later a duet with Hendrix show a toned down vulnerability.  It's memorable and magical.
The idea of the show is to introduce some and reacquainting others with Jewish-influenced cabaret of the time period.  In theory, it sounds like a lovely evening.  In practice, some of the schmaltzy shtick gets in the way of the enjoyment. Dimming down the spoofery, Cities of Light could be a shining reflection of the past.  
Rating: ★★½