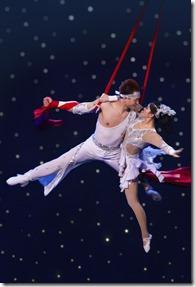 Cirque Shanghai: 
   Dragon's Thunder 
Directed by Miao Miao Chen 
at Navy Pier Pepsi Skyline Stage (map)
thru Sept 22  |  tickets: $15-$29   |  more info
  
Check for half-price tickets 
  
  
   Read entire review
  
---
An adrenaline rush of physical feats wrapped in pure showmanship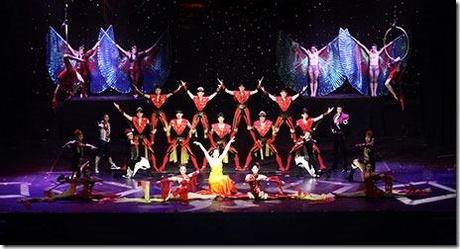 Cirque Shanghai presents
Cirque Shanghai: Dragon's Thunder
Review by Joy Campbell
Taking in the breathtaking spectacle of Cirque Shanghai is like watching a fireworks masterpiece: each performance bursts and expands to greater displays of skill and beauty. Well-paced acts combine brilliant gymnastics and ballet, seamlessly segueing one to the other. The show opens with "Dragon's Thunder," a mesmerizing dueling-drums piece that heralds a troupe of young men flinging each other through the air via teeterboards, and sets the mood beautifully. Slower, more graceful scenes showing eye-popping feats of strength and contortion are presented by the women, while the more kinetic and rowdy sets are presented by the men.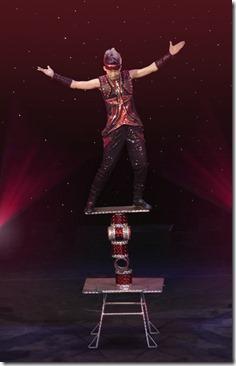 Each act begins playfully with a simple challenging bit; the fun is imagining where it will go, knowing that they will surprise you nonetheless. "Rolla Bolla" starts off with a simple premise: balancing on a teeterboard on a tube on a table. Rocky enough, but when more and then more tubes come out, I found myself sympathetically balancing on my chair, sweating it out for the performer, who delivered it all with a smile. "Pas De Deux Contortion" brings us the most freakishly flexible ballet sequence ever; the audience audibly winces at the angles the woman manage to achieve. "Mulan's Drums" is a drumming masterpiece, with men and women in gorgeous, elaborate embroidered red silk costumes, and headpieces that vibrate with a life of their own. No gymnastics are involved, but I found it to be one of the more spellbinding pieces. "Silks" brings us a couple using aerial silks; the woman is so tiny I imagined that it lent to the ease with which the man could suspend her – until she held him up by her tiny arms a dizzying height from the floor. Like I said, they start off predictably, then take you to surprising places.
The two most dramatic acts are saved for last. "Wheel of Destiny" is a carnival ride dreamt by a sadist: imagine two giant hamster runs on the ends of a long central piece, Like a Q-Tip, revolving as the entre mechanism flips over and over – high above the stage. Two men take a wheel each. That's all I'm going to say, except my stomach didn't un-knot until well after the show.
"Globe of Death" is a huge metal sphere in which increasing numbers of motorbike riders enter and zoom around the inside. Tightly packed and moving at high speed in several directions, the riders seem inhuman in their ability to avoid one another. We are aware that for all the glitter, one wrong move would be a disaster, and we are frozen in awe-filled suspense.
What makes Cirque Shanghai truly entertaining, however, are the high production values and attention to details. Under the direction of Miao Miao Chen, no detail is left unfinished, including rich lighting, powerful music, and gorgeous costumes. Ms. Chen has an eye for a beautifully balanced and dressed stage, and her skill transforms the performance area into a magical arena.
The showmanship of the performers is impressive. Physical feats aside, they engage the audience with their relentless energy, concentration, warmth, and humor. We get the impression they like nothing better than risking their necks for us, their favorite people. This is a wonderfully energetic, uplifting, adrenaline rush that everybody can enjoy.
Rating: ★★★
Cirque Shanghai: Dragon's Thunder continues through September 22nd at Pepsi Skyline Stage, Navy Pier, 800 E. Grand (map), with performances Wednesdays at 2pm/6pm/8pm, Thursdays at 2pm/8pm, Fridays 2pm/7pm/9pm, Saturday 2pm/6pm/8pm, Sundays 2pm/4pm.  Tickets are $15.50-$29.50, and are available by phone (800-745-300) or online through Ticketmaster.com (check for half-price tickets at Goldstar.com). More info at NavyPier.com/CirqueShanghai.  (Running time: 75 minutes, NO intermission)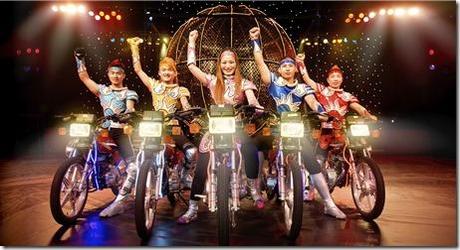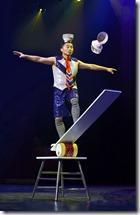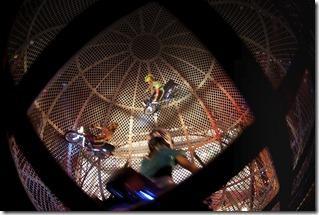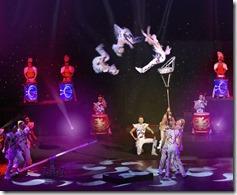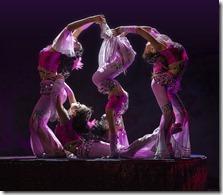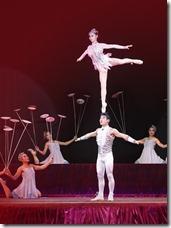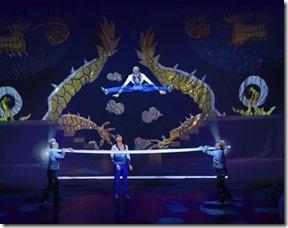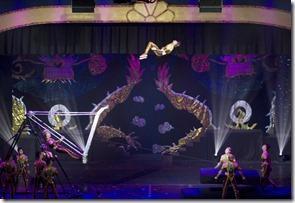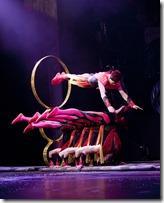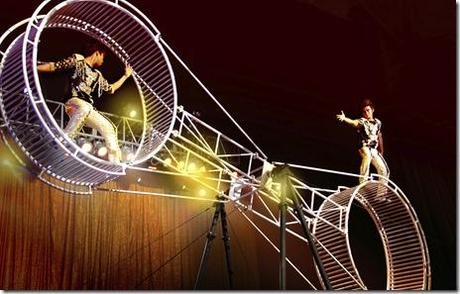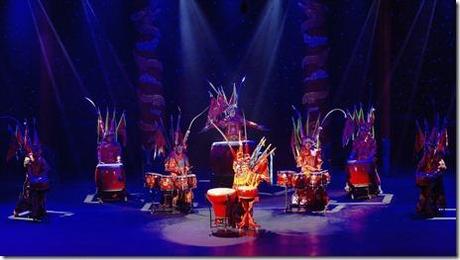 13-0545