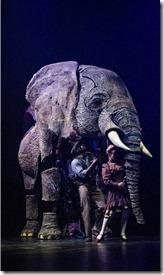 Despite verbose ringmaster, kids will be dazzled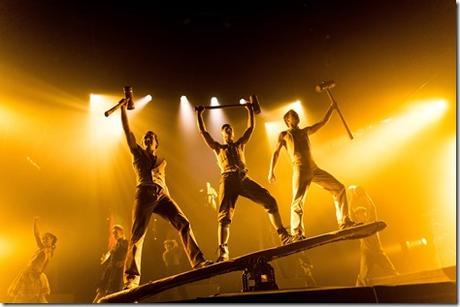 Review by Catey Sullivan
In the world of Circus 1903 , Teddy Roosevelt is president, the Wright Brothers have begun to fly and the U.S. is establishing a small military base in the tiny Cuban town of Guantanamo. By far the biggest news to come out of Chicago in that year was the deadly fire at the Iroquois Theatre, now known as the Oriental Theatre and the site of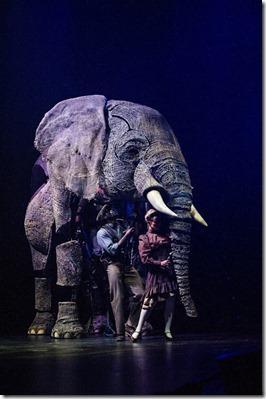 Circus, 1903 .
Those familiar with the history of the Oriental might find a thin layer of very dark humor in Circus 1903 's curiously specific setting. Minus the title, Circus 1903 might as well be set in 1904 or 1902 - or anywhere in the early 1900s, really. The setting is primarily a matter of Angela Aaron's colorful and nicely detailed costume design.
Fin de siecle exactitude aside, Circus 1903 is a mostly pleasant two-hours of adequately performed circus staples. Brought to Chicago by The Road Company (the same people who brought and here), the show offers a roster of wire walkers, acrobats, teeterboard experts, a juggler, a hoop aerialist and a contortionist among other acts. There is also a ringmaster whose lengthy patter extends what could be a taut, 90-minute show into a saggy two-hours. More on him and the rest of the humans in the ensemble momentarily.
The real stars of Circus 1903 are not humans. The show's signature is its life-sized puppet elephants, created by designer Melvyn Millar. Queenie and Peanut show up as the first act finale, and they are magnificent beasts indeed. From their blinking eyelids to their twitching tails, they amble about like real elephants. Powered by about half a dozen humans (on stilts and otherwise), they are fascinating, marvelous creatures. They don't actually do much - the biggest "trick" involves Queenie and Peanut standing briefly on their hind legs - but they are so marvelously life-like, they don't really need to do much more than lumber and snuffle.
While the elephants are wonderful, Circus 1903 has big problems with the aforementioned ringmaster, one Willy Whipsnade (David Williamson). His delivery is a blend of oddly hostile sarcasm and schmaltz cornier than all of Iowa in harvest season. Even by vaudeville standards, it's not really funny. He begins the show by hurling boxes of popcorn at the audience, which is kind of funny because it's unexpected. It's not so funny when you realize the ushers - who I'd wager don't make much more than minimum wage - are probably going to be stuck picking popcorn out of the carpet long after everybody goes home.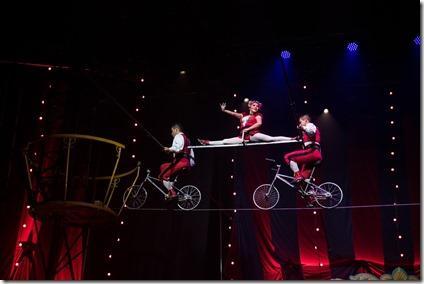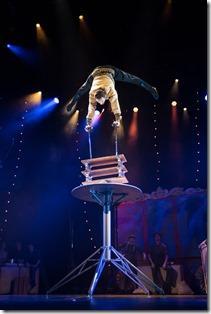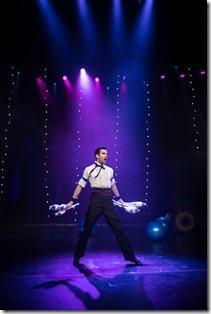 In all, far too much of the show's running time is padded by the Ringmaster, who alternates bad jokes with greeting card cliches about the magic of childhood. In the second act, there's a lengthy bit involving four children and a small furry puppet that looks like a chipmunk. The kids are cute as heck, but the act feels like it goes on for days. Unless you're one of the kids on stage - or came to the show with one of the kids on stage - the whole thing loses its charm long before its over. In both delivery and content, the Ringmaster flops. And unlike the aerialists, there's no padded mat to cushion the fall.
The rest of the human cast is fine, although none of them reach the heights (either literal and metaphorical) of the acro/aerial artists of Chicago's own Actors Gymnasium or Lookingglass Theatre. If you've seen or , you'll find Circus 1903 less than breathtaking. Minus the Lookingglass reference point, the energetic artists of Circus 1903 are amiably if not astonishingly entertaining.
The best of the lot is Francois Borie, a juggler whose pins seem to spin at the speed of light. Contortionist Senayet Asefa Marie is also fantastic, although introducing a woman of color as a freak show import from "mysterious Africa" is problematic to say the least. Teeterboard tumblers Artur Ivankovich, Petter Vatermark and Aj Saltalamaccchia open the show with combustible energy. And "foot jugglers" Alejandro andRicardo Rossi deliver a stunning display of fleet-footed grace and athleticism.
Tickets for Circus, 1903 are comparatively inexpensive - on the sale of free to Hamilton, they're definitely affordable. And if you've got small children, they will probably be dazzled.
Circus 1903 continues through March 26th at Oriental Theatre, 24 W. Randolph (map). Tickets are $18-$77, and are available by phone (800-775-2000) or online through Ticketmaster.com (check for half-price tickets at Goldstar.com ). More information at Circus1903.com. (Running time: 2 hours, includes an intermission)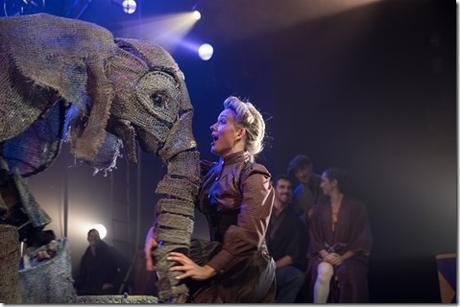 Photos by Mark Turner
performers
Yevgeniy Dashkivskyy and Yefrem Bitkine (Duo Flash), Alejandro and Ricardo Rossi (Fratelli Rossi), Johan Lopez, Jonatan Lopez, Maria Jose Pontigo (Los Lopez), Anny LaPlante and Andrei Kalesnikau (Les Incredibles), Elena Gatlova (Lucky Moon), Florian Blummel (the Cycling Cyclone), Senayet Asefa Amare (the Elastic Dislocationist), Francois Borie (the Great Gaston), Artur Ivankovich, Petter Vatermark, Aj Saltalamacchia (the Flying Fins), Mikhail Sozonov (the Sensational Sozonov), David Williamson (Ringmaster Willy Whipsnake), Nyron Levy, Chris Milford, Daniel Fanning, Luke Chadwick-Jones, Henry Maynard, Jessica Spalis (puppeteers, ensemble).
behind the scenes
Simon Painter (executive and creative producer), Tim Lawson (executive producer), Neil Dorward (director and co-creative producer), Andrew Spencer (executive producer), Evan Jolly (composer), Angela Aaron (costume design), Richard Peakman (associate director), Mervyn Millar (puppetry designer), Asia Live Network, Magicspace Entertainment (producers), Mark Turner (photos)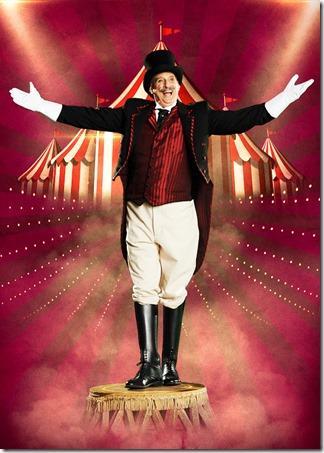 Tags: 17-0335, Actors Gymnasium, Aj Saltalamacchia, Alejandro Rossi, Andrei Kalesnikau, Andrew Spencer, Angela Aaron, Anny LaPlante, Artur Ivankovich, Asia Live Network, Broadway in Chicago, Chicago Theater, Chris Milford, Daniel Fanning, David Williamson, Elena Gatlova, Evan Jolly, Florian Blummel, Francois Borie, Henry Maynard, Jessica Spalis, Johan Lopez, Jonatan Lopez, Lookingglass Theatre, Luke Chadwick-Jones, MagicSpace Entertainment, Maria Jose Pontigo, Mark Turner, Mervyn Millar, Mikhail Sozonov, Neil Dorward, Nyron Levy, Oriental Theatre, Petter Vatermark, post, Ricardo Rossi, Richard Peakman, Senayet Asefa Amare, Simon Painter, The Road Company, Tim Lawson, Yefrem Bitkine, Yevgeniy Dashkivskyy
Category: 2017 Reviews, Broadway in Chicago, Catey Sullivan, Circus, National Tours, Oriental Theatre (Ford), Performance Art - Circus