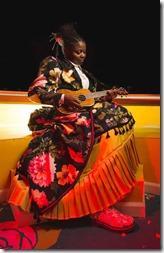 A delightful musical confection of both substance and sweetness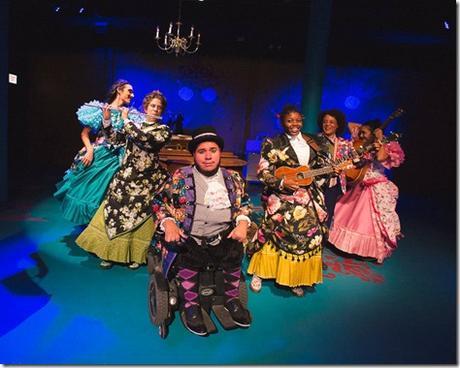 Review by Catey Sullivan
Raucous, playful and completely unmoored from the male-centric lens that defines most musicals, Cinderella at the Theater of Potatoes is a musical confection of both substance and sweetness. Adapted by Andra Velis Simonfrom the works of composer Pauline Viardot-Garcia, The Hypocrites' production directed by Sean Graneyis a celebration of an artist whose gender relegated her to obscurity.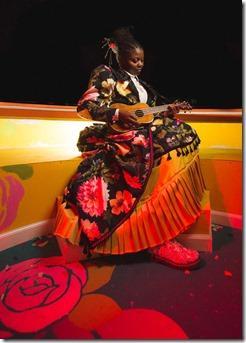 Viardot was every bit as prolific and gifted as the contemporaries she entertained at the celebrated salons she held twice a week in her Paris flat, starting in the mid-19th century and continuing into the early 20th. But while her peers - Brahms, Chopin, Debussy and Mendelssohn among them - became household names, Viardot has been largely forgotten. Simon asserts that Viardot was resigned to (barely) footnote status because, as a woman, she was never viewed with the esteem heaped on her colleagues. That seems like an accurate hypothesis. Despite her undeniable talent, Viardot's operas and music are basically never performed. You could study classical music for a lifetime, and never come across her name.
With Cinderella at the Theater of Potatoes , Simon and Graney put a long-deferred spotlight on Viardot's music and on the vibrant arts scene she nurtured for generations. The 85-minute piece is comprised primarily of swatches from Viardot's operetta Cindrillon. Premiering in 1904 when Viardot was 84 years old, Cindrillon dispenses with patriarchal fairy-tale nonsense that usually defines "Cinderella." Instead of spending her life yearning to be rescued via marriage to a handsome prince, Viardot's Cinderella longs to be an opera singer. Instead of a ball, there are auditions. Instead of a prince seeking a virginal young bride, there is a composer looking for a voice that thrills.
As for the titular tuber, it is a meta-reference to Viardot's famed salons. Admission to the gatherings was a potato, and potato soup was served (as it is in the Hypocrites production) after the performances of the evening were concluded. (Viardot didn't turn anyone away from her salons: If you didn't have a potato, you could pick one from her garden.)
Simon's sometimes silly/sometimes profound operetta is as meta- as that potato. It's staged as a play-within-a play. The setting is one of Viardot's salons, where the attendees will perform Cinderella at the Theater of Potatoes . Georges Sand is present, as is Ivan Turgenev, his daughter Paulinette and Viadrot's daughter Louise. The gathering also includes Fanny Mandelssohn, sister of the famed Felix and a composer in her own right.
The musical unfolds with the cast playing an eclectic assortment of instruments, trombones, toy pianos, regular pianos, ukuleles, guitars and flutes among them.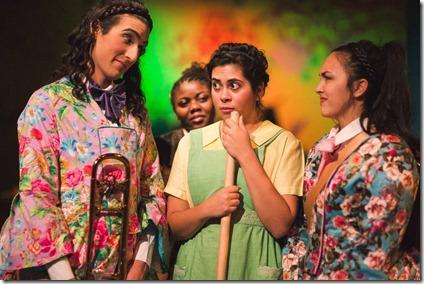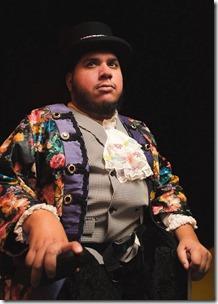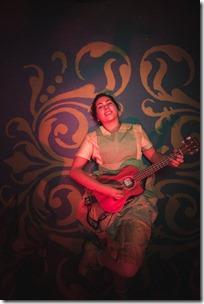 At the center of the story is Amanda Raquel Martinezwho plays Viardot's cook, who in turn plays Cinderella. Martinez has a voice with the clear purity of a songbird, a silvery soprano that delivers impossibly intricate credenzas with a range of emotions from full-hearted jubilation and exquisite longing. She's got a presence that's both vulnerable and steely-strong - the latter being a prerequisite of anybody whose day job is that of perpetually besieged servant.
Martinez is surrounded by a supporting cast that's equally delightful. Playing Turgenev's daughter Paulinette, who then plays wicked stepsister Mergatroid, Elle Walkermakes for a delicious meangirl whose high-handed haughtiness seems in direct inverse proportion to her dubious intelligence. Walker plays the aforementioned trombone, often turning horn's slide into a hilarious appendage that goes after poor Cinderella like a golden-armed bully. Mergatroid's sister-in-crime is Aja Wiltshire who has a pouty cluelessness as Viardot's daughter Louise, and Cinderella's stepsister Adelind. When Wiltshire and Walker join forces, their wicked-sibling chemistry becomes a two-woman comedy act that could conceivably stand on its own.
Joel Rodriguez is also a standout as Ivan Turgenev and Ivan-as-the-cruel-Baron in "Cinderella." His Baron has a comically puffed-up sense of regal entitlement, a swoon-worthy baritone, and a sense of physicality that makes him a hoot whether he's sitting still or scooting about the stage in a single-minded, determined frenzy. This is Rodriquez' professional musical theater debut; he announces himself as a major vocal talent.
The cast is rounded out by Gay Glenn's Georges Sand, a good-natured rabble-rouser, gamely strumming the banjo as she shouts for equality, fraternity and power to the people. And as Pauline Viardot herself, Leslie Ann Sheppard is a congenial emcee and the consistently engaging presence who ties the whole show together.
Regina Garcia's set design is a colorful, multi-tiered playroom where wooden cooking spoons and turquoise flour-de-lis decorate the primary-colored walls. The visual vibe is sunny and bright, and fits the ambiance of of the text perfectly. Alison Siple's knock-out costume design includes inspired and outrageously over-the-top flounces and furbelows. Baron's royal regalia is as marvelously fussy as any fully-fanned peacock. When Cinderella makes her triumphant final entrance, she looks like a piece of ribbon candy.
Sometimes loud, sometimes garish, and never especially subtle, Cinderella at the Theater of the Potatoes is a confection of an operetta. Throughout, it makes joyful noise as it moves from the ridiculous to the sublime. That the noise is all in celebration of a largely forgotten female composer is icing on the cake.
Cinderella.. continues through January 8th at The Den Theatre, 1333 N. Milwaukee (map), with performances Fridays at 8pm, Saturdays 3pm & 8pm, Sundays 3pm. Tickets are $36 (children: $15), and are available by phone (773-697-3830) or online through their website (check for half-price tickets at Goldstar.com ). More information at The-Hypocrites.com. (Running time: play length, includes an intermission)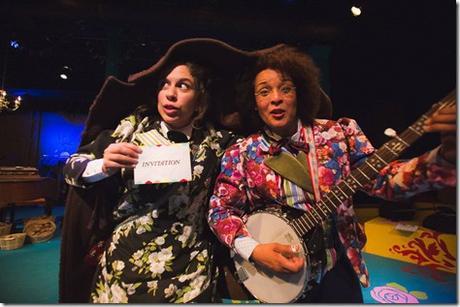 (Georges Sand, Valet), Amanda Raquel Martinez (cook, Cinderella), Dana Omar (Fanny Mendelssohn, Composer), Joel Rodriguez (Baron, Ivan Turganov), Leslie Ann Sheppard (Pauline), Elle Walker (Paulinette, Mergatroid), Aja Wiltshire (Louise, Adelind), Destiny Strothers, Jenni Hadley, Aaron Mitchell Reese, Izis Moillinedo (understudies)
behind the scenes
Sean Graney (director), Andra Velis-Simon (adaptor, music director), Breon Arzell (choreographer), Regina Garcia (scenic design), Alison Siple (costume design), Jared Gooding (lighting design), Ray Nardelli (sound design), Chris LaPorte (associate sound design), Mealah Heidenreich (props master), Miranda Anderson (stage manager), Kathleen Barrett (assistant stage manager), Aileen McGroddy (assistant director), Ben Kaye (assistant music director), Pat Fries (production manager), Brandi Alexander (technical director), Samantha Dzirko (associate production manager), Connor Wang (sound engineer), Christopher J. Neville (costume manager), Gregory Lucer (master carpenter), Kelly Brooks, Zechory Novinger, Dakota Pariset, Daniel Parsons, Danny Drust, Rudy Schultz (carpenters), Collin Helou (master electricians), Kenny Cole, Luke Gerherdt, Austin Packard, Daniel Parsons (electricians), Jenifer L'amour Dorman (graphic design), Christina Kolozsvary (videography), Lavina Jadhwan (casting), Jacqueline Kling (marketing coordinator), Tien Doman (administrative coordinator), Sarah Laeuchli (grants coordinator), (photos)
Tags: 16-1155, Aaron Mitchell Reese, Aileen McGroddy, Aja Wiltshire, Alison Siple, Amanda Raquel Martinez, Andra Velis simon, Austin Packard, Ben Kaye, Brandi Alexander, Breon Arzell, Catey Sullivan, Chicago Theater, Chris LaPorte, Christina Kolozsvary, Christopher J. Neville, Collin Helou, Connor Wang, Dakota Pariset, Dana Omar, Daniel Parsons, Daniel Parsons. Jenifer L'amour Dorman, Danny Drust, Destiny Strothers, Elle Walker, Gay Glenn, Gregory Lucer, Izis Moillinedo, Jacqueline Kling, Jared Gooding, Jenni Hadley, Joe Mazza, Joel Rodriguez, Kathleen Barrett, Kelly Brooks, Kenny Cole, Lavina Jadhwan, Leslie Ann Sheppard, Luke Gerherdt, Mealah Heidenreich, Miranda Anderson, Pat Fries, Pauline Viardot-Garcia, post, Ray Nardelli, Regina Garcia, Rudy Schultz, Samantha Dzirko, Sarah Laeuchli, Sean Graney, The Hypocrites, Tien Doman, Zechory Novinger
Category: 2016 Reviews, Catey Sullivan, Den Theatre, Hypocrites Theatre, Musical, New Work, World Premier