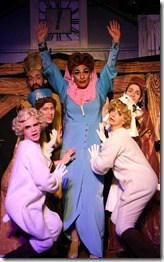 Christmas Dearest 
Written by David Cerda
at Mary's Attic, 5400 N. Clark (map)
thru Jan 2  |  tix: $22-$30  |  more info
  
Check for half-price tickets  
  
---
A camp Christmas Pageant as only Handbag can deliver!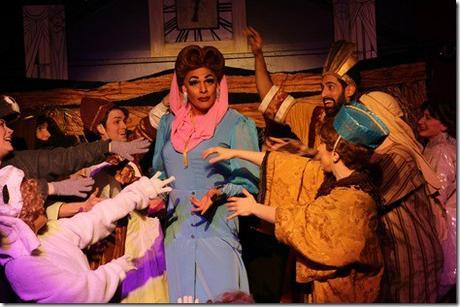 Hell in a Handbag Productions presents
Christmas Dearest
Review by Clint May 
Back again to put the "Mary" before "Christmas," Hell in a Handbag cooks up a great big ham with a side of gams worthy of any Dickens farce—the third such redux this reviewer has seen this month and qualifying as its own subset of holiday fare on the buffet of Chicago theater. David Cerda's favorite megalomaniac (or at least, everyone's favorite Faye Dunaway version of her) gets a lesson in humility in the midst of her performance as the woman she was born to play—the mother of God. Christmas Dearest goes a step further than most Handbag production with the inclusion of six original Cerda carols on top of their well-established brand of over-the-top camp.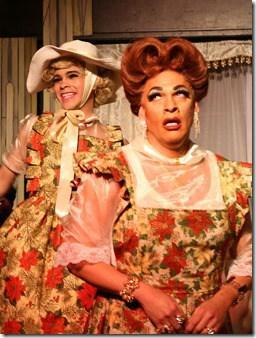 To
misquote Voltaire
, if Joan Crawford had not existed, it would have been necessary to invent her, if for no other reason than Cerda was born to play her. As the cartoonishly curmudgeon mid-career Crawford, the cast and crew of a woefully terrible Nativity retelling are going to be forced to work on Christmas to satisfy the stars outsized ego. Her much put upon assistant Carol Ann (the always delightful
Ed Jones
) assures them that she "saves the worst for herself," though whether or not anyone can have pity for such a pathetic monster is the question.
This Christmas Eve, the real Queen of Heaven (Rachel Hadlock) does a reverse apotheosis to give Joan the gift of ultimate perspective. First it's her old flapper happy friend Oliva LaLake (Kristopher Bottrall), The Ghost of Christmas Passed Out, who takes her back to the 20s to see her more innocent self. Little Joan (Alexa Castelvecchi) is so poor she must play with a creature made entirely of wire hangers (that explains a lot…). Early-career Joan still goes out of her way to show affection to her castmates, bonded together in the trials of budding stardom. MGM founder Louis B Mayer (Chad Ingold) shows Joan her friends and family's present meager-yet-magnanimous celebrations before it's off to future with none other than her own would-be arch nemesis: Bette Davis (Caitlin Jackson, in full Baby Jane make up). Here she is shown the thing she fears most—death!!……well, the death of her looks and career, starring in crappy sci-fi trash akin to the real-life dud "Trog".
Of course, because this is Joan Crawford, we can't expect a total reform of the monster unleashed by unmitigated ego, but at the very least, she can be cowed by the promise of better PR and lasting looks – even if poor daughter Christine (Frankie Leo Bennett) can't get a merry Christmas for reasons that will be made clear to audiences. Still, it's enough that Taco Tuesday, er, Teeny Teena (also Bennett) gets to go to Europe for her treatment to cure her of….whatever it is…while clutching a lollipopean doll of Joan that would make a fabulous ornament if Handbag had a gift shop.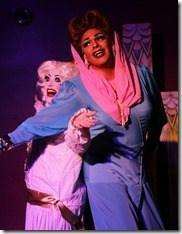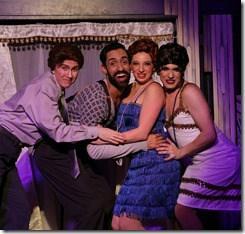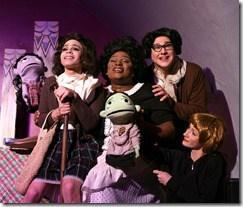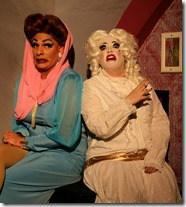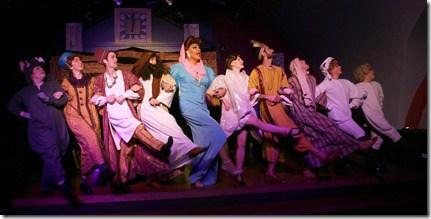 Cerda's book has elements of Annie and even a little Avenue Q—complete with puppets by Lolly Extract—of which Castelvecchi shines as the best caroler. As a whole, Dearest is a titch more esoteric than other Handbag offerings. It feels more like a paean to Cerda's particular brand of skills which, though considerable, feels just a hair's breadth less inclusive than some of their more generationally agnostic offerings. Of course, if he wants to be a little indulgent after giving camp connoisseurs so many blessings, so be it.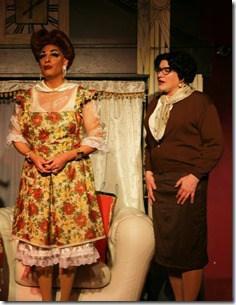 Following a critically reserved but still successful debut year that forewent their old reliable
Rudolph the Red Hosed Reindeer
,
AJ Wright
is replaced as director by
Steve Love
. Cerda took note at the end that it was simply an email outlining a series of course corrections recommended by Love that landed him his Chicago directorial debut, and it seems to have ameliorated whatever small problems critics had a year ago (having not seen it in 2014, I can only extrapolate based on a comparative reading).
As always, the cast of regulars is on hand with expert timing, and again Jones and Robert Williams steal every scene and remain Handbag's most gifted comedic talents. Close on their high heels is the hilarious Kristopher Bottrall as the boozy flapper who loves her some drinking of inappropriate things. When a cast is having this much fun on stage with source material this funny, it takes a heart of pure humbug to keep the laughter at bay.
Sidenote: This year as always, Handbag will be collecting for a plethora of worthy charities. Do bring a few extra dollars if you find yourself moved by Joan's transformation enough to give a bucket-wielding Bette some cash. 
Rating: ★★★½
Christmas Dearest continues through January 2nd at Mary's Attic, 5400 N. Clark (map), with performances Thursdays thru Saturdays 7:30pm, Sundays 6:30pm.  Additional performance times can be found here.  Tickets are $22-$30, and are available by phone (800-838-3006) or online through BrownPaperTickets.com (check for half-price tickets at Goldstar.com). More information at HandbagProductions.org.  (Running time: 2 hours, includes intermission)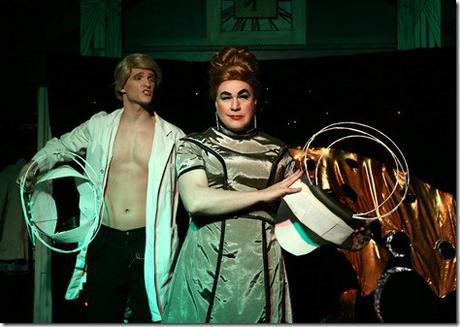 Photos by Rick Aguilar Studios
---
artists
cast
Frankie Leo Bennett (Young Christina, Teeny Teena), Chazie Bly (Harry), Kristopher Bottrall (Olive LaLake), Alexa Castelvecchi (Young Joan, 20s Joan), David Cerda (Joan Crawford), Grant Drager (Andy), Rachel Hadlock (Virgin Mary), Chad Ingold (Frank, LB Mayer), Caitlin Jackson (Bette Davis), Ed Jones (Carol Ann Cratchit), Shiv Mann (Henry), Christina Parent (Faye Dunaway) Robert Williams (Vernita, Frank/Director)
behind the scenes
Steve Love (director), Mitch Anthony (set design), Kate Setzer Kamphausen (costume design), Cat Wilson (lighting design), Mikey Moran (sound design) Jabberwocky Marionettes (puppet design), JD Caudill (music director), Rick Aguilar Studios (photos)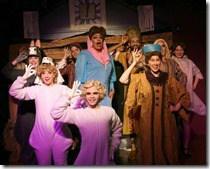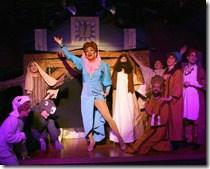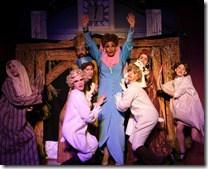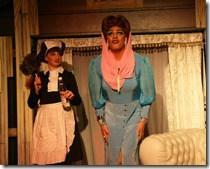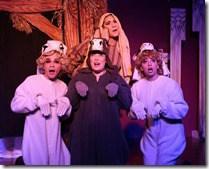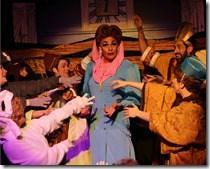 15-1211