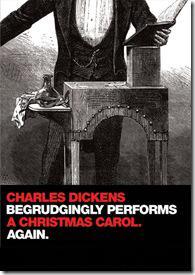 Charles Dickens 
   Begrudgingly Performs 
   "A Christmas Carol." Again.
Created & Performed by Blake Montgomery
The Building Stage, 412 N. Carpenter (map)
thru Dec 24  |  tickets: $22   |  more info
  
Check for half-price tickets 
  
  
   Read entire review
  
---
A Christmas Carol, from the horse's mouth

The Building Stage presents
Charles Dickens Begrudgingly Performs
   'A Christmas Carol.' Again.
Review by J.H. Palmer
Charles Dickens' A Christmas Story has become so woven into the American ideal of Christmas that one can scarcely get through the season without hearing multiple invocations of "bah humbug," and at least one "God bless us, everyone," whether spoken in earnest or as an ironic remark. It's been adapted to film at least six times, starring everyone from Albert Finney to Bill Murray, and presented in animated form at least seven times, with incarnations that include: "A Flintstones Christmas Carol," Mr. Magoo's Christmas Carol" and "The Muppet Christmas Carol."  The stage production is a holiday standard, done both in earnest, and in jest, and the name "Scrooge" has long since entered the lexicon as synonymous with tight fistedness.
If it seems like you've heard the story a million times, just imagine what it must have been like for Charles Dickens, who gave a public reading of the work in 1853, and continued to do so every year after. In Charles Dickens Begrudgingly Performs 'A Christmas Carol.' Again., Blake Montgomery takes on the premise that Dickens is still alive, still reading the same story, and after nearly 160 years has grown tired of it.
Montgomery greeted me at the stage entrance, constructed to look like the front door of a house, with windows on either side. He made eye contact with me through a window as I made my approach, and – before I'd even stepped inside the theater – welcomed me into his "home", directing me to the coat rack, offering me hot tea which he had at the ready, and a biscuit to go with it. He greets each audience member in similar fashion, and most take him up on the offer of tea. Once everyone has settled into their seats, he launches into an elaborate display of procrastination, insisting that this is just a "party", not a reading, and that if we really wanted to see the real thing we could go down the street to another theater, where production values are high, and "there are real crippled children" in the cast.
"I do have other books," Montgomery insists, and goes on to list other notable works: "Bleak House," "A Tale of Two Cities" and "Great Expectations," to name three. He elaborately avoids the small stage in the center of the set, messing with the control board every time it gets spot lit, insisting that he'd rather stay on the floor with the audience where it's "a party." By the time he actually takes his place at the podium this bit gets a little old, but then he opens a copy of A Christmas Carol, and reads the opening lines: "Marley was dead: to begin with. There is no doubt whatever about that. The register of his burial was signed by the clergyman, the clerk, the undertaker, and the chief mourner. Scrooge signed it. And Scrooge's name was good upon "change, for anything he chose to put his hand to. Old Marley was as dead as a door-nail." That's when it hit me… I've never actually read 'A Christmas Carol'! I know the story inside and out, but I've never actually read the text, and as it turns out, it's damn good writing!
Montgomery steps into the audience at times during key moments of the story, such as when Scrooge is taken to visit his past and revisits the moment when his fiancée, Belle, breaks off their engagement. His presence as an actor is gregarious and compelling, and keeps the audience at attention, single-handedly, for close to 90 minutes.
The most compelling moments in the piece come when Montgomery reads directly from the text. Marley's face appears to Scrooge in the doorknocker looking "like a bad lobster in a dark cellar." Montgomery stops in his reading and repeats this line, underscoring the magnitude of it. For all the skewered levity of this one man show, what comes across the most strongly is that A Christmas Carol is a great story and, despite innumerable iterations and interpretations, is best in the original. Maybe that's the point; if you're able ignore the grand theatrical productions, the films, the cartoons, and the ingrained cultural shorthand that ACC has become, you might see it at its best.
Rating: ★★★
Charles Dickens Begrudgingly Performs 'A Christmas Carol' Again. continues through December 24th at The Building Stage, 412 N. Carpenter (map), with performances Thursdays-Saturdays at 8pm.  Tickets are $22, and are available by phone (312-491-1369) or online at brownpapertickets.com  (check for half-price tickets at Goldstar.com). More information at BuildingStage.com.  (Running time: 90 minutes with no intermission)
---
artists