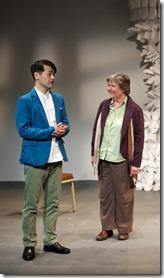 Ambitious project better in theory than in practice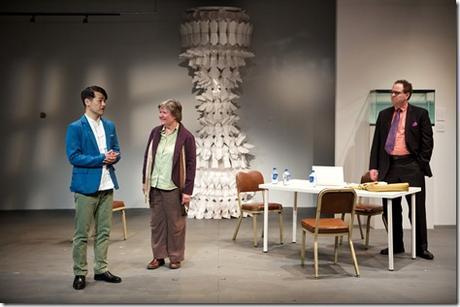 Caught is part art installation, part dramatized philosophy, part lecture about the search for truth and what exactly that means. Maybe it was the "lecture" part that got me. I could never shake the feeling that playwright Christopher Chen, director Seth Bockley and Sideshow Theatre Company very much wanted me to learn something. This play within a play within a play within a play is rife with lessons, theories and jargon about truth, storytelling and art. That in and of itself is not the problem. The problem with Caught is that it never really quits. Eighty minutes is not a long stretch of time, but when it's crammed with so much point-making and pontificating (not to mention exaggerated acting), even the seconds drag. Chock-full of ideas, is better in theory than in practice, a plethora of goodwill that didn't quite capture my brain or heart.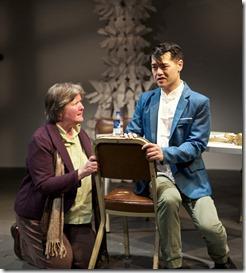 Opening a play with a lecture is always risky business, as audience members aren't necessarily at a theater for that purpose.
Caught
's first and second portion involve a celebrated artist (
Ben Chang
) whose tale of inspiration among imprisonment may not be quite as sensational as it sounds. There's lecture, then there's drama with a satirical, over-the-top twist. The third portion of
Caught
is a discussion about truth and art, the fourth a conversation. There is a lot of talking in circles, a lot of telling the audience what to think and how to feel.
isn't supposed to be a traditional performance - that's both obvious and not the real issue. Thinking outside the theatrical box is excellent, but interesting concepts alone don't warrant a positive review. has ambition to spare - where the productionfails is its execution. Chen's script winks at the audience to the point of annoyance, so concerned with flaunting its intellect that it never really engages. It's as if he set to write a Very Important Play - which any writer will tell you, is an intention that never delivers. Bockley's direction doesn't add much, relying on unnecessary scenery chewing and buffoonery. And the effect of both script and direction are remarkably flat. If I'd walked out of frustrated with the unanswered questions and non-answers that surround the concept of truth, or flat-out angry even, I'd have walked out a satisfied critic. Instead, I saw what Sideshow was trying to do and realized they never reached their lofty goal.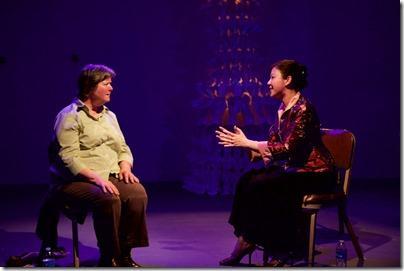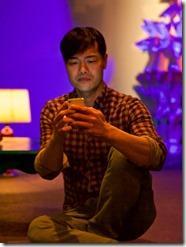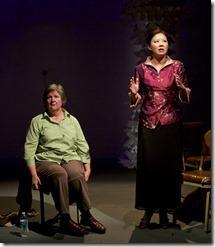 The actors do their best, especially Chang and Helen Young, who delivers the meandering dialogue with charismatic ease. Scenic designer Kurtis Boetcher is the production standout, ably conveying an art gallery, a magazine office and a small apartment with minimal props and the most modern of modern art pieces. Sadly, these strengths aren't enough to save . After Sideshow's stunning , a provocative exploration of a disturbing true story, they disappoint with this inflated, at times pretentious, production. Many may find its nonlinear storytelling, emphasis on art and artists, and exploration of truth appealing. I wish I'd been one of them.
continues through July 3rd at Victory Gardens' Richard Christiansen Theater, 2433 N. Lincoln (map), with performances Thursdays-Saturdays at 7:30pm, Sundays 3pm. Tickets are $20-$30, and are available by phone (773-871-3000) or online through PrintTixUSA.com (check for half-price tickets at Goldstar.com ). More information at SideshowTheatre.org. (Running time: 80 minutes, no intermission. Note: not recommended for young theatre-goers)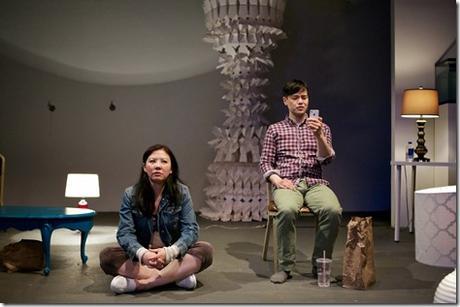 Photos by Jonathan L. Green
behind the scenes
Seth Bockley (director), Kurtis Boetcher (scenic design), Izumi Inaba (costume design), Claire Chrzan (lighting design), Christopher M. LaPorte (sound design), Holly McCauley (properties design), Alan Weusthoff (technical director), Gina M. DiSalvo (dramaturg), Colleen Layton (stage manager), Aaron Shapiro (production manager), Sammi Grant (dialect coach), Maddy Low (assistant director), Kelly Hovsepian (assistant stage manager), Aaron Stephenson (associate sound design), Matt Fletcher (casting director), Paul Hopkin (gallerist), Larry Lee (featured visual artist), Michael Joseph (master electrician), Jason Dunda (poster illustration), Jonathan L. Green (photos)
Tags: 16-0602, Aaron Shapiro, Aaron Stephenson, Alan Weusthoff, Alexander Wu, Ann James, Ben Chang, Bob Kruse, Chicago Theater, Christopher Chen, Christopher M. LaPorte, Claire Chrzan, Cody Proctor, Colleen Layton, Gina M. DiSalvo, Helen Young, Holly McCauley, Izumi Inaba, Jason Dunda, Jonathan L. Green, Kelli Walker, Kelly Hovsepian, Kurtis Boetcher, Larry Lee, Maddy Low, Matt Fletcher, Michael Joseph, Paul Hopkin, post, Richard Christensen Theater, Sammi Grant, Seth Bockley, Sideshow Theatre, Tea Ro, Xiong Art Gallery
Category: 2016 Reviews, Lauren Whalen, Richard Christiansen Theatre, Sideshow Theatre