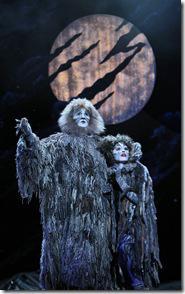 Cats
Written by Andrew Lloyd Webber  
Directed for tour by Richard Stafford
Cadillac Palace Thtr, 151 W. Randolph (map)
thru May 6   |  tickets: $25-$75   |  more info
  
Check for half-price tickets 
  
  
   Read entire review
  
---
Dated 'Cats' better as a 'Memory'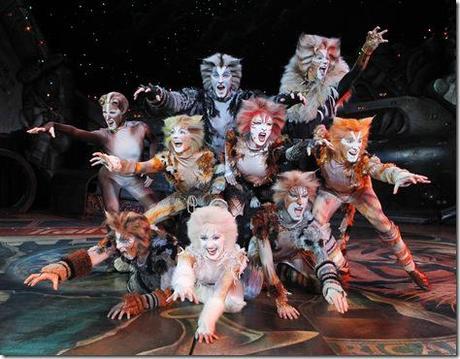 Broadway in Chicago presents
Cats
Review by Lauren Whalen 
Everyone remembers Cats. Andrew Lloyd Webber's musical ode to T.S. Eliot combined dizzying lighting, impressive choreography and infinite amounts of spandex to sweep London, then Broadway, then the touring circuit. Now-grown theater geeks (including this one) have fond recollections of viewing the musical as children in the 1980's and 1990's. However, childhood nostalgia doesn't always age well. Groundbreaking for its time, and forever deserving of respect for helping bring musical theater to the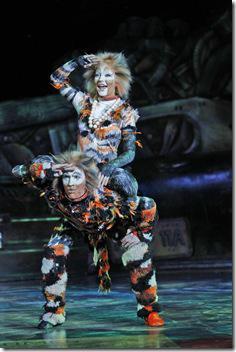 mainstream,
Cats
viewed in 2012 is just plain silly.
Normally, I use this paragraph to briefly outline the plot. Cats doesn't really have one. Composer Andrew Lloyd Webber adapted most of the lyrics directly from T.S. Eliot's delightful ode to felines, "Old Possum's Book of Practical Cats". As a result, Cats mostly consists of isolated song-and-dances describing various oddly-named felines who then fade into the background. It takes place in a junkyard. There's a gathering called the Jellicle Ball and an afterlife called the Heaviside Layer, neither of which are really explained. There's a really prolonged production number in Act I that happens for no apparent reason. A virtually plotless series of songs doesn't necessarily mean an unsuccessful musical, but two and a half hours is much too long for this format.
Though the cast do their best, the entire show just feels tired. Lighting effects, set pieces and choreography especially don't appear to have been updated since the show's heyday, a good three decades ago. The show's best-known song, "Memory", was inspired by a later period of Eliot's poetry that feels entirely different from the whimsical poems of "Old Possum's Book of Practical Cats". As a result, the soulful song is a world apart from the sassy numbers that populate Cats, resulting in a very disjointed script. And "Memory" songstress Grizabella the Glamour Cat (Melissa Grohowski) is presented as a tragic figure, but it's unknown why she is shunned while other old cats such as Deuteronomy (Nathan Morgan) are revered. Grohowski belts "Memory" well enough, but the last refrain of the song is so loud, it's blared rather than felt.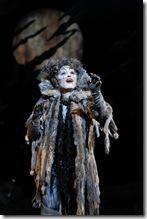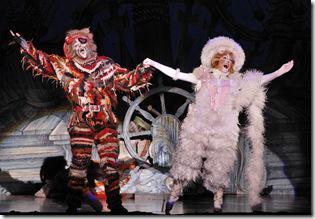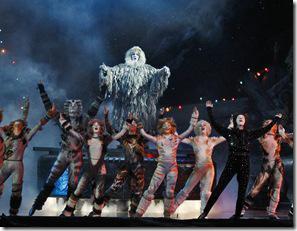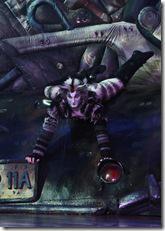 Despite the weak non-plot and the many dated elements, Cats has a few standouts that attempt to elevate the old chestnuts. Erica Leigh Hansen is sweetly showy as Jennyanydots, the Gumby Cat who leads a slick double life. Morgan brings a quiet dignity to the ancient Deuteronomy and Ashley Chasteen brings a lovely grace to Bombalurina. New to the touring circuit, Chris Stevens' wide eyed enthusiasm is apparent in every pelvic thrust as he bumps and grinds his way through an ebullient portrayal of the proudly indecisive Rum Tum Tugger. And as magical Mr. Mistoffelees, Chaz Wolcott is the highlight of the show, executing astounding jumps and turns while never losing his joyful grin.
Cats was an important show, the key word being "was". Not every musical stands the test of time, and there's nothing wrong with that. Perhaps the many families in the audience contained new budding theater geeks who gained much more from the production than this jaded critic. I hope so. However, anyone who fondly remembers Cats from his or her own youth, is better off doing just that.
Rating: ★★
Cats continues through May 6th at the Cadillac Palace Theatre, 151 W. Randolph (map).  Tickets are $25-$75, and are available by phone (800-775-2000) or online at BroadwayinChicago.com (check for half-price tickets at Goldstar.com). More information at CatsOnTour.com.  (Running time: 2 hours 30 minutes, with one 15-minute intermission)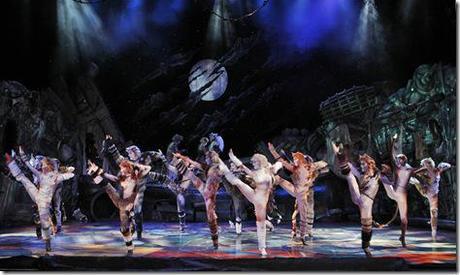 All photos by Joan Marcus 
---