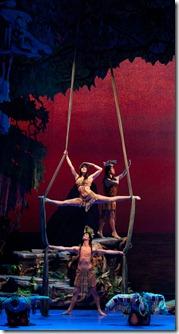 Peter Pan  
Music: Moose Charlap and Jule Styne
Lyrics: Betty Comden, Carolyn Leigh, Adolph Green
Directed by Glenn Casale 
Cadillac Palace Theatre, 151 W. Randolph (map)
thru Feb 10  |  tickets: $18-$85   |  more info
  
Check for half-price tickets 
  
  
   Read entire review
  
---
Glittery family fun with Cathy Rigby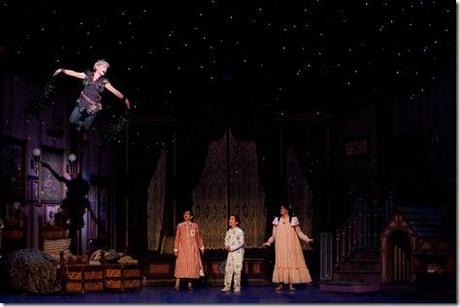 Broadway in Chicago presents
Peter Pan
Review by Lauren Whalen
"It's hard to do the splits in Indian pants." Before seeing Cathy Rigby is Peter Pan, I found myself in a Starbucks down the street from the Cadillac Palace Theatre, listening to three dancers swill coffee and chat about the frigid weather affecting their turnout and the challenges of hoofing it in buckskin. Didn't show, though. Cathy Rigby's umpteenth tour of Jerome Robbins' musical adaptation of J.M. Barrie's classic story, though at times insipid, never fails to charm and occasionally wow.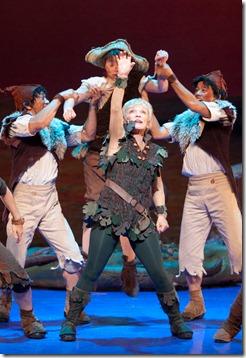 I've always liked the
Peter Pan
story: while ostensibly for children, it hints at or outright dives into (depending on the adaptation) some deep-seated issues. (As my
Pan
-loving best friend said once, "There's a reason that there's a complex named after the character.") The basic elements are always there: the three Darling children, lovable pooch Nana, rambunctious Lost Boys, pirates, Indians led by the beautiful Tiger Lily, the dastardly Captain Hook and of course, the brash boy who'll never grow old. The nursery, Neverland, the pirate ship. Robbins' musical keeps a light hand, with lots of fun flying and a sweet score – a family-friendly way to introduce kids to the story. The songs range from cute and catchy ("I Gotta Crow" and my personal favorite, "I Won't Grow Up") to now-politically incorrect ("Ugg-a-Wugg", though the word "redskin" is now replaced) to the cloying (can "Distant Melody" get cut already? It weighs down an already dragging scene. Always has, always will).
However, this Peter Pan retains a tiny bit of darkness that's very satisfying. Production director Glenn Casale highlights an undercurrent of tension between ragged Lost Boy Slightly (Dane Wagner) and English gentleman-in-training John Darling (Lexy Baeza). Additionally, John never seems one hundred percent comfortable in Neverland. As Mrs. Darling, Kim Crosby (Into the Woods' original Cinderella) brings a quivering gravity to Mrs. Darling, whose premonition of losing her beloved brood soon comes true, as well as the adult Wendy, who faces an unchanged Peter after having a child of her own. These subtleties are so much more effective than "Distant Melody".
It's natural that a production starring a former gymnast will be very physical, and in this respect Peter Pan doesn't disappoint. Patti Colombo's fantastic choreography not only makes the most of Rigby's energetic agility (even more impressive considering she's now a grandmother), but adds a wild boost to "Ugg-a-Wugg" and "Hook's Waltz". The majority of the cast are excellent dancers, namely Jenna Wright's elastic-limbed Tiger Lily. (I only wish costume designer Shigeru Yaji would have clothed Wright a bit more – she was very scantily clad for a children's show.) John Iacovelli's sets are surprisingly strong for a road show, especially the comfortably worn nursery and the forest-like Home Underground. And Paul Rubin's flying sequences are exciting, even for those who've seen the show multiple times.
Of course, the big draw for this Peter Pan is its star. Rigby isn't an actress like Mary Martin was, but she uses her strength and flexibility to the fullest. Her Peter is rough and tumble, with a husky yet youthful voice and a flurry of gestures and motion. Twenty-plus years after her debut, Rigby has the character's impetuous immaturity down to a science but maintains a fresh charisma that bewitches even the tiniest audience member. Spoiler alert: after curtain call, Rigby flies over the audience. Two seats down from me, a little girl reached her arms up to catch the shower of sparkles. When the lights went up, I (the jaded critic) turned to my sister and said, "I do believe in fairies."
Rating: ★★★
Peter Pan continues through February 10th at Cadillac Palace Theatre, 151 W. Randolph (map). Tickets are $18-$85, and are available by phone (800-775-2000) or online through Ticketmaster.com (check for half-price tickets at Goldstar.com). More information at BroadwayinChicago.com or CathyRigbyIsPeterPan.com  (Running time: 2 hours, includes an intermission)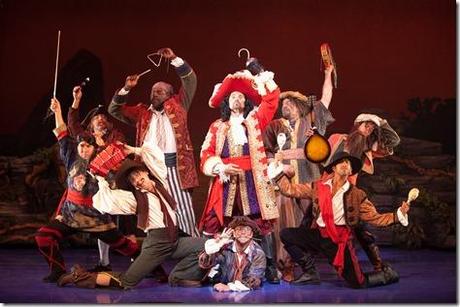 ---
artists
cast
Cathy Rigby (Peter Pan), Brent Barrett (Mr. Darling/Captain Hook), Kim Crosby (Mrs. Darling/Mermaid/Grown-Up Wendy), Krista Buccellato (Wendy), Hadley Belle Miller (Michael Darling), Lexy Baeza (John Darling, u/s Peter Pan), James Leo Ryan (Smee), Jenna Wright (Liza/Tiger Lily), JC Layag (Twin #1, u/s Slightly), Marc Andrew Nunez (Twin #2), Dane Wagner (Slightly Soiled), Carly Bracco (Tootles, Jane, u/s Wendy/Mrs. Darling, Mermaid, Grown-Up Wendy), Bety Le (Curly), Michael A. Shepperd (Starkey), Joseph Keane (Cecco, u/s Smee), Sam Zeller (Pirate, u/s Mr. Darling/Captain Hook), Erika Tomlinson (Female Indian, u/s Tiger Lily/Liza), Anthony Bryant (Pirate, Indian), Kalen Sakima (Pirate, Indian), Clark Roberts (Nana/Croc/Bill Jukes/Fight Captain), Sophie Sooter (u/s Michael Darling), Melissa Roberts (Female Swing, u/s Twin 1&2, Curly, Tootles, Jane), Rod Roberts (Male Swing, Dance Captain, u/s Nana, Crocodile, Bill Jukes, Cecco, Starkey)
behind the scenes
Jerome Robbins (Original Broadway Production Concept, Direction, Choreography), Glenn Casale (Production Director), John Iacovelli (Scenery Design), Shigeru Yaji (Costume Design), Michael Gilliam (Lighting Design), Julie Ferrin (Sound Design), Paul Rubin (Flying Sequences Choreography), Julia Flores (Casting), Mitchell Hale (Wig Design), Sean Boyd (Fight Direction), Michael McEowen (Production Stage Manager), Anita Dloniak & Associates, Inc. (Tour Marketing and Press), Buck Mason (General Manager), Carla Marie Rugg (Production Manager), William Alan Coats (Assistant Stage Manager), Bruce Barnes (Musical Supervision and Direction), McCoy Rigby Entertainment (General Management), Patti Colombo (Choreography)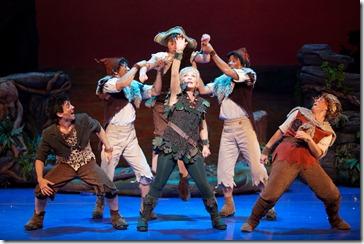 13-0155