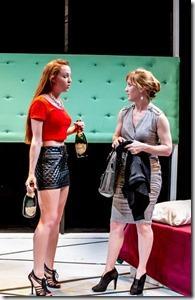 Catch the Fish
Written by Jonathan Caren
Directed by Will Crouse
at Rivendell Theatre, 5779 N. Ridge (map)
thru Aug 10  |  tickets: $10-$15   |  more info
  
Check for half-price tickets 
  
  
   Read review
  
---
This 'Fish' slips off the hook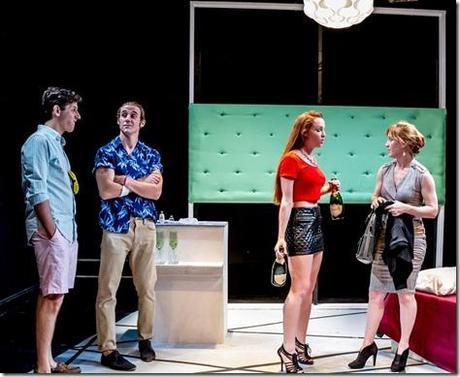 The Poor Theatre presents
Catch the Fish
Review by Joy Campbell
Alison (Abbey Smith) is a thirty-something writer in LA on a "Vanity Fair" assignment to observe "the scene" in L.A. She meets 21-year-old Jordan (Dillon Kelleher) at a club, and decides to follow him and his friends Grant (Michael Medford) and Lindsay (Zoquera Milburn), profiling them for her story. An attraction develops between Alison, vulnerable after the breakup of her marriage, and Jordan, searching for direction and someone he can trust.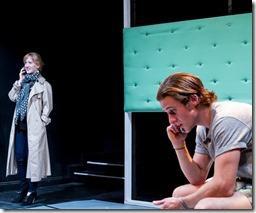 Meanwhile, Grant, Jordan's childhood friend, is being helped gain social traction by Lindsay, the hot girl from high school who now at 21 lets people think she's dating Grant, although they are dating in name, not in deed. Grant is used to manipulating people, and the fact that Lindsay is immune to his influence is a source of constant irritation. Lindsay likes having Grant around because, unlike all the other men in her life, he's not sleeping with her, which makes him a "nice guy."
Alison is the most interesting character, and Smith does a stand-out job of making her real, which is no small feat given the flimsy material with which she has to work. She's believable as a person, even if the circumstances and actions are not. Jordan, a virginal former-fatty-turned-hardbody, is attracted to her because he's into older women (it's implied that this is because his mother died when he was a child; the playwright's ability to pile on the pop psychology is impressive), and she is attracted to Jordan because he's sweet and opens up to her. (The way things work here is that a character tells their Tale of Personal Scarring that forever defines them, and neatly bonds immediately with whomever they share it.)
While Smith manages to convey a degree of credibility in her attraction to Jordan, the lack of sexual chemistry between the two makes the storyline that develops around them something the viewer has to take on faith. Also, the notion that someone in her early 30s is easily identifiable in a club as significantly older than twenty-somethings is also a bit of a stretch, especially given that Smith looks very much a peer to the others.
As Jordan, Kelleher is sweet and earnest, although his performance is rather one-note and makes it unclear whether he's supposed to be a nice guy with easily tapped violent anger, or a jerk who can play it sweet. The script implies that he's a layered character, but his delivery gives us no further clues. Then there's the dead-mother thing, the college Incident, and (as if that weren't enough), he alludes to some childhood sexual experimentation with Grant. All the Freudian bases are covered to account for Jordan's dysfunction, but nothing is ever fully explored, and despite this smorgasbord of issues, we don't feel that we understand him any better in the end than when we first meet him.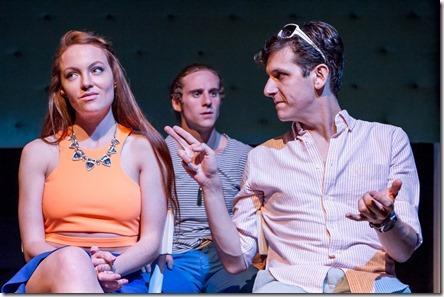 As Grant, Medford is a sleazy narcissist who longs for power over people, and who is angry to discover that Alison is more interested in Jordan than in him. He is especially unhappy that he isn't getting any from hot girl Lindsay. While he knows how to play the bad guy, Medford is so obviously a jerk that we don't see the side of Grant that can manipulate people with such charm that they are stunned to discover his true nature.
Milburn has the hardest job as Lindsay, easily the least substantial of the characters. Milburn does a decent of job switching between Lindsay's prom-queen superficiality and some surprising depth, but the script still reduces her to an easily categorized type: Lindsay parades around in revealing clothes, sleeps with older men (Daddy issues, of course!), yet after landing a modeling shoot for Maxim inexplicably decides to wonder whether this will tarnish the way men think of her (cue obligatory denunciation of objectification.)
Catch the Fish reads like a teenage boy's assignment for writing class where, in the absence of any primary experience, he strings together types, sprinkles on some cliché, and throws in some sex jokes for the guys in study hall. (At one point, Jordan actually says to Grant: "pussy is like sushi; you gotta get it while it's fresh." Really?!?)
The central cliché: any older woman is baggable provided that 1. she is going through vulnerability-inducing relationship trauma, and 2. you are a Sincere Guy who tells a personal tale of pain.
By using pseudo-revelatory anecdotes that substitute for real insight and character development, playwright Jonathan Caren has created a cynical tale of misplaced desire and broken trust. (And P.S.: boys really wanna have sex.) The premise and set-up aren't bad; the problem is the story that comes out of it. You have to take a lot at face value, and check incredulity at the door.
Technically, the show works well. Amy Gilman's simple, versatile set changes easily from scene to scene by means of movable cubes set against an upholstered backdrop that suggests a wall, a banquette, or a headboard. John Kelly's lighting design, combined with sound by Ray Rehberg, creates effective mood and locations. The music selections during the show are very good, but a comment about the pre-set music: if you want to create an atmosphere or aggressive sexual predation, you can accomplish it without raunch. The misogynistic, explicit lyrics are more irritating than effective.
If you are someone who can accept an obvious set-up in the service of some crude jokes, you may enjoy this show; indeed there were many in the audience who seemed to when I attended. If, however, you are looking for realistic relationships and a story that's fresh and thought-provoking, you may want to cast your hook elsewhere.
Rating: ★★
Catch the Fish continues through August 10th at Rivendell Theatre, 5779 N. Ridge (map), with performances Fridays and Saturdays at 8pm, Sundays at 2pm or 8pm.  Tickets are $10-$15, and are available at BrownPaperTickets.com (check for half-price tickets at Goldstar.com). More information at ThePoorTheatre.org.  (Running time: 90 minutes, no intermission)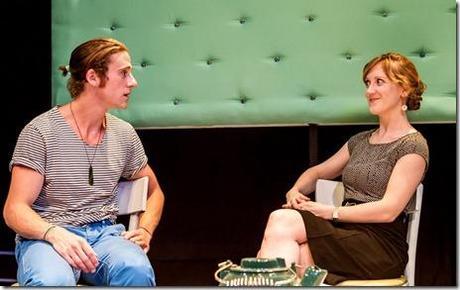 Photos by Alec Thorne
---
artists
cast
Dillon Kelleher (Jordan Limpsky), Michael Medford (Grant Spielman), Zoquera Milburn (Lindsay Sands), Abbey Smith (Alison VanPelt)
behind the scenes
Will Crouse (director), J.R. Pierce (stage manager), Amy Gilman (set design), Eric Shoemaker (props design), John Kelly (lighting design), Kelsey Melvin (costume and makeup design), Ray Rehberg (sound design), Kaitlyn Kearn (PR, graphic design), Ross Reed (social media), Jeff Davis (business manager), Alec Thorne (photos)
14-0732