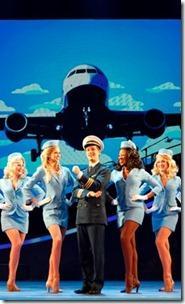 Catch Me If You Can 
By Terrence McNally (book), Scott Wittman (lyrics)
   and Marc Shaiman (music and co-lyrics)
Directed by Jack O'Brien
Cadillac Palace Theatre, 151 W. Randolph (map)
thru April 14  |  tickets: $18-$85   |  more info
  
Check for half-price tickets 
  
  
   Read entire review
  
---
True crime story with a swingin' 60's style!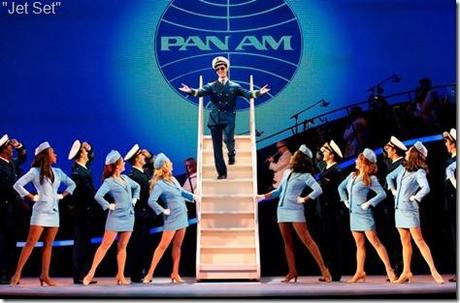 Broadway in Chicago presents
Catch Me If You Can
Review by Lauren Whalen 
I'm a sucker for true crime and the 1960's. Steven Spielberg's 2002 film "Catch Me If You Can" had both of these, plus Christopher Walken and my teenage crush Leonardo DiCaprio dressed as a pilot. Needless to say, I loved it. I was skeptical, however, when the true story of a young man who stole $2 million and faked three professions before his 19th birthday was adapted for Broadway. Movie-to-stage transitions run the gamut from spectacular to paltry. Catch Me If You Can, the musical, edges toward the former: a stylized, colorful tale of one of America's best and brightest swindlers.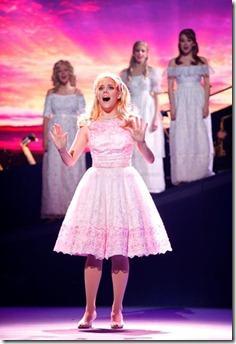 In the early 1960's, Frank Abagnale, Jr. (
Stephen Anthony
) is a suburban high school kid in complete awe of his smooth-talking father (
Dominic Fortuna
). When his French mother (
Caitlin Maloney
) ends the marriage, young Frank flees to New York City rather than choose between his own parents. Armed with a few office supplies and a big, bright smile, Frank quickly learns the art of the bad check, and it's not long before he's impersonating a Pan Am pilot, a pediatrician and a prosecutor. Meanwhile, straitlaced FBI agent Carl Hanratty (
Merritt David Janes
) is hot on Frank's trail – when they're not chatting on the phone at
Christmas
– and Frank struggles to maintain relationships with his beloved dad and wholesome nurse Brenda (
Aubrey Mae Davis
), while wondering when he can stop running once and for all.
Spielberg's film used clever animation, snappy dialog and stellar art direction to tell Frank's story. The stage adaptation of Catch Me relies on a framing device – Frank illustrating his exploits in the style of a television variety show – that could feel contrived, but instead works very well. After all, Frank's whole existence is an elaborate showcase, fiction with a flourish. David Rockwell's scenic design relies on a band shell (yes, the band is on stage) that serves many purposes, as well as small pieces. Everything's embellished by Bob Bonniol's splashy video projections, taking the audience everywhere from the Big Apple to the seediest of taverns. William Ivey Long's vivid costume design outfits Frank's crowd of sexy stewardesses and naughty nurses in vibrant hues, and garbs the FBI agents in drab shades of gray. Terrence McNally's book is full of rapid-fire quips, and while Marc Shaiman's score doesn't quite match the catchiness of Hairspray, there are some memorable numbers (especially "Don't Break the Rules", Carl's law-abiding rhapsody that turns into a snazzy production number). While the second act is a little slow and a few songs don't quite ring true, Jerry Mitchell's stellar choreography (recreated and added to by Nick Kenkel) makes every number a treat for the audience and a fun (if exhausting) time for the ensemble.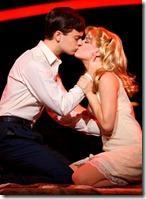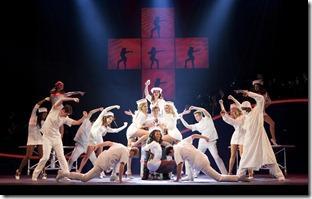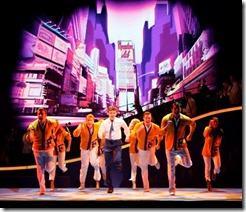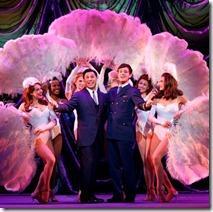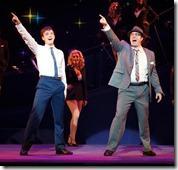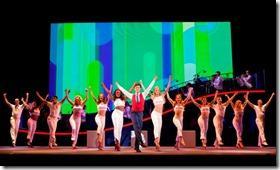 As Frank Jr., Anthony overcomes his slight stature to overtake the stage. Resembling a young Tobey Maguire, he's the epitome of boyish charm and careful calculation, with a perpetual air of vulnerability: at heart, he's just a kid who wants his parents to get back together. And with an incredible tenor voice, he hits impossible notes like a champ. Fortuna (the oldest finalist on the 2007 Grease reality competition "You're the One That I Want") is all smarmy smoothness as Frank Sr., and portrays the character's descent quite well. James isn't the singer that Norbert Leo Butz (who played Carl on Broadway) is, but his thoughtful acting more than makes up for a few missed notes. From his scratchy delivery to his slumped posture and shuffling gait, James captures every aspect of a crime-chaser whose dedication doesn't hide a profound loneliness. The Christmas phone call between Frank and Carl remains one of my favorite scenes in the movie and, now, the musical.
The real Frank Abagnale, Jr. experienced some interesting twists and turns after his teenage crime spree. How he got there, though, is half the fun. Catch Me If You Can is both enjoyable and fascinating: a story that sounds like the wildest fantasy, but in fact happened under the noses of educated, savvy people who were fooled by a pretty face.
Rating: ★★★½
Catch Me If You Can continues through April 14th at Cadillac Palace Theatre, 151 W. Randolph (map), with performances Tuesdays at 7:30pm, Wednesdays at 2pm and 7:30pm, Thursdays and Fridays at 7:30pm, Saturdays at 2pm and 8pm, Sundays 2pm, .  Tickets are $18-$85, and are available by phone (800-775-2000) or online through Ticketmaster.com (check for half-price tickets at Goldstar.com). More information at BroadwayInChicago.com.  (Running time: 2 hours 30 minutes, includes an intermission)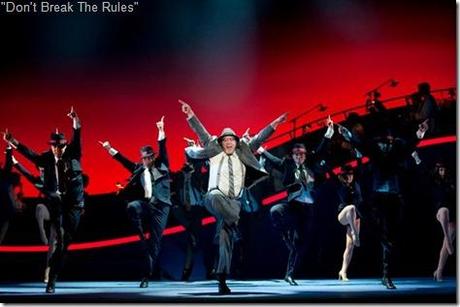 Photos by Carol Rosegg 
---
artists
cast
Stephen Anthony (Frank Abagnale, Jr.), Merritt David Janes (Agent Carl Hanratty), Dominic Fortuna (Frank Abagnale, Sr.), Caitlin Maloney (Paula), Travis Mitchell (Agent Branton/Tailor/Ben Casey), Ben Laxton (Agent Dollar/Intern #2), Derrick Parks (Agent Cod/Railroad Agent/Ben Casey Intern), Casey Renee Rogers (Cheryl Ann), Aubrey Mae Davis (Brenda), D. Scott Withers (Roger Strong/Judge/Pan Am Executive/Motel Manager/Dr. Wanamaker), Amy Burgmaier (Carol Strong/Principal Owings/Skyway Man Stewardess), Michael Graceffa (Jack Barnes), Trevor Leaderbrand (Nerd/Intern #1), Taylor Collins (Jock), Nadia Vynnytsky (Betty), Vanessa Dunleavy (Swiss Army Knife Assistant/Cindy), Allyson Tolbert (India Ink Assistant), Mary Claire King (Elmer's Glue Assistant), Amanda Braun (Briefcase Assistant), Colleen Hayes (Diane, Bank Teller), Daniel J. Self (Atlanta Doctor)
behind the scenes
Jack O'Brien (director), Jerry Mitchell (choreography), David Rockwell (Scenic Design), William Ivey Long (costumes), Kenneth Posner (lighting), Peter McBoyle (sound design), Bob Bonniol (video systems, projections), The Road Company (exclusive tour direction), Allied Live (tour press, marketing), Larry Blank (music supervisor), Matthew Smedal (music director), Talitha Fehr, TL Music International (music coordinator), Joy Dewing, CSA (casting), Randall A. Buck (executive producer), Roberta Roberts (general manager), Geoffrey Quart (technical supervisor), Marc Shaiman (arrangements), Marc Shaiman and Larry Blank (orchestrations), Matt Lenz (direction recreator), Nick Kenkel (recreated and additional choreography), Carol Rosegg (photos)
13-0403