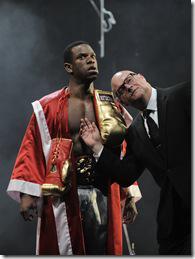 Camino Real 
Written by Tennessee Williams 
Directed by Calixto Bieito  
Goodman Theatre, 170 N. Dearborn (map)
thru April 8  |  tickets: $23-$67   |  more info
  
Check for half-price tickets 
  
  
   Read entire review
  
---
Tennessee Williams at his bleakest and most violent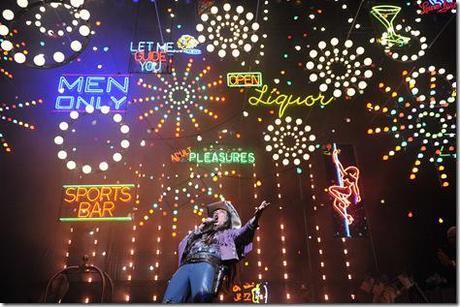 Goodman Theatre presents
Camino Real
Review by Catey Sullivan 
Polarizing is too gentle a word to describe the reaction director Calixto Bieito is getting from various factions of Goodman Theatre audiences. Ticket holders who arrived expecting a Tennessee Williams in the mode of Street Car Named Desire or The Glass Menagerie are in for a shock . Camino Real is Tennessee Williams in the heat of a hallucination, a violent and white-hot churning river of a fever dream of sex that ends in death, cops delight in inflicting devastating humiliation, and over all, there's a sense of being trapped in a hellilsh box that offers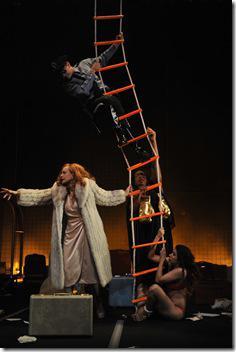 no real means of escape. In short, Camino Real is bleak, violent, and filled with disturbing sexual images.
Of course, you could say that about all of Williams' plays – it's just that in the more popular ones, he's more coded, more genteel, more in mind perhaps of commercial success. Still, all of Williams plays are instilled with the urgency that people feel as they try to find reasons to matter, even if mattering is only as temporal and elusive as the strains of music coming from the dance hall up the street. But with Camino Real, the seekers are not decaying southern belles or macho family men that Williams writes so well.
Instead, the Camino Real is a place of unlikely convergence of the iconic, the tormented and the trapped. Lord Byron (Mark L. Montegomery) is here. So is Casanova (David Darlow) and Esmerelda from the Hunchback of Notre Dame, (Monica Lopez), as well as her gypsy mother (Carolyn Ann Hoerdemann). Don Quixiote (Michael Medeiros) is still tilting, mainly his bottle of rock gut he keeps trying to tilt down his own throat. Mostly he can't take it, and winds up upchucking in convulsive spasms, in between wrenching out a prologue and an epilogue of sorts for Camino Real. His words are husks; death rattles. Everyone wants out, but those who to scale the walls surrounding the Camino Real are shot down and summarily tossed in garbage dumpsters.The hellishness is ramped up intensely by a sadistic cop named Gutman (Matt DeCaro) who is forever finding new and wholly humiliating ways to torment Casanova.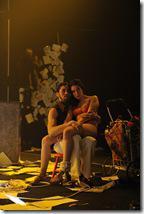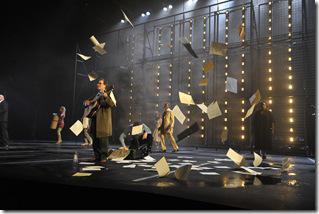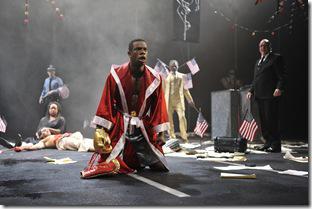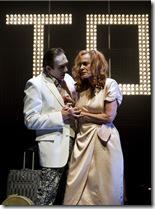 With one notable exception, these characters don't change much. They're types in two-dimensions rather than multi-layered people.The exception comes with the character of Kilroy (Antwayn Hopper), a boxing champ who arrives in the Camino, takes its assessment, and determines he must leave. Of course leaving isn't so simple, and Kilroy's gruesome fate is one of the most memorable scenes in the play.
Abstract, fairly plot-less, and filled with character types as opposed to characters, Camino Real is more an extended poem than a working drama. As it plays out on Rebecca Ringst's gorgeous Babylon-in-Neon set , Camino Real looks stunning. And it boasts moments of stunning clarity – lines that rise from the carefully orchestrated chaos on stage and make you realize something you have never known. Conventional it is not. If you're looking for a three-act conflict-crisis-resolution sort of story, this sort of show may drive you crazy. Or, it may open up a whole new world of art.
Rating: ★★½
Camino Real continues through April 8th at Goodman Theatre, 170 N. Dearborn (map). Tickets are $23-$67, and are available by phone (312-443-3800) or online here (check for half-price tickets at Goldstar.com). More information at GoodmanTheatre.org.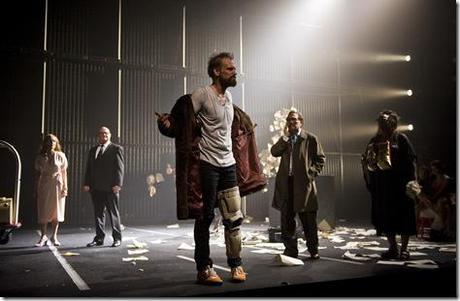 All photos by Liz Lauren
---