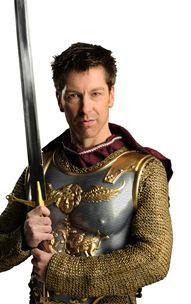 Camelot 
By Alan Jay Lerner (book and lyrics)
   and Frederick Loewe (music) 
Directed by Rudy Hogenmiller  
at Cahn Auditorium, Evanston (map)
thru June 10  |  tickets: $32-$92   |  more info
  
Check for half-price tickets 
  
  
   Read entire review
  
---
Stunning vocals trump staging missteps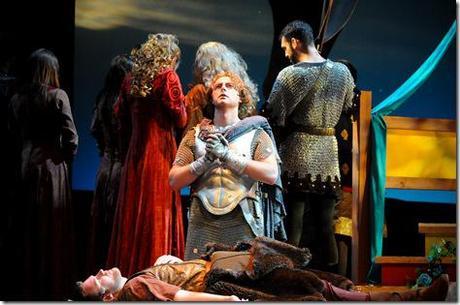 Light Opera Works presents
Camelot
Review by Lauren Whalen 
Camelot is due for a revival. Medieval legend with sweeping gowns, mystical beings and an epic love triangle never go out of style. Plus, the phenomenon that is "Game of Thrones" makes the Lerner and Loewe classic a prime candidate for a Broadway reboot. The three-hour running time might have to be whittled down and the supernatural elements emphasized, but as Light Opera Works' production indicates, Camelot is a classic that's withstood the test of time. Despite some problematic staging and character elements, Camelot boasts gorgeous solo and ensemble voices and a winning lead performance from acclaimed Chicago actor Nick Sandys.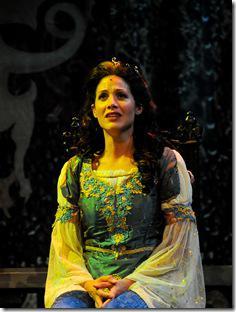 Based on
T.H. White
's "The Once and Future King"
, Camelot
begins with King Arthur (Standys) – the monarch formerly known as Wart, whose sword-pulling prowess made a poor young man the ruler of England – hiding in a tree and hoping to catch a glimpse of his future bride Guenevere (
Jennie Sophia
). After an initial misunderstanding the two get along well; however, difficult times lie ahead when Arthur's trusted confidant and soothsayer Merlyn (
Michael Harnichar
) is bewitched and disappears. Arthur devises an idea for a civilized country, and is delighted when flashy but earnest knight Lancelot (
William Travis Taylor
) appears to join his round table. But when Guenevere falls for Lancelot, and a meddling son threatens to make trouble, what's a peace-loving leader to do?
The strongest aspects of this Camelot are its dynamic leading man and its lovely vocals. Standys (named Chicago Magazine's Best Actor of 2011), while not the strongest singer in the bunch, channels Rex Harrison (the original King Arthur) with ironic humor and snappy wit. At the same time, his Arthur is funny, endearing and indisputably enamored of his Guenevere. When Arthur is boastful and cocky, the audience laughs along; when he is hurt and confused, the audience coos in sympathy. Standys and Sophia create a tangible chemistry as the conflicted royal couple, genuinely enjoying one another in "What Do the Simple Folk Do?"
In turn, Camelot features the most dazzling voices in the Chicago theater scene. Taylor's Lancelot is a vocal superhero – his Act II solo "If Ever I Would Leave You" is as sweeping, rich and romantic as Robert Goulet's, while his introductory ditty "C'est Moi" reverberates with lighthearted, confident glee. Sophia's delightful trills are a joy to behold, especially in "The Lusty Month of May". And the production's large chorus harmonize and blend to produce a single, collective powerhouse – all the while making it seem like just another day gathering flowers in a meadow.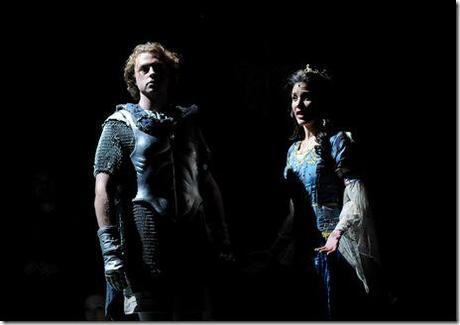 Alas, Camelot suffers from awkward direction and inconsistent production values. At times the staging is quite sloppy, with principals or chorus standing in a straight line or singing an entire song in profile. Sophia's Guenevere speaks with a strange Disney princess-cum-Julie Andrews pseudo-English dialect – while not overwhelmingly awful, it's distracting and off-putting. Ninety-nine percent of Jeff Hendry's costume design is jubilantly colorful, with the exception of Lancelot's ridiculous Batman-esque breastplate and a silver cape that resembles a Mylar blanket. Adam L. Veness' scenic design is also wonderfully regal, but why do the trees resemble cardboard cutouts? Clearly Camelot had a large budget. Did Veness run out of money?
Even at its least constant, Camelot is another enjoyable chestnut from Light Opera Works. The Evanston musical theater is never short on tuneful renditions of classic melodies, made even better by full orchestra accompaniment (29-piece orchestra for this production!). Lerner and Loewe's 60's classic, though it could benefit from a reboot, features all the elements that make a musical: love, warfare and plenty of snappy dialog and expressive singing. Camelot is the theatrical equivalent of a steak dinner and Manhattan: not the most modern fare, but forever satisfying.
Rating: ★★★
Camelot continues through June 10th at Cahn Auditorium, 600 Emerson, Evanston (map), with performances Wednesday at 2pm, Friday/Saturday 8pm, Sunday 2pm.  Tickets are $32-$92, and are available by phone (847-920-5360) or online here (check for half-price tickets at Goldstar.com). More information at light-opera-works.org.  (Running time: 3 hours, which includes a 15-minute intermission)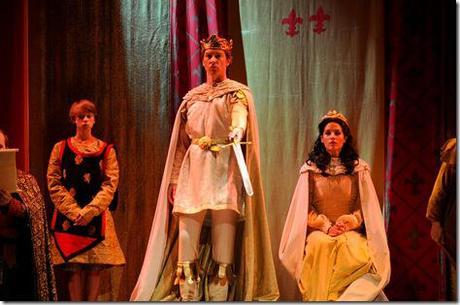 Photos by Rich Foreman and Chris Ocken 
---
artists