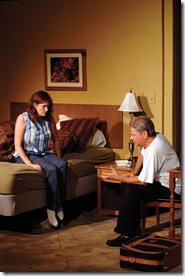 California Suite 
Written by Neil Simon 
Directed by Josh Johnson
at Chemically Imbalanced Theater (map)
thru July 1  |  tickets: $20   |  more info
  
Check for half-price tickets 
  
  
   Read entire review
  
---
Time has been unkind to this 'Suite'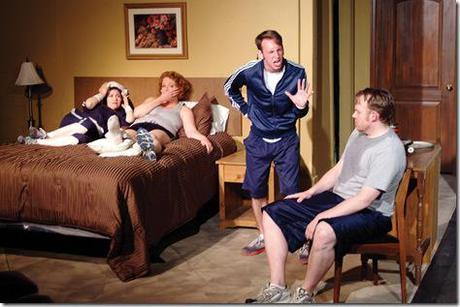 Black Elephant Theatre presents
California Suite
Review by Clint May
Not since Lucien Smith needed an inexpensive way of keeping cattle in place has an American been so adroit at creating barbs. Neil Simon is one of the veterans of American comedy, and his forked language is nearly always good for a laugh. The incisiveness of his wit is driven by an insight into everyday humans and the cultures from which their habits are derived. While many of his works are benchmarks in the comedy landscape, California Suite is a work that has not withstood the test of time with the same endurance. A quartet of small half-hour plays (Simon wrote for TV, and you can see those bones here), it delivers some laughs mostly through that insight and less from some labored slapstick. Simon's characterizations are unusually unsympathetic and coarse, almost cynical in dimension and anachronistic from the perspective of nearly 40 years since it debuted to mixed critical reception. Each of the playlets is a glimpse into the lives of visitors to LA, most of them married couples and all of them in crisis. Their trials and tribulations are played out in a double suite of rooms in a posh Beverly Hills hotel and exacerbated by that glamorous veneer of Los Angeles culture.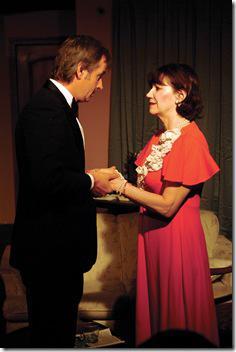 The first couple to enter the rooms are the ex-couple Hannah (
Julie Partyka
) and Billy Warren (
Jay Cook
) in "Visitor from New York". Nine years since they divorced, they are meeting to discuss how to handle the last year before adulthood of their daughter Jenny. Billy moved to LA to become a commercially successful screenwriter, while Hannah remained in their New York apartment to raise their little girl. Aloof of manner and pinched of face, Hannah is an intellectual heavyweight who has no time for the vacuous LA culture she despises. She worries about Jenny's having run off to live with her father before college and drills him relentlessly about his life in Hollywood and what influence it will have on not just Jenny, but her relationship with her. After verbally sparring for most of their encounter with some wickedly funny one liners that drive home the reasons New Yorkers and Los Angelenos don't get along, we belatedly get to some core humanity and vulnerability. This is the most affecting and funny of the four interludes ("You're worse than a hopeless romantic, you're a hopeful one!" Hannah admonishes).
Next up is hapless Marvin Michaels (Joe Ogiony), the "Visitor from Philadelphia" in town for his nephew's bar mitzvah. Following a night of heavy drinking and debauchery with his brother, he awakens to find a hooker hopelessly unwakeable in his bed. This is a fairly troublesome position for Marvin, as his wife Millie (Elizabeth Rude) is due to arrive any moment. When she does, Marvin will have to do some fancy mouthwork to keep her from discovering the sin lying in the next room. The verbal humor of the first act devolves into slapstick more at home in a Jerry Lewis movie. Here the pattern of Suite's view of males and females in relationships bares its most tellingly, almost quaint, stereotypes. Men are freewheeling fun-lovers or saps while women are shrewish or subservient.
"Visitors from London" is a strangely out-of-sync tale in the line-up. Diana Nichols (Joanna Riopelle) is in from across the pond for her first Oscar nod and a chance to revitalize her flagging career. Her hapless closeted husband is along for the ride mostly to provide dry commentary on her neurosis as she prepares for a night with the glitterati. It goes from mildly humorous to poignant as her inevitable failure prompts a more telling dissection of a marriage of convenience that seems at home in another production. That said, I did think that this and "Visitor from New York" would actually make interesting short plays in their own right if fleshed out and turned into period dramas.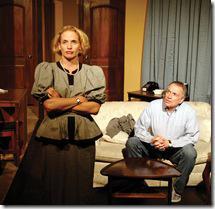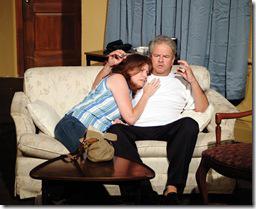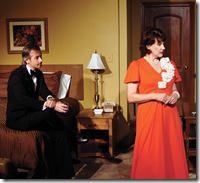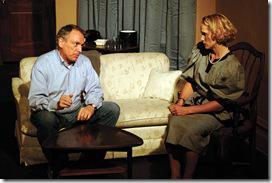 Most egregious and frankly sloppy is "Visitors from Chicago". Two wealthy couples on a four-week vacation unravel when a series of rapid-fire pratfalls and the strain of each other's company drives them to near madness. Not a flattering portrait of Chicagoans is this vignette. Beth Hollender (Tori Ulrich) endures a broken foot with a foul mouth while her hapless husband Mort (Eric Bays) and best friends Gert (April Taylor) and Stu Franklyn (Kamron Palmer) disintegrate into fighting and accusations. This was almost uncomfortably sloppy, and the cast mistakes an increase in volume for a comedic effect.
Director Josh Johnson wanted to update California Suite to prove its inherent timelessness. Originally all the scenes were set in 1976, but now jump quite unnecessarily from 1985, 1995, 1976 to the present day. The only indication of time shifts is the wardrobes, phones and luggage changing. All other cultural references remain in place. Like the ill-fated 1999 film update of Simon's "The Out-of-Towners", this production just goes to show that some things—even those created by masters—don't survive the test of time. Though ably acted for the most part (Julie Partyka in particular stands out as projecting vulnerability from inside an 80's power-suit), Johnson's cast can't quite pull this into the realm of the truly "timeless." While humor certainly shouldn't be castrated, this kind of political incorrectness has become outmoded. More a bundle of wisecracks preloaded into gag machine guns, these characters don't spring to life but for the effort of the actors. Die-hard Simon fans will most likely still enjoy this more middling offer from his vast repertoire, but even they may see the wrinkles around these eyes or defend it as "vintage" instead of "old-fashioned." The world Simon is skewering has moved on in many ways, and rehashing these old memories is more a dreary requiem than a humorous vacation on the West Coast.
Rating: ★½
California Suite continues through July 1st at Chemically Imbalanced Theater, 1422 W. Irving Park (map), with performances Thursdays-Saturdays at 7:30pm, Sundays 3pm.  Tickets are $20, and are available online through BrownPaperTickets.com (check for half-price tickets at Goldstar.com). More info at BlackElephantTheatre.com.  (Running time: 2 hours, includes intermission)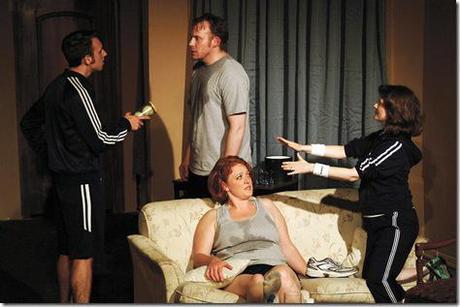 Photos by Bridget Schultz
---