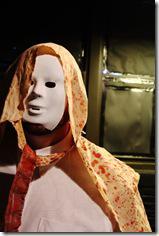 Caesura: A Butchery 
Adapted by Gregory Peters, Matt Miller
and Jack Dugan Carpenter
Directed by Jack Dugan Carpenter 
RBP Rorschach, 4001 N. Ravenswood (map)
thru Nov 5  |  tickets: $15 (suggested)  |  more info 
  
   Read entire review
---
'Caesura' shouldn't try so hard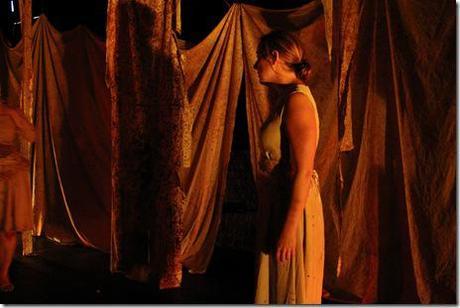 The Plagiarists presents
Caesura: A Butchery
Review by Lauren Whalen 
Blood. Betrayal. (Literal) backstabbing. Shakespeare's Julius Caesar has it all in gigantic, gory spades. From a director's perspective, it can be tempting to present the classic play in all its over-the-top glory. After all, the script practically demands it. But Shakespeare was also a master of subtlety and quiet humor. Just as the audience couldn't take any more, he pulled back. And even those who borrowed his stories took heed, for example the "Gee, Officer Krupke" number in the stage version of West Side Story gives viewers a much-needed breather when the violence reaches an almost unbearable peak. Though not a direct interpretation of Julius Caesar, The Plagiarists' Caesura: A Butchery could have been much more successful if it had learned from its legendary predecessor, and scaled back every once in a while.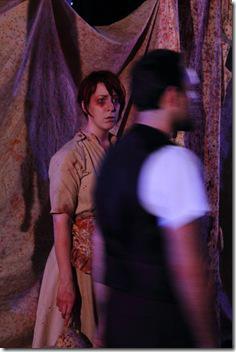 Advertised as "an apocalyptic mash-up of bloody poetry,"
Caesura
uses Shakespeare's tale of political ambition gone awry as a base, embellishing and riffing with the help of Voltaire, Yeats and Creedence Clearwater Revival. (The recurring rendition of the latter's "Bad Moon Rising" to prophesize tragedy is one of the play's most inspired touches.) You know you're in for something unique when the production boasts its own violence and gore designer (
David Gonzalez
).
At times the ostentatious approach works well: the telltale group assassination of charismatic leader Caesar (Andrew Marchetti, sporting a devilish goatee and oozing frat-boy charm) is nightmarish to behold. At times it does not: upon entering the black box space, audience members are loudly greeted by characters as strobe lights flash and whiskey shots are offered. The prolonged discomfort of the opening had over half the spectators burying their heads in their programs so as not to be noticed. And must blood be spattered on every available surface, from the draped cloths of the set to the actors' costumes to a sad rag doll toted by the female cast members (and a reluctant audience member)? Designers Steven P. House (set, props) and kClare Kemock (costumes) could have increased the impact simply by letting up on the spatters and trusting the audience to get the message.
The performances are inconsistent in effect. Two of the cast's three women shriek in overwrought agony throughout the show. True, Portia (Brynne Barnard) and Calpurnia (Lauren Pizzi), have a lot to worry about as the long-suffering wives of ambitious Roman politicians, and the actresses' performances might play quite well in a 300-seat house. However, when the audience is two feet away, it's a bit much. Barnard especially appears to overthink every microexpression, perhaps a consequence of her recent college graduation and first professional role. Only Atra Asdou, as the soothsayer and crooner of "Bad Moon Rising," delivers her dialogue with a quiet trembling that left me wanting more.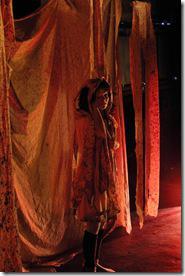 The men fare somewhat better. Though I never quite believed his allegedly close friendship with Caesar,
Stephen Gawrit
gives Brutus a real eagerness to please combined with torturous indecision.
Justin Harner
is positively oily as conspirator Casca, and
Alex Potanos
brings a tear-jerking sincerity to Marc Antony's famous mournful oratory. However, the true highlight of
Caesura: A Butchery
is
Layne Manzer
. His Cassius is an instigator, a snake in the grass charming Casca and Brutus to do his dastardly bidding. Manzer relishes Cassius' evil spirit with gleeful abandon, and in fact seems to be the only actor having any fun with the language of the play.
At a fast-paced intermission-free 90 minutes, Caesura: A Butchery is interesting but exhausting – and has limited appeal. While I appreciate The Plagiarists' ambition more than Brutus appreciated Caesar's, and acknowledge that some aspects of the production were successful, I can't justify recommending the show. With its artistic liberty and exaggerated elements, Caesura: A Butchery will attract a very specific theatergoer. Perhaps that is the company's intent.
Rating: ★★½
The Plagiarists' Caesura: A Butchery continues through November 5th at The RBP Rorschach, 4001 N. Ravenswood (map), with performances Fridays and Saturdays at 8 p.m. (no show Saturday, October 8). Tickets are $15 suggested donation. More information at ThePlagiarists.org. (Running time: 1 hour 30 minutes with no intermission)
All photos by Kevin Diaz Photography
---
artists
cast
Andrew Marchetti (Caesar), Alex Potanos (Antony), Stephen Gawrit (Brutus), Justin Harner (Casca), Layne Manzer (Cassius), Atra Asdou (Casca the Poet), Brynne Barnard (Portia), Lauren Pizzi (Calpurnia)
behind the scenes
Jack Dugan Carpenter (director), Harrison Adams (sound), David Gonzalez (violence & gore designer), Steven P. House (set, props), John Jacobsen (lighting), kClare Kemock (costumes, makeup), Gregory Peters (asst. director, text coach), Neal Ryan Shaw (dramaturg), Elissa Shortridge (stage manager), Kevin Diaz (photos)