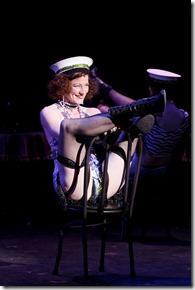 Cabaret 
By John Kander (music), Fred Ebb (lyrics) 
   and Joe Masteroff (book)
Directed and Choreographed by Stacey Flaster
Cahn Auditorium, 600 Emerson, Evanston (map)
thru Aug 18  |  tickets: $32-$77   |  more info
  
Check for half-price tickets 
  
  
   Read entire review
  
---
Life is a cabaret!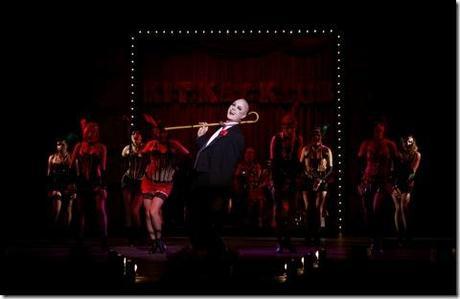 Light Opera Works presents
Cabaret
Review by Lawrence Bommer
Cabaret has stayed real by remaining dark, lean and mean. Light Opera Works' director Stacey Flaster delivers a richly textured and superbly mounted revival of America's favorite Weimar musical, eschewing the stripped-down, cabaret remake of Chicago, another second coming of a Kander and Ebb classic, for a glimpse of a sordid Berlin circa 1929-1930, wracked with inflation and barely recovering from the last war. Drenched in irony and attitude, this literally fleshed-out take on Christopher Isherwood's bittersweet memoir amply chronicles his coming of age in an increasingly fascist Germany. Crucially, it all but melts in decadence and occasional (homo)eroticism not usually associated with an Evanston venue.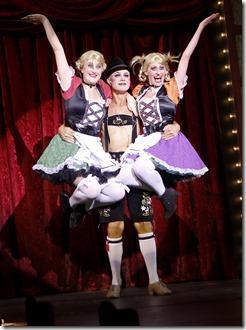 What was implicit in the 1967 original production, much less John Van Druten's 1951 dramatization of Christopher Isherwood's "Berlin Stories,"
is in-your-face and unambiguous.
Though Buffalo Bill's Wild West Show almost swallows up Annie Get Your Gun (to be presented by Light Opera Works this Christmastide), the Kit Kat Klub of 1929 Berlin is only one ingredient in a backstage story that's never just a show within a show. The conflation of illusion and delusion cleverly mirrors the musical's anti-heroine, the cocaine-snorting, high-loving, lonely hedonist Sally Bowles, a modern Camille. For Sally, art and life are indistinguishable: Drifting on the illusion of talents that she can't command, Sally is just as much collateral damage during the Nazi take-over as are the doomed Jewish fruit merchant Herr Schultz and his reluctant lover, landlady Fraulein Schneider.
Alternating with the showy surfaces of the Kit Kat Klub and its vulgar vaudeville are the doors of the corridor of Fraulein Schneider's boarding house and the crowded bedroom where hopeful American novelist Cliff Bradshaw makes love but not marriage with British chanteuse Sally Bowles. It's all properly distressed, a battered realm in sore need of the cabaret's increasingly ugly make-believe.
This is the undisputedly decadent realm of the Kit Kat Klub's emcee: Light Opera Works' artistic director Rudy Hogenmiller – making a welcome return to the stage as the sardonic, slinky emcee – combines supple grace with opportunistic abandon. This omnivorous emcee stage-manages the story, insinuating his way even into the comparatively innocent courtship between spinster Schneider and Herr Shultz, her doomed Jewish lover. Hogenmiller ranges sardonically from the vaudevillian parody "Two Ladies" (where a Kama Sutra of sex positions is symbolized in silhouette) to the anti-Semitic self-hatred of "If You Could See Her." (Sadly absent is the number written for the 1993 Broadway revival, "I Don't Care Much," which glumly echoes Sally's emotional desolation.)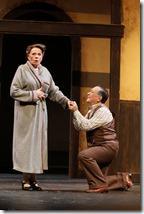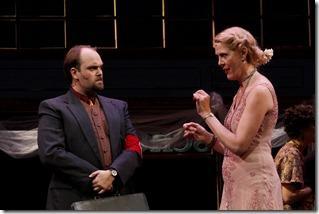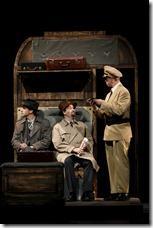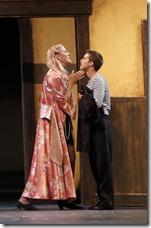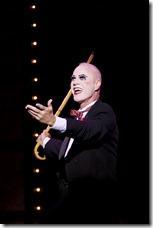 After Hogenmiller's emcee, everyone else is support, even the intriguing and sensuous headliner Jenny Lamb. Employing a British accent that recalls Prunella Scales' Sybill Fawlty and the American animation Betty Boop, Lamb delivers a feisty and tempestuous Sally Bowles, raging against the boredom of respectability–lonely, insecure, fragile and always threatening to veer out of control. Shouting out the title song, Lamb unleashes a robotic anger that shows us that Sally died long before we meet her.
David Schlumpf as Cliff Bradshaw brings more charm than power to the author's bisexual surrogate (damped down in the musical as it wasn't in the movie). But he anchors his anger in the political morass that no one but Cliff seems to loathe. Its prime exemplar, Matthias Austin makes a suavely antiseptic Nazi. The real heartbreak comes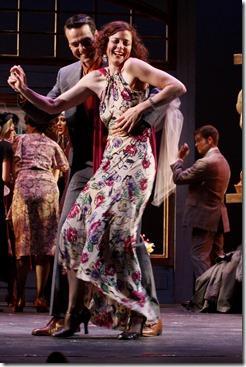 from the play's sole lovers, Fraulein Schneider and Herr Shultz: As played by pros
Barbara Clear
and
Jim Heatherly
, they stay too real to get cute and, when they waltz to "Married," a battered boarding house seems transformed into an aqua-tinted ballroom. The superb chorus are top-notch in everything they touch–from the novelty numbers to the tap-dancing pizzazz of "Sitting Pretty (The Money Song)."
The chilling finale stays true to the original musical's realism: Unlike the 1993 revival, it doesn't lift up the backdrop to reveal a harshly backlit silhouette of the death camps. (Shorn of his mystique, the emcee appeared in prison garb, wearing both a yellow Star of David and a pink triangle. (Wilkommen, indeed.) For almost a minute the audience seemed too shocked to applaud.)
Instead, Light Opera Works' more grounded and authentic treatment, richly served by the superb 25-piece orchestra and the musicianship of conductor Roger L. Bingaman, sticks to its source. It delivers the goods of a timeless musical that still asks the burning question: What would you do?
Rating: ★★★★
Cabaret continues through August 25th at Cahn Auditorium, 600 Emerson, Evanston (map). Tickets are $32-$77, and are available by phone (847-920-5360) or through their website (check for half-price tickets at Goldstar.com). More information at Light-Opera-Works.org.  (Running time: 2 hours 30 minutes, includes an intermission)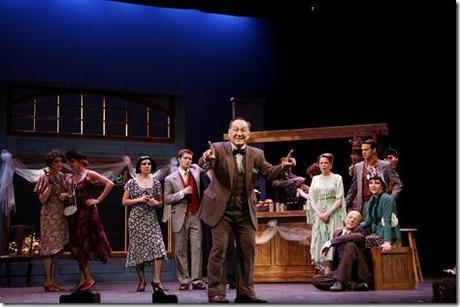 Photos by Jasmin Shah
---
artists
cast
Rudy Hogenmiller (The Emcee), Jenny Lamb (Sally Bowles), David Schlumpf (Cliff Bradshaw), Matthias Austin (Ernst Ludwig), Barbara Clear (Fraulein Schneider), Patrice Egleston (Fraulein Kost), Jim Heatherly (Herr Schulz), Greg Zawada (Max), Yael Wartens, Carrie Weis ("Two Ladies"), Daniel Spagnuolo (Gorilla), Shaun Nathan Baer, John Cardone, Melissa Crabtree, Kaitlyn Dessoffy, Zachary Drane, Lauren Emery, Kyle Michael Kuhlman, Mark LeBeau, Kelly Maryanski, Robert Quintanilla, Janell A. Rinne, Lauren Serra, Travis Austin Wright (ensemble)
orchestra
Linda Madonia, Gail Crosson, Audrey Morrison, Debbie Katz Knowles (stage band), Jerry DiMuzio, Rose Sperrazza, David Tuttle, James Ramey (reeds), Kelly Langenberg (horn), John Burson, Kevin G. Wood (trumpets), John McAllister, James Mattern (trombones), Tina Laughlin (percussion), Mari Honingschnabel (accordion), Jeffrey Kust (guitar, banjo), Julian Chin (piano, celeste), Nina Saito, Diana J. Brodick, Corinne K. Brodick, Elizabeth M. Brown (violins), Shiho Toyonaga, John F. Ling (violas), Dorothy A. Deen (cello), Joseph Krzysiak (bass)
behind the scenes
Stacey Flaster (director, choreographer), Roger L. Bingaman (conductor), Nicole Miller (associate choreographer), Angela Weber Miller (set design), Jesus Perez (costume design), Jane DeBondt (asst. costumes), Sienna Macedon-Kusek (hair, makeup design), Cassy Schillo, Jim Heatherly (props), Susan Gosdick (dialect coach), Susan Gosdick (fight director), Andrew H. Meyers (lighting design), Stephen Ptacek (sound design), Tom Campbell (stage manager), Kate Collins (asst. stage manager), Adam Veness (tech director, run crew chief), David Servillo, Brock Alter (running crew), Katie Beeks (production manager), Bridget McDonough (general manager), Jasmin Shah (photos)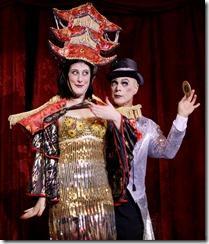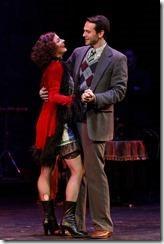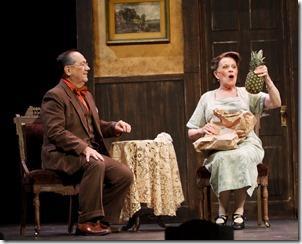 13-0816