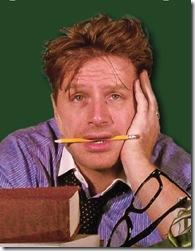 Butley 
Written by Simon Gray 
Directed by Michael D. Graham
Greenhouse Theater, 2257 N. Lincoln (map)
thru Aug 11  |  tickets: $25   |  more info
  
Check for half-price tickets 
  
  
   Read entire review
  
---
Early 1970's British fare comes to Lincoln Avenue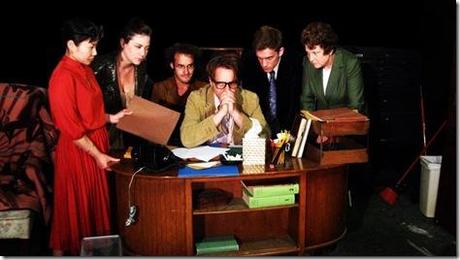 Hubris Productions presents
Butley
Review by J.H. Palmer
Hubris Productions has taken on Butley, a play that premiered at the Criterion Theater in London in 1971, under the direction of theater legend Harold Pinter, won a Best Play award from the Evening Standard, and won actor Alan Bates a Best Actor award for both the London production and the subsequent Broadway production. The storyline is fairly straightforward: an embittered scholar of T.S. Elliot becomes estranged from his wife and best friend. The action takes place over the course of a day in the office that Butley (Jacob Christopher Green) shares with his colleague Joseph Keyston (Eric Zuber).
In addition to playing the title role, Jacob Christopher Green is also the set designer, and his work is visible even before the play begins. The left side of the stage is furnished in old-fashioned furniture: a glass-paneled bookcase, a heavy desk, an antique radio; the right side of the stage is furnished in mod late '60s furniture. These different styles represent Butley, who is seemingly unable to escape the lugubrious facts of his past, and Keyston, who has embraced a lighter, clutterless way of life. The door leading to the office has an old fashioned transom window, and there's a coat rack at center stage that inspires envy.
Butley makes his entrance to strains of '60s pop music, tossing his coat onto the rack but missing it, and searches for a cigarette in vain as one after another box of Parliaments proves to be empty. The dialogue is quick and choppy, a sample interaction between the principal characters – Keyston: "I can't help wondering if you miss it (marriage). Ben." Butley: "Only the sex and violence. And these days one can get those anywhere."
Butley is irascible and seemingly unencumbered by the weight of trying to do right by his friends, lovers, and colleagues. He is unlikeable, and one can't help but feel that he deserves his comeuppance. Keyston is the compassionate, forward-thinking foil to Butley's immovable nature, and Zuber comes across as both likeable and put upon in the role of Butley's coworker.
There are a number of points where the chemistry doesn't quite connect onstage; the energy between Butley and his estranged wife, Anne (CJ Leavens) is tepid, lacking the edge that generally accompanies couples that find themselves in the Butleys' situation; the energy between Butley and his students, Miss Heasman (Patricia Moy) and Mr. Gardner (Benjamin Cormalleth) leaves something to be desired. A notable bright spark in this muted landscape is Bev Coscarelli in the role of Edna Shaft. Everything from her presence to her hairdo to her costuming is pitch perfect, and I found myself longing for more Edna Shaft scenes than were written into the script. Joseph Beal also brings a bright moment to the stage in the role of the mysterious Reg Nuttall.
While this production does have its moments, overall it feels half-baked. Enthusiasts of Simon Gray might enjoy watching it, and the set design and costuming are satisfying, but when all is said and done this, is a so-so production.
Rating: ★★
Butley continues through August 11th at Greenhouse Theater Center, 2257 N. Lincoln (map), with performances Thursdays-Saturdays at 8pm, Sundays 3pm.  Tickets are $25, and are available by phone (773-404-7336) or online through Tix.com (check for half-price tickets at Goldstar.com). More information at HubrisProductions.com.  (Running time: 2 hours 15 minutes, includes an intermission)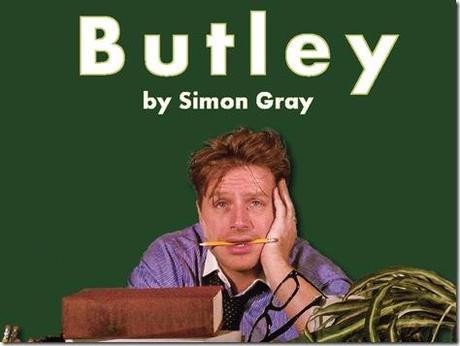 ---
artists
cast
Jacob Christopher Green*, Eric Zuber, Patricia Moy*, Bev Coscarelli, CJ Leavens*, Joseph Beal, Benjamin Cormalleth
behind the scenes
Michael D. Graham (director); Amy Hopkins (stage manager); Camden Peterson* (lighting); Joe Watrach (master electrician); Shawn Quinlan* (costumes); Jacob Christopher Green* (set design, artistic director); William Onderko*  (master carpenter); Sarah Pretz (dialect coach); Nathan Petts* (props)
* denotes Hubris Productions company member
12-0711