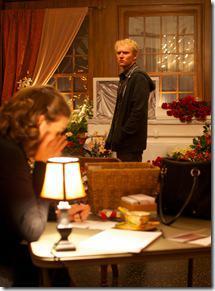 Burying Miss America 
Written by Brian Golden
Directed by Jessica Hutchinson
Lincoln Park Cultural Center (map)
thru Oct 29 | tickets: $25 | more info
Check for half-price tickets
  
  
   Read entire review
---
New Leaf uncovers buried treasure with 'Miss America'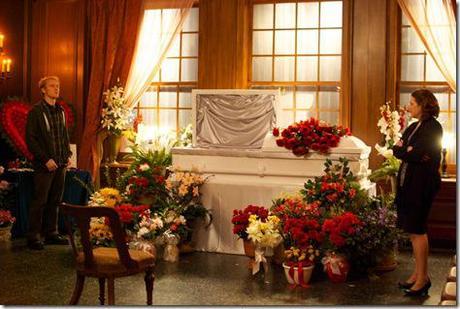 New Leaf Theatre presents
Burying Miss America
Review by Lauren Whalen 
The best plays are group efforts: a collaboration of passionate individuals with a collective story to tell. The best plays are simple and true to the core. The best plays compel critics to set down their notepad and lean forward, completely absorbed in the action. New Leaf Theatre's world premiere of Burying Miss America is one of the best plays I've seen this season.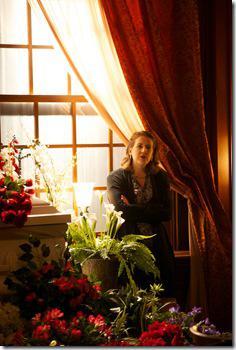 When an audience member steps into New Leaf Theatre's home at the Lincoln Park Cultural Center, she is immediately thrown into the world of the play. The intelligent effort of designers
Michelle Lilly
,
Nick Keenan
and
Jared Moore
evokes the sight, sound and smell of a Midwestern funeral home so flawlessly that I experienced a time warp into childhood, my grandfather's visitation in a small farm town downstate. And from the play's first moment – when Boxer (
Ted Evans
) reluctantly accepts a tearful embrace from sister Jean (
Marsha Harman
) –
Burying Miss America
feels achingly familiar and utterly authentic.
Boxer and Jean Russell are siblings close in age but worlds apart in everything else. He escaped the confines of their Nebraska hometown for a musician's life in New York City; she stayed behind due to a teenage pregnancy and is now a single mother of two. As they await the burial of their mother, who rode her legacy as a former Miss America to the very end, Boxer is distant and bemused while Jean attempts to hide her sadness and confusion with incessant babbling. Through childhood games and inquisitive arguments, Boxer and Jean navigate the precarious reunion of a brother and sister whose deceased parent affected each of them in life-changing ways.
Playwright Brian Golden's dialogue beautifully differentiates Boxer and Jean's voices: the silence between Boxer's carefully chosen words speaks volumes, and Jean's chatter just barely masks a bitter subtext. Burying Miss America's script is truly Midwestern, from tiny allusions to detassling corn to grander themes of abandoning versus embracing small town life, and the repercussions that come with each. Rachel Sypniewski's deceptively simple costume design deserves accolades as well: as the play progresses and hidden emotions are revealed, each character is able to remove layers and subsequently cover up again in a subtle manner that doesn't attack the audience with its symbolism. Jessica Hutchinson's direction seamlessly guides the players through each beat, showcasing the sibling dynamic of a shared history that can go from comforting to all-to-intimate with one misplaced eye roll.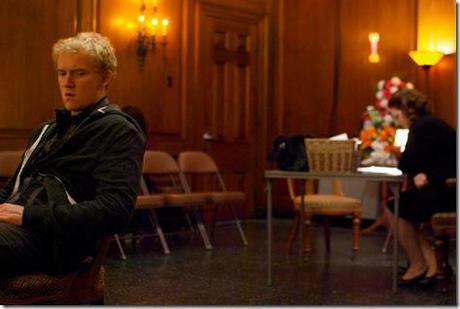 Boxer and Jean are actors' dreams: in the case of both characters, opportunities for meaty analysis and scenery-chewing are endless. Acting heavyweights Evans and Harman admirably step up to the plate, with bravura performances that only occasionally verge on presentational. Evans' corn-fed good looks and stoic expressions are perfect for a young man who felt suffocated by the traits he shared with his mother and despite his quest for a bigger life, still feels incomplete. Harman is spot-on as a prematurely aging woman who is finding the shackles of her home increasingly difficult to unlock. Their interactions often feel like a ping-pong match, with the audience eagerly looking from one to the other, and it works.
Familial relationships are oft-explored for a reason: there's underlying meaning to even the most innocent joke or minor disagreement. While kiddie resentment may manifest in adulthood, the intimate history between siblings provides rich opportunity for interpretation. Burying Miss America takes a simple concept – the funeral of a mother whose shadow looms even as she is no longer of this world – and builds a world. And though they are not always comfortable in it, the audience – after giggling, wincing and sobbing along – is reluctant to leave.
Rating: ★★★½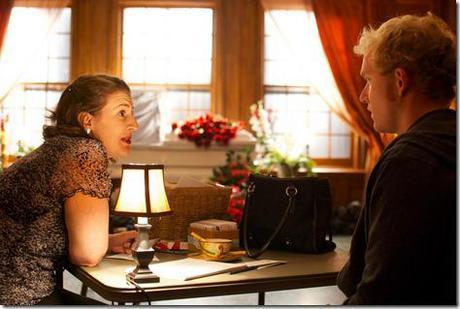 New Leaf Theatre's Burying Miss America continues through October 29 at Lincoln Park Cultural Center, 2045 N. Lincoln Park West (map), with performances Thursdays and Fridays at 8 p.m., Saturdays at 4 p.m. and 8 p.m. Tickets are $25 (with discounts for students, seniors and industry members), and can be purchased by phone (773-980-6391) or online here. More information at NewLeafTheatre.org. (Running time: 1 hour 15 minutes with no intermission)
All photos by Tom McGrath 
---
artists
cast
Ted Evans (Boxer), Marsha Harman (Jean)
behind the scenes
Jessica Hutchinson (director), Hannah Baker (stage manager), Michelle Lilly (scenic), Rachel Sypniewski (costumes), Jared Moore (lighting), Nick Keenan (sound), Marni Keenan (productions manager), Caleb McAndrew (tech director), Eleanor Hyde (managing director), Laura Bayard (public relations), Tony Bittner (trumpet coach), Christa van Baale and Katie Rose (flower arrangements), Tom McGrath (photos)