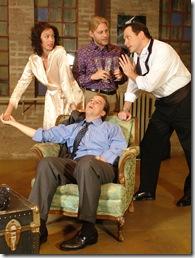 Burn This 
Written by Lanford Wilson 
Directed by Linda Gillum
at Theater Wit, 1229 W. Belmont (map)
thru Nov 18  |  tickets: $27-$32   |  more info
  
  
  
      
  
---
Lack of crucial chemistry squelches production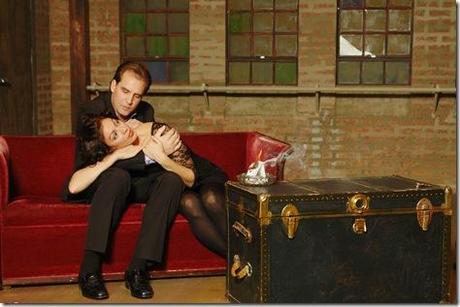 Shattered Globe Theatre presents
Burn This
Review by Catey Sullivan 
For Lanford Wilson's Burn This to ignite, the four-person drama needs sexual chemistry to smolder off the stage when choreographer Anna and Pale, the brother of her late muse, get into the weeds of their contentious, physically charged dialogue. Beyond that crucial chemistry, they don't , after all, seem to have much in common: She is a lithe, gorgeous dance-maker on the rise, seriously considering marriage to a successful screenwriter. Pale, meanwhile, is a married, gun-toting, rage-prone drunk prone to forcing himself into apartments where he's unknown and uninvited, usually in the middle of the night, so he can rant at the inhabitants until dawn.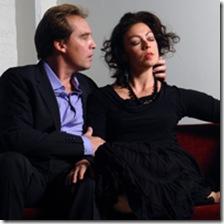 The logical thing to do when an emotionally abusive, unstable drunken stranger shows up at your loft in the wee hours? That would be to take one quick gander through the peephole, double check the deadbolt and call 911 if said sot continues yammering at your doorstep. That's not what happens in
Burn This
, as Pale repeatedly crashes through an opened door to berate and bully Anna and her stereotypically sassy gay roommate, Larry. And therein lies the trouble with Shattered Globe's faltering production. Essentially, it's impossible to believe any of the action that drives the meager plot. Even as a dysfunctional romance, the romance between Pale and Anna is about as believable as a hook-up between a rock and a box of instant potatoes.
That lack of crucial chemistry largely dooms Burn This. Without the palpably sizzling sex (or threat thereof), the piece becomes a lengthy slog of dialogue that's neither meaningful nor particularly interesting. Director Linda Gillum does her best to elicit compelling performances from her actors , but the show is so fundamentally miscast, she's stymied at just about every turn. On paper, the dynamic between Pale and Anna is fraught. That Pale resembles the man Anna (Kate LeConti) is deeply mourning plays an integral in Anna's tortured attraction. In Shattered Globe's Burn This, Pale (Ryan Kitley) and Robbie bear no resemblance to each other whatsoever, a fact that's emphasized by the VHS tape of Anna and Robbie working on a dance that appears intermittently on her television. Robbie appears graceful and dark. Pale is light and schlubby (the latter emphasized by unfortunate costuming) .
Burn This only gets more eye-rollingly unbelievable as it progresses, and Pale pays a second drunken visit while Anna and her almost-fiancé (Brad Woodard) are getting romantic on New Year's Eve. I suppose it wouldn't be fair to divulge the plot, such as it is, so suffice to say that after Pale starts punching people out, Anna's decisions become so ludicrous it becomes flatly impossible to maintain interest.
And about that gay roommate (Jake Szczepaniak): He's written as a quip-spewing cliché, a series of substance-free, superficial one-liners. That might not have been so obvious when Burn This premiered more than 20 years ago. These days, it's groaningly apparent.
Rating: ★★
Burn This continues through November 18th at Theater Wit, 1229 W. Belmont (map), with performances Thursdays and Fridays at 8pm, Saturdays at 3pm and 8pm, Sundays 3pm.  Tickets are $27-$32, and are available by phone (773-975-8150) or online through TheaterWit.org. More information at ShatteredGlobe.org.  (Running time: 2 hours 30 minutes, includes an intermission)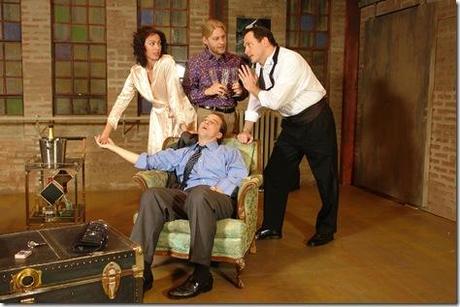 Photos by Sean Parks
---
artists
cast
Ryan Kitley, Kate LoConti*, Jake Szczepaniak, Brad Woodard*
behind the scenes
Linda Gillum (director); Andrew Hildner (set); Christine Pascual (costumes); Richy Norwood (lighting); Christopher Kriz (sound design); Vivian Knouse (props); Jason Madeja (video); Greg Poljacik (fight choreography); Melissa Schlesinger (production manager); Lindsay Ricketts (asst. production manager); Mike Falevits (asst. director); Jeffrey Stokes (stage manager); Lisa Coleman (asst. stage ,manager); Amanda Rozmiarek (tech director, master carpenter); Rosie Chevalier (producer); Judy Anderson (production director); Sean Parks (photos)
* denotes Shattered Globe ensemble member