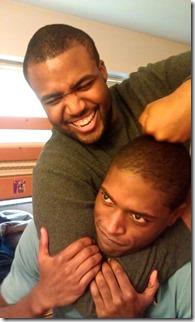 Brothers Beckett  
Written and Directed by David Michael Sirois
Athenaeum Theatre, 2936 N. Southport (map)
thru June 30  |  tickets: $23   |  more info
  
Check for half-price tickets 
  
  
   Read entire review 
  
---
Looking for light and cute? This might be your play.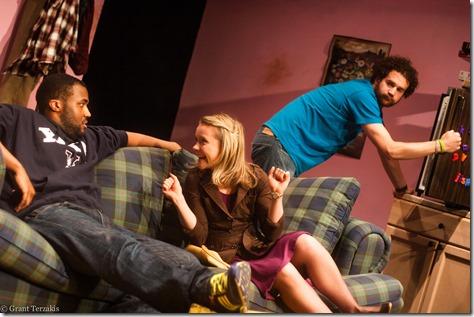 Black Fox Theatre presents
Brothers Beckett
Review by Katy Walsh 
Black Fox Theatre presents the Midwest Premiere of Brothers Beckett.
Two brothers share bunk beds in a pigsty of a room. What's so odd about that? Well, Kevin is a 26 year old playwright and Brad is a 32 year old unemployed philosophy major. Their best friends are their goofy, toilet-clogging neighbor and a sweet, germ-phobic meteorologist. It sounds like the premise of Seth Rogan and James DeFranco comedy, right? It certainly has the poop jokes and sexual conquests slash marks for a no-brainer, "Hangover" appeal. Yet, does it work as a stage play?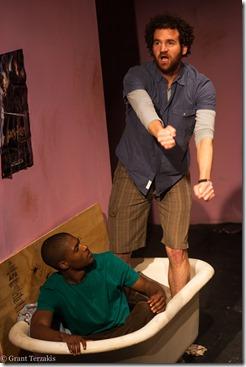 Serving as both playwright and director
David Michael Sirois
creates two well-educated and co-dependent brothers played effectively by
Anthony Conway
(Brad) and
Maurice Demus 
(Kevin). These guys truly act like brothers. Conway and Demus playfully argue 'mom and dad loved me best.' And later, they cruelly jab at each other's life choices. They enable each other in a Peter Pan-like fantasy. They allow each other weird allowances in their bunk bed world. What is behind their unwavering and dysfunctional love? Instead of digging deeper into the dark psyche of two grown men stuck in a failure to grow and thrive, Sirois chooses to go for the lighter alternative. He keeps the banter surface and familiar. The conversations are Frat house cliche. The set-ups are sitcom-worthy.
Despite unoriginal material, Sirois' talented ensemble work hard to find the humor. Sean Gallagher (Doug) endears with his lanky, boundary- issue buffoonery. Getting the most laughs, Gallagher is very Kramer-esque. Amanda Lipinski (Joyce) delights as the ritualistic, clean freak. Although Lipinski is a sweet caretaker in this dude world, Sirois never explains why she would be choosing to be there. Playing the uptight Yoko Ono-type, Rachael Hancz (Tuesday) is this pristine threat to breaking up this band of revelers. Hancz garners some empathy for her willingness to stay in this filthy boys' room. Although all the characters are likeable, they are also forgettable stereotypes.
Brothers Beckett entertains in a summer-rerun-kind- of- way. It's because of this I think it'll struggle to find an audience in its current state. It either needs to get tighter and funnier for a late night drinking crowd. Or Sirois needs to dig deeper and flesh out the peculiarities of the brotherly bond for a more substantial play. Still, if you're looking for a cute show that won't bog you down in heaviness, Brothers Beckett could be a good summer fit.
Rating: ★★½
Brothers Beckett continues through June 30th at Athenaeum Theatre, 2936 N. Southport (map), with performances Thursdays-Saturdays at 8pm, Sundays 2pm.  Tickets are $23, and are available by phone (773-935-6875) or online through AthenaeumTheatre.org (check for half-price tickets at Goldstar.com). More information at BlackFoxTheatre.com.  (Running time: 1 hour 55 minutes, no intermission)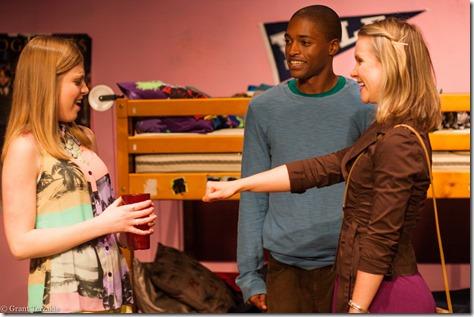 Photos by Grant Terzakis 
---
artists
cast
Maurice Demus (Kevin Beckett), Rachael Hancz (Tuesday), Anthony Conway (Brad Beckett), Sean Gallagher (Doug), Amanda Lipinski (Joyce).
behind the scenes
David Michael Sirois (director, playwright), Jasmine Ryan (producer), Keith Gerth (set design), Martin Hughes (production consultant), Megan Captaine (stage manager), Megan Captaine (marketing director), Grant Terzakis (photos)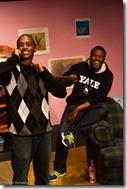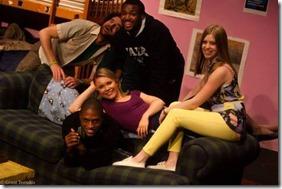 13-0626