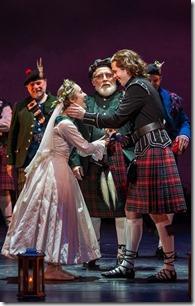 Brigadoon
Written by Alan Jay Lerner and Frederick Loewe 
Revised book by Brian Hill
Directed by Rachel Rockwell
at Goodman Theatre, 170 N. Dearborn (map)
thru Aug 17  |  tickets: $25-$97   |  more info
  
Check for half-price tickets 
  
  
   Read review
  
---
A magical step back in time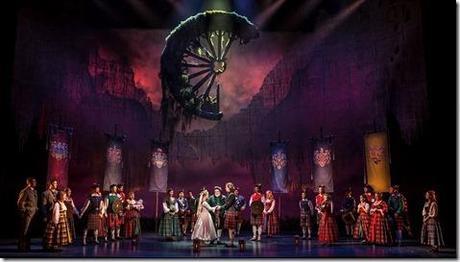 Goodman Theatre presents
Brigadoon
Review by Lauren Whalen 
The grand, epic musical is practically a relic. In the era of small, intimate theater or overblown concepts – often one extreme or the other – it's rare to find a large-scale show with production numbers, a chorus of singers and dancers, and sweeping costumes and sets. Goodman Theatre's Brigadoon is a strong argument to bring back this musical theater tradition. Lush production values, beautiful orchestrations and a surprising amount of gravity elevate this community theater staple to high art.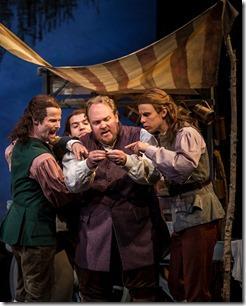 It's 1946, and Tommy Albright (
Kevin Earley
) has set off with his buddy Jeff Douglas (
Rod Thomas
) for a hunting trip in Scotland. Both New Yorkers and World War II veterans, Tommy and Jeff are looking for one last adventure before Tommy marries the wealthy Jane (
Emily Rohm
). When the friends find themselves stranded, they stumble upon the town of Brigadoon, where Tommy meets and falls for the lovely Fiona (
Jennie Sophia
), a spinster patiently waiting for her "dearie" while preparing to marry off her younger sister Jean (
Olivia Renteria
) to the cheerful Charlie Dalrymple (
Jordan Brown
). But as Tommy and Jeff find themselves more enmeshed in the world of Brigadoon, they learn things aren't quite what they seem – and in fact, Brigadoon only appears for one day every 100 years. Soon, Tommy finds himself at a crossroads: does he return to the only world he's ever known, or stay back in the 18th century, with a woman he's only just met?
With a revised book by Brian Hill, new orchestrations and a ringing endorsement from Frederick Loewe's daughter Liza, Goodman's Brigadoon was already extended twice before its official opening. Director/choreographer Rachel Rockwell has created new dances that nonetheless incorporated the storytelling tradition of the legendary Agnes de Mille (who choreographed the original Broadway production, as well as those of Oklahoma and Carousel) and the importance of dance in Scottish culture. Though every element of Brigadoon is strong – from the two leads' perfect chemistry, to Shawn Sagady's flawless projection design to Kevin Depinet's ethereal yet realistic set – the dancing is paramount. Rockwell has scaled the Mount Everest of choreography and should revel in her triumph. She's also found a rising star in Renteria, whose physical interpretation of Jean is equal parts lyrical and somber, uplifting and heartbreaking. This Jean is so fragile that she's always on the verge of breaking, yet resilient in her decision of the sweet and stable Charlie over recklessly obsessed Harry Beaton (Rhett Guter, who has many strong dance moments as well).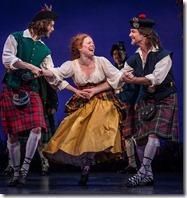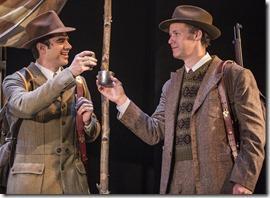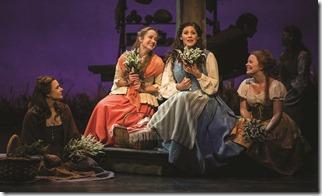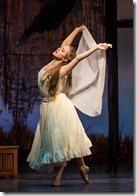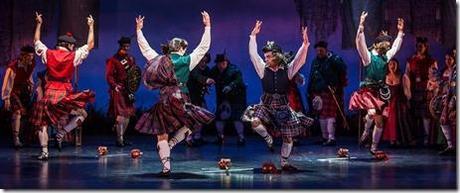 The classic score is utterly enjoyable, from the wistful "Waiting for My Dearie" to the sweet "Almost Like Being in Love", capped off by the showstopping "There But For You Go I." All the elements of a classic Brigadoon are present: a time-traveling love story, memorable melodies and plenty of comic moments amid the drama. But this production has a weightiness, a heft I've never sensed in other productions of this work. Tommy's happily single, alcohol-swilling pal Jeff isn't just an affably snarky foil here – thanks to Rockwell's skilled direction and Thomas' thoughtful interpretation, there's an appealing, realistic dark edge to the character. Thanks to a deeply felt dance solo, the plight of unrequited love is brought to life through the lovelorn Maggie (Katie Spelman). Tommy's inner conflict is thoroughly present in the golden-voiced Earley (a dead ringer for Patrick Wilson) and Sophia's Fiona is pure, intelligent comeliness come to life. Maggie Portman delights as the happily wanton Meg Brockie, and Roger Mueller's Mr. Lundie (who reveals the secret of Brigadoon) projects a perfectly paternal air. In a cast of heavy hitters, however, the true standout is Brown. His Charlie Dalrymple is so boisterous and exuberant, the infectious energy can be felt not just in the back of the house, but in the lobby and spilling out onto Dearborn Street.
The Goodman's Brigadoon marks the first major revival of the classic musical in more than three decades. After seeing this stellar production, I wondered what took the theater world so long to re-appreciate such a beautiful show. At the same time, I am grateful that the Goodman saw its potential at this particular moment in time – when Rockwell could take the helm. Thanks to her vision, this Brigadoon is both positively magical and utterly unmissable.
Rating: ★★★★
Brigadoon continues through August 10th at Goodman Theatre, 170 N. Dearborn (map), with performances Tuesdays and Wednesdays at 7:30pm, Thursdays 2pm and 7:30pm, Fridays 8pm, Saturdays 2pm and 8pm, Sundays 2pm and 7:30pm.  Tickets are $25-$97, and are available by phone (312-443-3800) or online through their website (check for half-price tickets at Goldstar.com). More information at GoodmanTheatre.org/VisitBrigadoon.  (Running time: 2 hours 25 minutes, includes an intermission)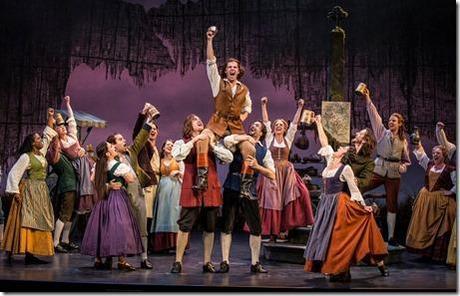 Photos by Liz Lauren
---
artists
cast
Larry Adams (Stuart Dalrymple), Rod Thomas (Jeff Douglas), Jordan Brown (Charlie Dalrymple), Kevin Earley (Tommy Albright), Joseph Foronda (Archie Beaton), Rhett Guter (Harry Beaton), George Keating (Sandy Dean), Michael Aaron Lindner (Angus MacGuffie), Roger Mueller (Mr. Lundie), Maggie Portman (Meg Brockie), Olivia Renteria (Jean MacLaren), Emily Rohm (Jane Ashton), Jennie Sophia (Fiona), Craig Spidle (Andrew MacLaren), Richard Strimer (Frank), Rob Riddle (MacGregor), Katie Spelman (Maggie Anderson), William Carlos Angulo, Stephanie Binetti, Jessica Blair, Courtney Cerny, Bryan Howard Conner, Tehran Dixon, Ann McMann, Jamy Meek, Drew Nellessen, Emma Rosenthal, Malachi Squires (ensemble)
orchestra
Valerie Maze (associate music director, conductor, piano), Heather Boehm, Elizabeth Huffman (violin), Carey Deadman (trumpet), Jeremiah Frederick (French horn), Dan Johnson (trombone), Jill Kaeding (cello), Larry Kohut (bass), Sean McNeely, Patrick Rehker, Dominic Trumfio (reeds), Ben Wedge (Viola), Jim Widlowski (drums, percussion)
behind the scenes
Rachel Rockwell (director, choreography), Roberta Duchak (music director), Kevin Depinet (set design), Mara Blumenfeld (costume design), Aaron Spivey (lighting design), Garth Helm (sound design), Shawn Sagady (projections), Timothy Reed (associate lighting designer), Gordon Peirce Schmidt (associate choreographer), Joanna Lynne Staub (associate sound design), Erica Weiss (assistant director), Katie Spelman (assistant choreographer), Adam Belcuore (casting), Neena Arndt (dramaturg), Alden Vasquez (production stage manager), Kathleen Petroziello (stage manager), Christine Adaire (dialect coach), Josh Clayton (orchestrator), Liz Lauren (photos)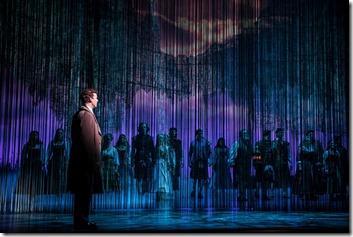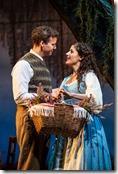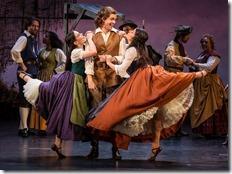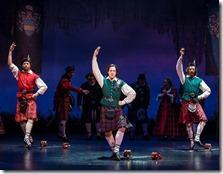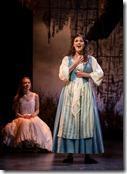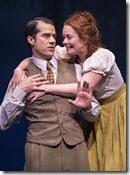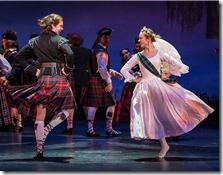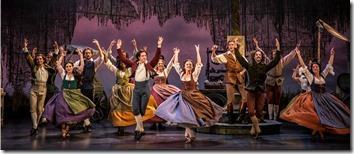 14-0703