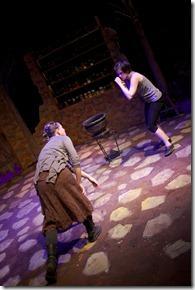 Brewed 
Written by Scott T. Barsotti
Directed by Anna C. Bahow  
at Theater Wit, 1229 W. Belmont (map)
thru March 24  |  tickets: $17   |  more info
  
Check for half-price tickets 
  
  
   Read entire review 
  
---
A truly original and very literal family drama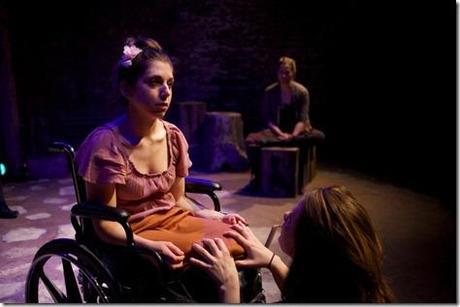 The Ruckus and Tympanic Theatre present
Brewed
Review by Anuja Vaidya
The pot needs to be stirred at all times. But all that stirring is brewing up a deluge of resentment and quarrels for a troubled family. Brewed draws us into the sad, strange world of five sisters, constantly brewing trouble, and with a plethora of dark secrets to keep. With strong performances and an intricately detailed stage setting, it is easy to accept the rather fantastical world that the play inhabits, making it an entertaining show overall, albeit with a slightly disappointing ending.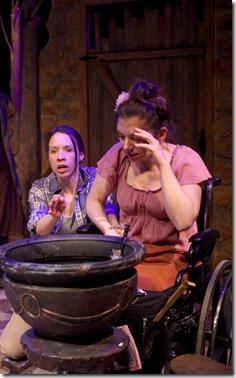 The show is, in a word, bizarre. But the script is so well written that from the very first word (which is motherf***er, incidentally) you are hooked, and are eager to find out why the sisters live the way they do. A pot needs to be stirred and if the stirring stops, one of the sisters, Babette (who has lost her legs) will suffer severe pains. Or so they believe. Juliette and Paulette are wearing thin from the continuous stirring as well as the constant supervision that Babette needs. Roxette, we learn, isn't around as much as she should be. Neither is Nannette, but her excuse is that her rising career as a Nascar driver is what the family is living on. Roxette invites her sisters to gather at their family home so that she can introduce them to Lee, the woman she loves. (This is a pretty terrible idea as it turns out.)
The very first thing that strikes you as you walk into the theater is the beautifully designed set. It looks like a witches' cave, complete with a cauldron and shelves full of jars with different colored liquids. It doesn't leave an iota of a doubt in your mind that you are about to see an unusual production.  Kudos to set designer Dustin Pettigrew props designer Casey Bentley.
The cast, as a whole, does a wonderful job. Each actor embodies her character perfectly, which makes the differences between the sisters stark and helps you understand the intense resentment they feel towards each other. The exception of this is Collette, who is oddly detached from all that is going on around her. Charlotte Mae Ellison, who plays Collette, uses the character's detached and simplistic world-view to make her one of the elements of comic relief in this otherwise dark show. The other element of comic relief is Lee, expertly portrayed by Elise Mayfield. She is endearing and hilarious. One of the funniest moments in the production is when Lee turns to Roxette and blurts out "Are you'll witches or something?" This is exactly what you are wondering from the moment the play begins. Mayfield's absolutely natural performance is a delight to watch.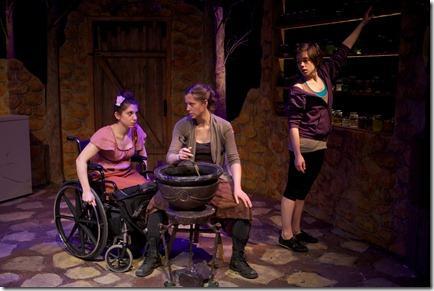 The suspense-filled first act ends with a move so completely unexpected that the audience is still reeling from the shock well into the intermission. The only disappointing aspect of this production is the end. The second act, much shorter than the first, sets up some interesting plot turns, but does not finish them. It feels random and is a tad too gruesome. The play is filled with very real-looking, staged fights. But the last battle scene pumps out a little too much blood, making it borderline campy.
This production gives us a very literal portrayal of a family turning on each other and, in doing so, it becomes a thoroughly original interpretation of a typical 'family drama' play. Regardless of how large your family is, how often you talk, or how many witches it contains, Brewed will strike a cord and is a unique take on family dysfunction. 
Rating: ★★★
Brewed continues through March 24th at Theater Wit, 1229 W. Belmont (map), with performances Thursdays-Saturdays at 8pm, Sundays 7pm.  Tickets are $17, and are available by phone (773-975-8150) or online through TheaterWit.org (check for half-price tickets at Goldstar.com). More information at RuckusTheatre.org.  (Running time: 1 hours 40 minutes, includes an intermission)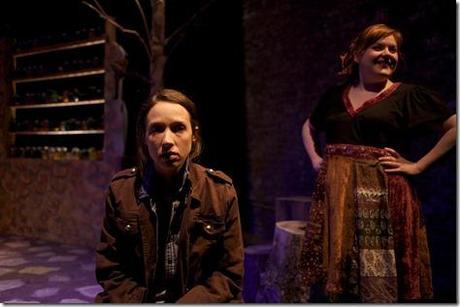 Photos by Gerard Van Halsema 
---
artists
cast
Dana Black (Juliette); Charlotte Mae Ellison (Collette); Stevie Chaddock Lambert (Babette); Meredith Rae Lyons (Nannette); Elise Mayfield (Lee); Susan Myburgh (Roxette); Erin Myers (Paulette); Lizzy Powers (Understudy)
behind the scenes
Anna C. Bahow (director); Casey Cunningham (Assistant Director); Holly McCauley (Stage Manager); Brian Ruby (Production Manager); Lizzy Powers (Production Assistant); Richard Gilbert, Victor Bayona (Violence Design); Dustin Pettigrew (Scenic Design); Christine Grodecki (Lighting Design); Brian Berman (Assistant Lighting Design); Maxwell Shults (Original Music & Sound Design); Ashley Ann Woods (Costume Design); Casey Bentley (Prop Design); Ruth McCormack (Machinery Design); Chrissy Weisenburger (Make-up Design); Gerard Van Halsema (photos)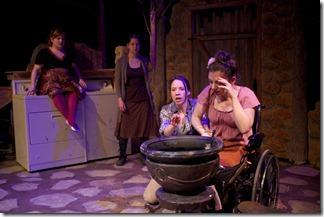 13-0323