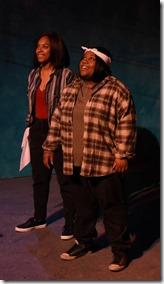 Intense and compelling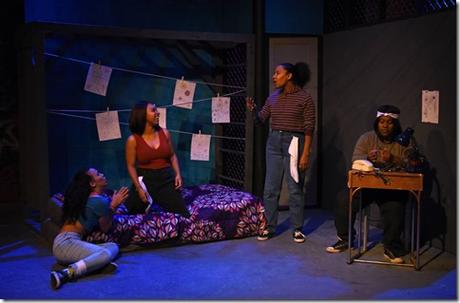 Review by Lauren Whalen
Eclipse Theatre Company closes out its all Kia Corthron season with its strongest production all year. Breath, Boom chronicles 14 years in the life of Prix, a New York City female gang member who finds solace in fireworks, and is obsessed with creating the perfect display. Prix's life is brutal from day one, and the idea of looking up and seeing beauty sustains her through an abusive childhood, juvenile detention and prison. Featuring a cast that's almost entirely women of color, Breath, Boom is lovingly directed by Mignon McPherson Stewart and features a brilliant lead performance by Eclipse company member BrittneyLove Smith.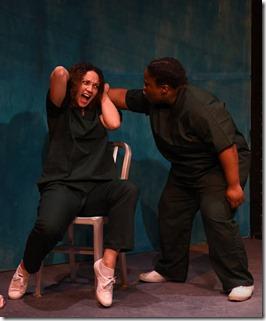 Breath, Boom opens with a bang, as Prix (Smith) and two of her cohorts violently beat another young woman. "Don't kill her," Prix advises, upon looking up and seeing a fireworks display. She sketches, makes pipe-cleaner models and learns as much about fireworks as she can, dodging the advances of her common law stepfather Jerome (David Lawrence Hamilton, portraying the play's single male character) and dealing with her codependent mother (House Theatre company member Elana Elyce). Resigned to a life on the streets, Prix makes deals, enacts revenge and endures punishments with stoicism, her face only lighting up when she describes her beloved fireworks to anyone who will listen.
Playwright Corthron has won multiple fellowships and awards for her work. She's written episodes for "The Wire," and her adaptation of Ibsen's An Enemy of the People will premiere next year at the Guthrie Theater. I've seen the entire Corthron season at Eclipse (each year, the company focuses on a solo playwright), and Breath, Boom is far and away my favorite. Corthron's script is heavy on both action and character complexity, with a protagonist whose every decision is made in the name of survival. As Prix expresses in an essay for group therapy, very few have shown her kindness or mercy. Breath, Boom isn't a happily-ever-after fairy tale, and Corthron is adept at building Prix's often-hopeless world, while generating empathy for a young woman who has so little working in her favor.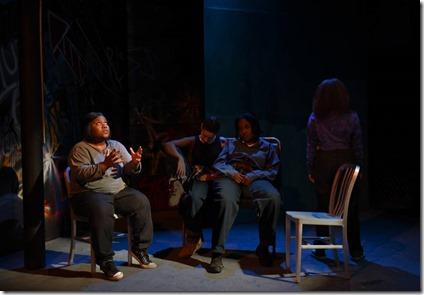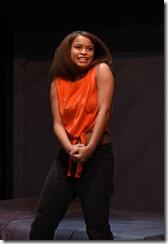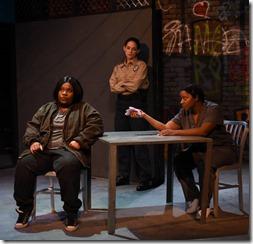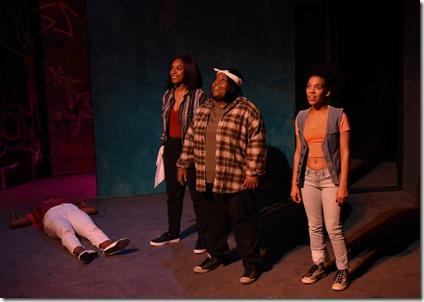 Director Stewart, in her Eclipse debut, has a strong eye for character detail, not just with Prix, but the women who make up her world, from her mother to her lifelong friends to her cellmates. Everyone is coming from somewhere - violence isn't manifested in a vacuum. Both staging and fight choreography are thoughtful and true, and the pacing only drags a bit in Act II (due more to Corthron's writing than Stewart's direction). Mike Goebelhas a tough task with lighting design (ditto Sarah D. Espinoza with sound), as the team must create a realistic approximation of the fireworks that give Prix happiness and hope. Both deliver, with bright colors and excellent effects that show us the sky through Prix's eyes.
Breath, Boom simply does not work without a skilled actor in the lead - Prix is not always likable but constantly compels, and must have a magnetic presence behind her poker face. Smith is simply phenomenal, as believable as a teen as she is a 30-year-old, and along with Elyce, her performance is Jeff-worthy. Breath, Boom is never an easy watch, challenging the audience to check its collective privilege and watch a survivor endure her darkest years with only small flashes of optimism. Beautifully written, directed and acted, Breath, Boom is a fitting finale to Eclipse's Kia Corthron season.
Breath, Boom continues through December 17th at Athenaeum Theatre, 2936 N. Southport (map), with performances Thursdays-Saturdays at 7:30pm, Sundays 2pm. Tickets are $35 (students & seniors: $25), and are available by phone (773-935-6875) or at OvationTix.com (check for availability of ). More information at EclipseTheatre.com. (Running time: 2 hours 15 minutes, includes an intermission. Note: this play contains strong language and may not be suitable for all audiences)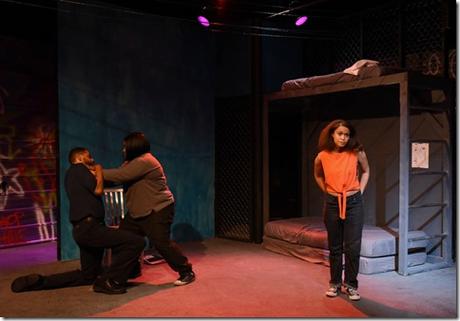 Photos by Scott Dray
BrittneyLove Smith (Prix), Jalyn Greene (Angel), Destini Huston (Malika, Socks), Jennifer Glasse (Comet), David Lawrence Hamilton (Jerome), Elana Elyce (Mother), Destiny Strothers (Cat), Ti Nicole Dandridge (Shondra, Pepper, Jo), Dionne Addai (Jupiter), Anjelica Masson (Fuego, CO, Jo's Friend), Megan Storti (Denise/CO), Dyamone Hopkins, Brandi Brown, Sarah Brooks, Esme Perez, Deveon Bromby, Anthony Conway (understudies)
behind the scenes
Mignon McPherson Stewart (director), Kevin Scott, Nathaniel Swift (producers), Eleanor Kahn (scenic design), JP Pierson (casting director), Ashley Bowman (production manager), Mike Goebel (lighting design), Zach Bloomfield, Celeste M. Cooper (casting associates), Caroline Foulk (stage manager), Sarah D. Espinoza (sound design), Sammi Grant (dialect coach), Tracee Bear (costume design), Natalie Day (assistant stage manager), Kaycee Filson (properties design), Catherine Miller (dramaturgy), Scott Dray (photos)
Tags: 17-1122, Anjelica Masson, Anthony Conway, Ashley Bowman, Auditorium Theatre, Brandi Brown, Brittneylove Smith, Caroline Foulk, Catherine Miller, Celeste M. Cooper, Chicago Theater, David Lawrence Hamilton, Destini Huston, Destiny Strothers, Deveon Bromby, Dionne Addai, Dyamone Hopkins, Eclipse Theatre, Elana Elyce, Eleanor Kahn, Esme Perez, Guthrie Theatre, Jalyn Greene, Jennifer Glasse, JP Pierson, Kaycee Filson, Kevin Scott, Kia Corthron, Lauren Whalen, Megan Storti, Michael Goebel, Mignon McPherson Stewart, Mike Goebel, Natalie Day, Nathaniel Swift, post, Sammi Grant, Sarah Brooks, Sarah D. Espinoza, Scott Dray, Ti Nicole Dandridge, Tracee Bear, Zach Bloomfield
Category: 2017 Reviews, Athenauem, Eclipse Theatre Company, Lauren Whalen