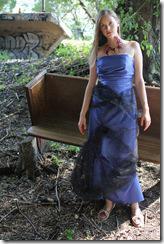 Brand
Written by Henrik Ibsen  
Directed by Max Truax 
St. Peter's Episcopal Church, 621 Belmont (map)
thru Oct 29  |  tickets: $25  |  more info
Check for half-price tickets
  
  
   Read entire review
---
An ice-cold cult meets its doom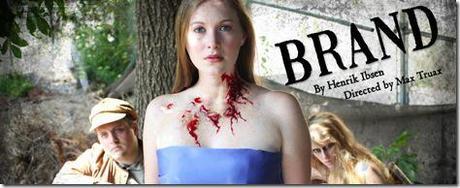 Red Tape Theatre presents
Brand
Review by Lawrence Bommer
Early Henrik Ibsen, his poetic 1867 work Brand is no problem play like A Doll's House," Hedda Gabler, Ghosts, or An Enemy of the People (though it shares the last one's distrust of groupthink and majority rule, in this case within a congregation rather than a spa town). Brimming with youthful idealism but hobbled with an "all of nothing" absolution, a self-made preacher's quest becomes a five-act cautionary tale. Brand focuses on its title hero/victim, a passionate but punitive preacher who, adhering far more to the Old than to the New Testament, sacrifices his mother, son, wife and eventually church to a God who does not reward his rigidity.
"What you are be fully, not in parts and pieces." It's a credo that, carried to consistent completion, tears him apart. For Brand, free will becomes a curse when, pursuing it beyond rational restraint, he opposes the corruption of his own community and its mayor (a stentorian John Arthur Lewis), while also building a church too large for the humility of holiness.
Brand (Cody Proctor, registering messianic anguish and human frailty in equal measure) is called to his own brand of Christianity by an act of absolution at sea. The hero journey also connects him with Agnes, his future wife (Amanda Drinkall, as a help(less)mate who deserves a better destiny).
Separating himself from a world of fallen flesh, Brand spurns his mother because she robbed his father and won't devote his inheritance to charity. He lets his son die because he can't leave the ice-bound valley to which he believes God has called him. But a wild beggar-girl named Gerd (Sarah Pretz, driven and dynamic) proclaims Brand's persuasion and later leads him to his "Ice-cathedral" where an avalanche will finally bury Brand's broken cult.
Gloomy as a Norwegian fjord and appropriately smoky and steamy, Max Truax' frenetic staging literally moves the audience around the gymnasium auditorium in order to pursue Brand's "mission from God." The rapid-fire pace of scenes and speeches, mingling with poor acoustics, can make this story too swift for sense. Concentration is crucial here but there's no questioning the conviction of this incredibly dedicated revival.
The play is not for the faint-of-'mind' (it's far too high-minded to touch the heart). It's unapologetic in its quick delivery and demands its audience participate with an attention as absolute as the protagonist's morality. This will be off-putting to many, so only choose this play if you like your mettle tested against the staunchest of plays that is as critical of you as you are likely to be of it.
Rating: ★★★
Brand continues through October 29th at St. Peter's Episcopal Church, 621 W. Belmont, 2nd floor (map), with performances Thursdays-Saturdays at 7:30pm and Sundays at 2pm. Tickets are $25, and can be purchased online at BrownPaperTickets.com. More information at RedTapeTheatre.org.
Photos by Austin D Oie
---
artists
cast
Carrie Drapac*, Lona Livinston*, Paul Miller*, Amanda Reader*, Kevin Crispin, Todd Keich, Sarah Pretz, Cody Procter, Amanda Drinkall,
behind the scenes
Max Truax (director), Emily Guthrie (props), Ben Fuchsen (media design), Jonathan Guillen (sound), Mike Mroch (scenic), Karen Thompson (lighting), Emily Waecker (costumes), Austin D Oie (photos)
* denotes Red Tape ensemble member