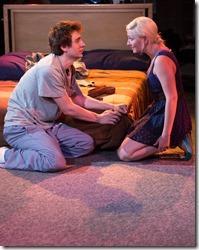 Boy Small 
Written by MT Cozzola  
Directed by Patrick Kenney
at Red Tape Theatre, 621 W. Belmont (map)
thru Sept 22  |  tickets: $30   |  more info
  
Check for half-price tickets 
  
  
   Read entire review
  
---
Relentlessly distressing but not all that edifying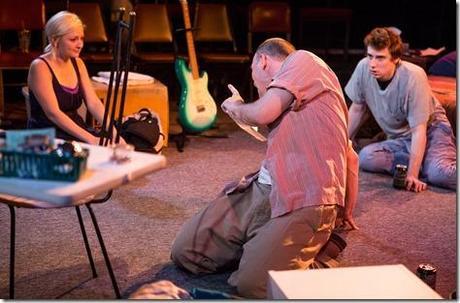 Fine Print Theatre presents
Boy Small
Review by Lawrence Bommer
The "boy small" of the title is based on a real loss. In May 2011 the remains of Christian Choate were discovered in a shallow grave. His father Riley Choate was convicted on January 11th of this year of abuse and neglect. He confessed, "All my actions will haunt me forever. I loved my son."
This seeming contradiction is not really explored in Fine Print Theatre's world premiere of MT Cozzola's 2012 recreation of this tabloid horror. (Far from ambivalent about his systematic cruelty, this degenerate dad only seems worried about being caught.) Taking its own liberties, Boy Small imaginatively retells the three months (Tax Day to Flag Day) that lead to this discarded son. Cozzola is clearly interested in the perverse "daily life" domesticity of this prolonged horror in a Midwestern trailer park. The crime recalls so many other cases of filicide that it can only be distinguished by the specifics, as incongruously narrated by the victim himself.
In the ultimate case of blaming the victim and the "Stockholm syndrome," Stephen Cefalu Jr.'s "Boy" tells us from the start that he is selfish and stupid (for ending up dead at 12). But in the remaining 90 minutes we see how little choice the kid had to save himself. The "tough love" that turns this family into a caricature of twisted domesticity is implacably detailed. Boy is kept in a dog cage because, understandably, he tries to run away from his 41-year-old control-freak dad (Malcolm Callan), an out-of-work, anti-government nutcase who recalls Huckleberry Finn's toxic father. He's enabled by Boy's airhead, shopaholic stepmother (Cat Dean), who dreams of becoming a star of reality TV and hates pretty girls. Never really home-schooled (the lie peddled to explain his truancy), Boy refuses to eat and finds little solace in the company of his equally helpless 14-year-old sister Sissy (Taryn Wood). Subject to her own 4 p.m. curfew (despite an unseen boyfriend), Sissy obediently orders him to do push-ups and whips him with a strap when he breaks any of the constant rules they make up as they go along.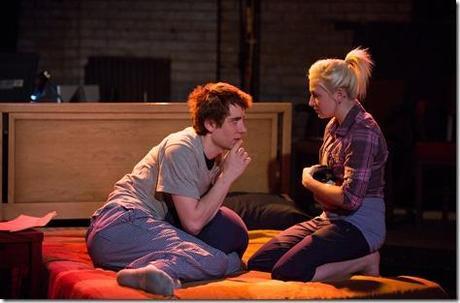 Deanna Moffitt, the fifth actor in Patrick Kenney's sturdy staging, has the thankless task of depicting the outsiders—a neighbor who notices the family's missing dog before any child abuse and a clueless flunky from Child Protective Services who never questions why the boy's belongings are squirreled away at the back of a dog cage.
The events leading to the inevitable human sacrifice are relentless, unstoppable and not all that edifying. It takes no village at all to let a kid perish where he should most be protected. The only freedom this boy can hope for is the release of death.
It's unbearable to watch this—and not just because of the events. Though cool outside on opening night, this gymnasium theater (which always suffers from terrible acoustics) was horribly hot as in humid. (At least bottled water was distributed in advance.) I've never seen so many programs waved at once. It's one thing for actors to suffer for their art, but audiences should have a choice.
Anyway, for some, Boy Small may deliver enough "schadenfreude" shock effects to endure this combination of a sauna and a sweat lodge. But what's missing in Cozzola's matter-of-fact simulation (where the dead boy almost clinically describes his body's breakdown) is the anger that must have ignited the writing in the first place.
Rating: ★★
Boy Small continues through September 22nd at Red Tape Theatre, 621 W. Belmont (map), with performances Thursdays-Saturdays at 8pm, Sundays 3pm.  Tickets are $30, and are available by phone (312-945-7966) or online through their website (check for half-price tickets at Goldstar.com). More information at TheFinePrintTheatre.org.  (Running time: 90 minutes, NO intermission)
Photos by Gretchen Kelley
---
artists
cast
Malcolm Callan (Dad), Stephen Cefalu (Boy), Cat Dean (Sherry), Deanna Moffitt (Outsiders), Taryn Wood (Sissy)
behind the scenes
Patrick Kenney (director), Jarrod Bainter (production manager, set and lighting design), Dave Belden (music direction, violin), Emmi Hilger (asst. director), Steve Labedz (sound design), Mark E. Penzien (fight choreographer), Sydney Ray (stage manager), John Gleason Teske (props), Ashley Ann Woods (costume design)
13-0829