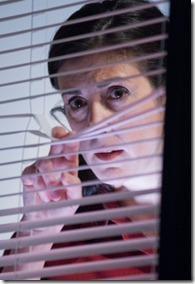 Boy Gets Girl 
Written by Rebecca Gilman  
Directed by Cody Estle 
at Raven Theatre, 6157 N. Clark (map)
thru March 2  |  tickets: $36   |  more info
  
Check for half-price tickets 
  
  
  
  
---
A chilling, cautionary tale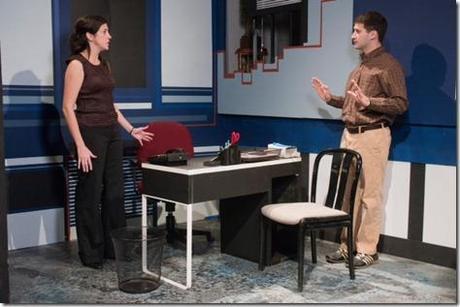 Raven Theatre presents
Boy Gets Girl
Review by Lauren Whalen
Every woman is violated at least once in her life. Whether said violation is relatively benign (a strange man staring at her chest), truly horrific (in the case of Boy Gets Girl's protagonist Theresa Bedell), or anywhere in between, it results in half the world's population constantly looking over their shoulders for the next lewd look, inappropriate remark or blatant threat. Raven Theatre's stellar production of Rebecca Gilman's award-winning play shines a harsh light on stalking: a nasty phenomenon that's rarely prosecuted and far more prevalent than any woman or man wants to believe.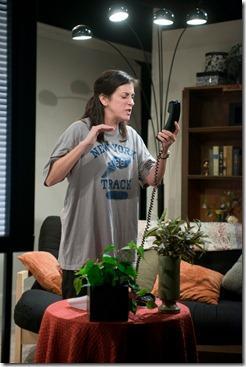 For many victims like Theresa (
Kristin Collins
), it starts innocently enough. An intelligent but reserved New York City magazine writer, bibliophile and Yankees fan, she agrees to a blind date with friend-of-a-friend Tony (
John Stokvis
). They don't have much in common, but he wears khakis, has a respectable job and buys her a beer, so she agrees to a second date. But when Tony refuses to take "no" for an answer, and daily flower deliveries are replaced with frightening phone calls and unannounced visits, a shaken Theresa wonders: what did I do to deserve this? And other than waiting for him to kill me, how do I make it stop?
Noted Chicago playwright Gilman's spot-on script uses clever but realistic dialog to the fullest, exploring not only the crime itself but the fraught issues it raises: victim-blaming (Theresa's well-meaning editor asks "Well, did you sleep with him?"), accepted misogyny (her coworker notes how many movies glorify relentless and unwanted pursuit in the name of "romance") and gender conditioning (Theresa ruefully reflects on an earlier coercion: "This is what I'm supposed to do. I'm supposed to be nice"). Many times, Gilman's words drew disbelieving laughs from the audience. Most of these disbelieving laughs came from men, while female audience members nodded ruefully or in the case of the critic next to me, slumped further down in her seat.
Cody Estle's deft direction displays a rapt comprehension of the scary subject matter, without once dipping into public service announcement or Lifetime Original Movie territory. Estle's all too aware of the destruction a stalker leaves in his wake: the rampant violation of personal space, the manipulation of good intentions and the growing paranoia. He's aided by Amanda Rozmiarek's thoughtful set design (the backdrop opens up into Theresa's apartment, symbolizing how appearances can be deceiving), Marie C. Quinn's harrowing incidental music (a nice use of Death Cab for Cutie's creepily calm "I Will Possess Your Heart") and Deborah Blumenthal's analytical dramaturgy (collages that artfully display disturbing statistics). Only Claire Chrzan's lighting design is somewhat spotty: the opening bar scene aims for shadowy realism but often obscures actor Stokvis' face.
Each actor brings a smart, introspective pathos that had me leaning forward in my seat. Though her New York accent is inconsistent, Kristen Williams has strong timing as a tough but compassionate cop who's sadly cognizant of how little she can do for Theresa. Jon Stutzman and Will Casey shine as Theresa's colleagues, trying to help a friend in need while exploring their own intentions toward women and the potential negative ramifications. Symphony Sanders makes a sweetly naïve underling, and Leonard Kraft brings wonderful comic relief as Theresa's latest interview subject, a cult film director whose loud and proud misogyny masks a lonely, bitter soul.
Stokvis maximizes every syllable with deeper, skin-crawling meaning. Tony has relatively little stage time, but thanks to Stovkis' masterful interpretation, his impact is felt, like a repeated punch to the gut that only gets more brutal. In contrast, Theresa is in almost every scene of the two-and-a-half-hour play, and Collins never falters. Her character goes from dry and guarded to sobbing and terrified – a lesser actress would result to melodrama before Act II. Not Collins. We all know a Theresa, and we fear for her, helplessly witnessing her undoing, one voice mail at a time.
Boy Gets Girl isn't a light play, but an essential one: first performed over a decade ago, it's perhaps one of the first pieces of pop culture (Lifetime movies and Fatal Attraction aside) to discuss stalking in a realistic way. Sadly, the advent of social media has only made it easier. And women are made to feel small every day, in every situation. Case in point: not long ago, I was sexually harassed by a trio of older men, their comments about my body and what they'd like to do to it growing louder until I announced I was carrying pepper spray. Wondering how I got myself into this situation? Me too. I was in a Starbucks on the Gold Coast, on a Thursday. Reading a book.
Rating: ★★★½
Boy Gets Girl continues through March 2nd at Raven Theatre, 6157 N. Clark (map), with performances Saturdays and Sundays at 8pm, Sundays 3:30pm.  Tickets are $36, and are available by phone (773-338-2177) or online through TicketTurtle.com (check for half-price tickets at Goldstar.com). More information at RavenTheatre.com.  (Running time: 2 hours 30 minutes, includes an intermission)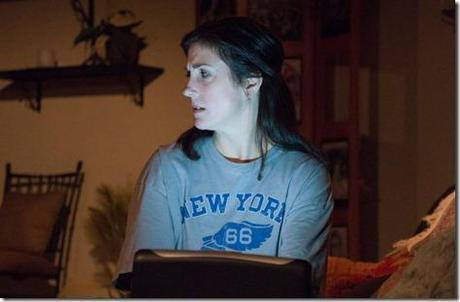 Photos by Dean LaPrairie
---
artists
cast
Kristin Collins (Theresa Bedell), John Stovkis (Tony), Will Casey (Howard Siegel), Jon Stutzman (Mercer), Symphony Sanders (Harriet), Kristen Williams (Detective Beck), Leonard Kraft (Les Kennkat)
behind the scenes
Cody Estle (Director), Vinny Mraz (Assistant Director), Amanda Rozmiarek (Set Designer, Technical Director), Frances Maggio (Costume Designer), Claire Chrzan (Lighting), Marie C. Quinn (Sound Designer), Mary O'Dowd (Properties), Deborah Blumenthal (Dramaturg), Kate Masiak (Stage Manager), Dean LaPrairie (photos)
13-0131