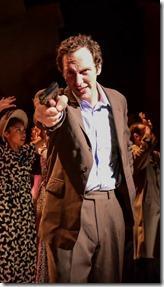 Stirring Chicago premiere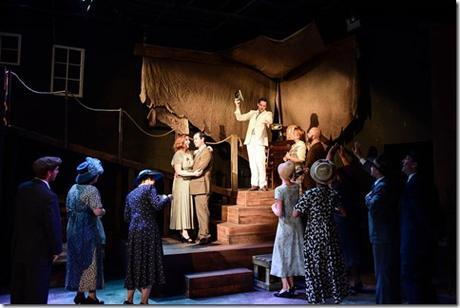 Review by Lauren Whalen
Bonnie Parker and Clyde Barrow have been immortalized in books, songs and movies. At the height of the Great Depression, the lovers from small-town Texas embarked upon a crime spree that resulted in a body count - eventually including Bonnie and Clyde themselves. Frank Wildhorn, composer of , Dracula and many pop hits (including Whitney Houston's "Where Do Broken Hearts Go?") tries his hand at country music in this origin story adaptation of the famous American outlaw tale. Known for their innovative, quality work, Kokandy Productions knocks Bonnie & Clyde out of the park, as director Spencer Neiman and team overcome some of the source material's flaws with stellar music direction, choreography and performances.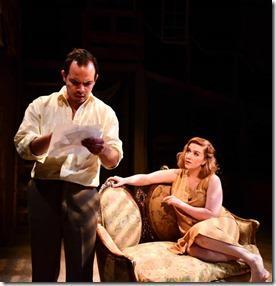 While other adaptations of Bonnie and Clyde's story focuses on gun violence and tabloid fame, this musical version takes the audience back to where it all began. As a little girl, Bonnie (
Desiree Gonzalez
) dreamed of It Girl stardom like
Clara Bow
's, her fantasies seeing her through the death of her father and a loveless marriage to a convict. Meanwhile, Clyde (
Max DeTogne
) idolizes Jesse James as his sharecropper family is evicted and lives in a tent for several years. Clyde turns to a life of crime early on, many times dragging his brother Buck (
Cisco Lopez
) into the action - and by association, Buck's devout beautician wife Blanche (
Missy Wise
). When Bonnie and Clyde meet by chance, it's love at first sight: their attraction is fiery, their dreams are big, their single-minded pursuits of notoriety and security in sync.
Rather than glamorizing life on the run as many adaptations before, this Bonnie & Clyde shows the story's human side. At this point in time, people were faced with very few options: rely on shrinking government handouts and faith in Jesus Christ, or turn to petty crime to make a few bucks and pass the time. (As one song indicates, most of the women in this small town have husbands in jail.) As is the case today, law enforcement shows little mercy toward the disenfranchised and often are more intent on power trips than protecting and serving. While Wildhorn's signature style of making every song Big and Epic continues, and certain key moments are breezed over in favor of a superfluous subplot involving Bonnie's former boyfriend, overall this character-focused take on the Bonnie and Clyde mythology is quite enjoyable. The duo is more than a little sociopathic, but they're also devoted to staying in touch with their families. And Blanche, who could have been written as a screeching harpy, is instead a woman caught between her religious beliefs and her genuine love for her hapless husband, who can't help following his beloved brother into yet another blood-soaked scheme.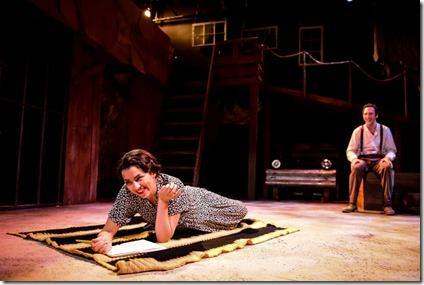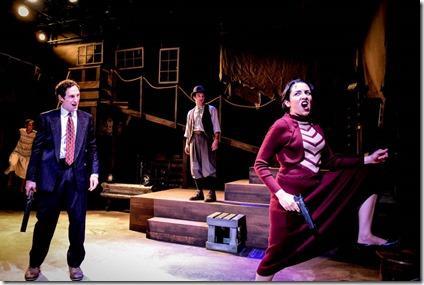 Director Spencer Neiman stages the show with care and grace, though he could have made better use of the levels in Ashley Ann Woods' lovely and layered set design. John Cockerill's music direction of the complex, soulful score is nothing short of outstanding (he's worked with DeTogne on Refuge Theatre Project's , and it shows). Cockerill also plays keyboard and conducts an excellent band, particularly Simeon Tsanevon fiddle. The choreography of Aubrey Adams, underscored by Jaq Seifert's violence and intimacy design, maximizes every actor's individual ability and combines that into a satisfying whole.
Bonnie & Clyde 's cast is in a league of its own, with stunning vocals, solid movement and strong character work. Both Jeff Pierpoint and Tia L. Pinson, who open the show and make periodic appearances as the young Clyde and Bonnie, are winsome, sweet and utterly likable. Lopez's Buck provides some much needed comic relief in his excitement about a new cake called "Twinkie" and Wise's Blanche is a standout with superb vocals and timing. DeTogne, a rising star in the Chicago scene, is in his element here, with charm and cocky swagger, and the voice of an angel. And Gonzalez gives a breakthrough performance as Bonnie, an ambitious young woman with no way out of a dead-end life. Her vocals are flawless, her delivery passionate, her acting perfect in every way.
While the script is a bit long (the show could have easily be 20-30 minutes shorter and lose nothing), Kokandy's Chicago premiere of Bonnie & Clyde shows the excellence we've come to expect from the company. With a knockout cast, a fascinating story and a challenging, beautiful score, Bonnie & Clyde is a nuanced and memorable production. Hopefully, the outlaw lovers themselves would have been pleased.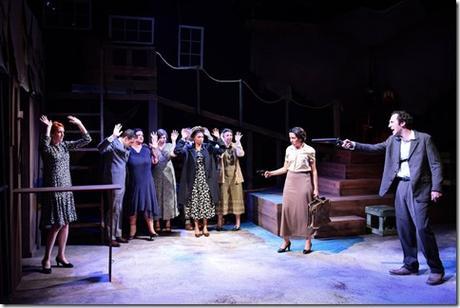 Bonnie & Clyde continues through October 15th at Theater Wit, 1229 W. Belmont (map), with performances Thursdays-Saturdays 8pm, Sundays 3pm. Tickets are $33-$38, and are available by phone (773-975-8150) or online through TheaterWit.org (check for availability of ). More information at KokandyProductions.com. (Running time: 2 hours 20 minutes, includes an intermission)
Brittney Brown (Stella), Nathan Carroll (Preacher), Erin Creighton (Cumie), Ann Delaney (Trish), Max DeTogne (Clyde), Jacob Fjare (Bud), Desiree Gonzalez (Bonnie), Sarah Hayes (Emma), Cisco Lopez (Buck), Jon Patrick Penick (Henry), Jeff Pierpoint (Young Clyde), Tia L. Pinson (Young Bonnie), Maisie Rose (Eleanor), Jonathan Schwart (Sheriff), Patrick Tierney (Ted), (Blanche)
John Cockerill (conductor, keyboard), Simeon Tsanev (fiddle), Cesar Romero (guitar), Mark Linley (percussion)
behind the scenes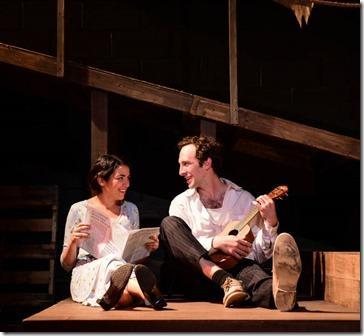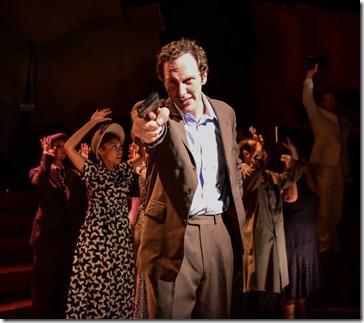 Spencer Neiman (director), John Cockerill (music director), Aubrey Adams (choreographer), Kait Samuels (stage manager), Ashley Ann Woods (scenic design), Alexander Ridgers (lighting design), Robert S. Kuhn (costume design), Jaq Seifert (violence & intimacy choreography), Michael J. Patrick (sound design), Devon Green (prop design), Shawn Rodriguez (master electrician), Patrick O'Brien (sound engineer), Lindsay Brown (production manager), Alan Weusthoff, Andrew Glasenhardt (technical directors), Mary Kate McAlpine (assistant stage manager), Emily Boyd (paint charge), Evan Hanover (photos)
Tags: 17-0903, Alan Weusthoff, Alexander Ridgers, Andrew Glasenhardt, Ann Delaney, Ashley Ann Woods, Aubrey Adams, Brittney Brown, Cesar Romero, Chicago musical theater, Chicago Theater, Cisco Lopez, Clara Bow, Desiree Gonzalez, Devon Green, Don Black, Emily Boyd, Erin Creighton, Evan Hanover, Frank Wildhorn, Ivan Menchell, Jacob Fjare, Jaq Seifert, Jeff Pierpoint, John Cockerill, Jon Patrick Penick, Jonathan Schwart, Kait Samuels, Kokandy Productions, Lauren Whalen, Maisie Rose, Mark Linley, Mary Kate McAlpine, Max DeTogne, Michael J. Patrick, Missy Wise, Nathan Carroll, Patrick O'Brien, Patrick Tierney, post, Robert S. Kuhn, Sarah Hayes, Shawn Rodriguez, Simeon Tsanev, Spencer Neiman, Theater Wit, Tia L. Pinson
Category: 2017 Reviews, Kokandy Productions, Lauren Whalen, Musical, Theater Wit