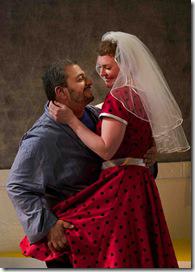 Bombs, Babes and Bingo 
Written by Merri Biechler
Directed by Rachel Edwards Harvith  
at Luna Central, 3914 N. Clark (map)
thru June 17  |  tickets: $20   |  more info
  
Check for half-price tickets 
  
  
   Read entire review
  
---
Every show is different, so go see where the numbers take you!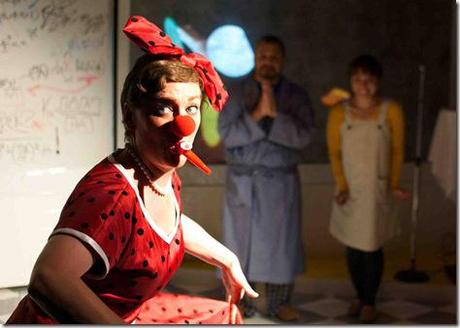 Mortar Theatre presents
Bombs, Babes and Bingo
Review by Katy Walsh 
In moments of great sadness, I often swallow a great one liner or life musing.  It's a curse and a gift that in times of grief, I see humor.  Funeral, break-up, argument, it doesn't matter the situation – something funny usually occurs to me.  Sometimes I give into sharing the joke.  The comedic release can be appreciated, but is more often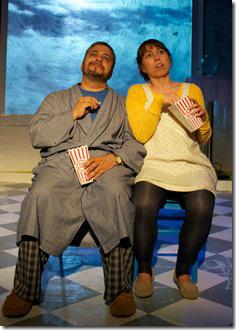 tolerated and occasionally spurned.  
Mortar Theatre presents the world premiere of Bombs, Babes and Bingo.  Dennis makes bombs.  At least, he use to make bombs. Right now, he's in the hospital trying to piece back together his life.  What happened?  He doesn't remember.  There was an explosion and now his memories are jumbled recollections.  As a scientist, he's trying hard to add up the facts to solve the problem.  He believes that if he can just get the numbers to add up right, the equation will make sense. His theory seems logical but life rarely is. Bombs, Babes and Bingo detonates a chaotic chain reaction.  The resulting shrapnel needs to be pulled out of some old family wounds.  
The structural premise of this play is clever.  The first and end scene are always the same.  In between, bingo balls dictate the sequential order of the show.  The talented and nimble cast wait for the bingo caller to announce the scene number and they then react.  Under the direction of Rachel Edwards Harvith, this cast energetically attack the contrasting subject matter.  It's definitely a comedy-drama.  But does the drama get in the way of the comedy?
Playwright Merri Biechler combines very different occupations.  Dennis went to school to make weapons.  Ellen went to school to be a clown.  The serious nature of Dennis' career choice holds the farce back.  Even with the vaudevillian style scene transitions, there is a somber tone.  Richard Perez (Dennis) delivers a touching and serious contemplation as a superior scientist and inferior husband/father. Perez grapples with his life failures and his mind failing.  He's sad.  I see some of the humor in his situation but it just seems wrong to laugh at him.  On the other hand, the ladies – Stephanie Stroud, Erica Cruz Hernandez, Megan Tabaque – bring the comedy with a playful style. They are a funny trio! In particular, a straight-faced Stroud utters absurdity hilariously.  
The space designed by Robert S. Kuhn (scenic/costumes), Michelle Underwood (scenic/projections) and Jeff Shields (properties) adds an interesting dimension to the story.  A drop ceiling of metal warps the visual perception.  Piles of discarded childhood artifacts and a whiteboard of nonsensical numbers establish a sense of this man's struggle with reality. The aesthetic is powerful. And at the end, it's playful. B-I-N-G-O!
Bombs, Babes and Bingo was really funny except when it's somber… at least for me.  But every show is different, guaranteed!  So, go and see where B-6 will take you.  
Rating: ★★★
Bombs, Babes and Bingo continues through June 17th at Luna Central, 3914 N. Clark (map), with performances Thursdays-Saturdays at 7:30pm, Sundays 3pm.  Tickets are $20, and are available by phone (773-819-5862) or at BrownPaperTickets. (check for half-price tix at Goldstar.com). More info at MortarTheatreCompany.org.  (Running time: 80 minutes, no intermission)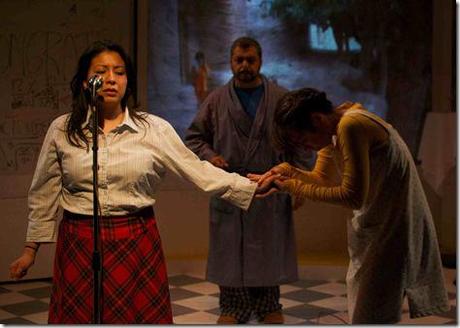 All photos by Tom McGrath 
---
artists
cast